CURUPIRA AND THE MACHINE OF DESTINY
My artistic production, whether in still photography, photopainting or cinema, transits between what is objective and what is sensorial. It is technical, as it could not be otherwise, but it is also very sensitive. More than a desire to represent something, I create as I live — between possible worlds — and, somehow, this becomes palpable also for those who interact with my work. When I photograph, I connect more to sensations than anything else.
I joined the short film project "Curupira e a Máquina do Destino" the day before traveling! We had a day or two to visit the location and choose the cast, which was all residents of Realidade, a district in Amazonas. The director was already more familiar with the places; however, the final choice of paintings was made based on my suggestions.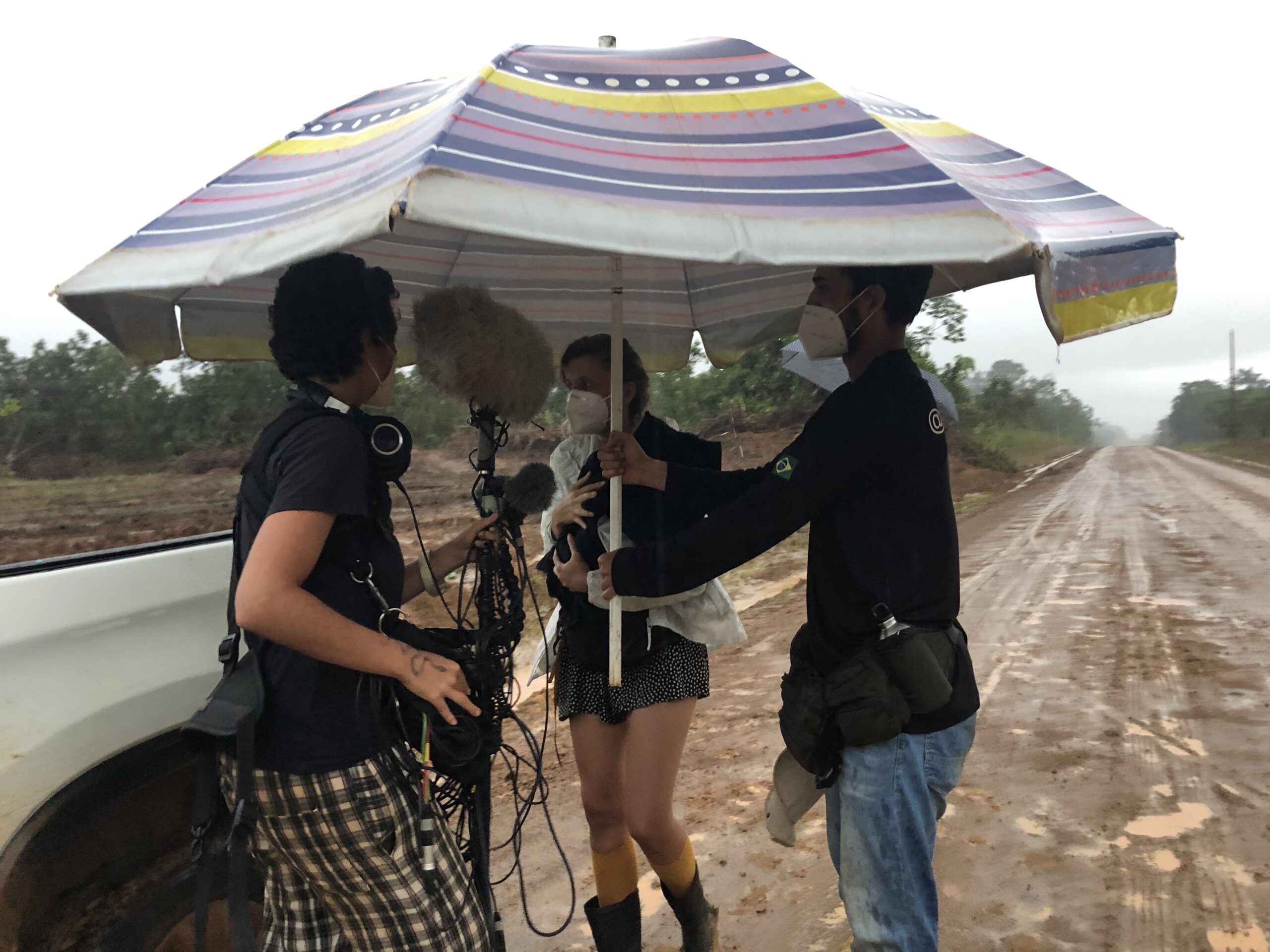 Shooting in
a forest is always an adventure
a
We used a Blackmagic Pocket 4K camera, Zeiss lens, tripod, Cinesaddle, and natural light for virtually the entire film. The budget was low, so for the night we used the lights available on the premises — with some adjustments — in addition to car headlights, candles and lighters.
There was a lot of improvisation. I am very connected to sensations, open to chance and used to working on projects with little structure. We didn't have a lot of time to plan how things would go, it was on "who knows, do it live". In the truck sequences, I was sitting with Cinesaddle on my lap and my assistant holding me. The focus was done by me by hand (it was like that throughout the movie). I didn't think about stabilizing it first because we didn't have the structure or team for it at the time of recording and because I particularly like this energy that comes from the movement.
Shooting indoors is always an adventure. The technical conditions are not ideal to say the least. The drone operator was someone from the region and had only a memory card and a battery. As I entered the film the day before traveling, with many things to solve, I was not able to talk to him beforehand to check the demands. So, if I'm not mistaken, we managed to shoot only two shots, after a very objective conversation than I expected – it worked!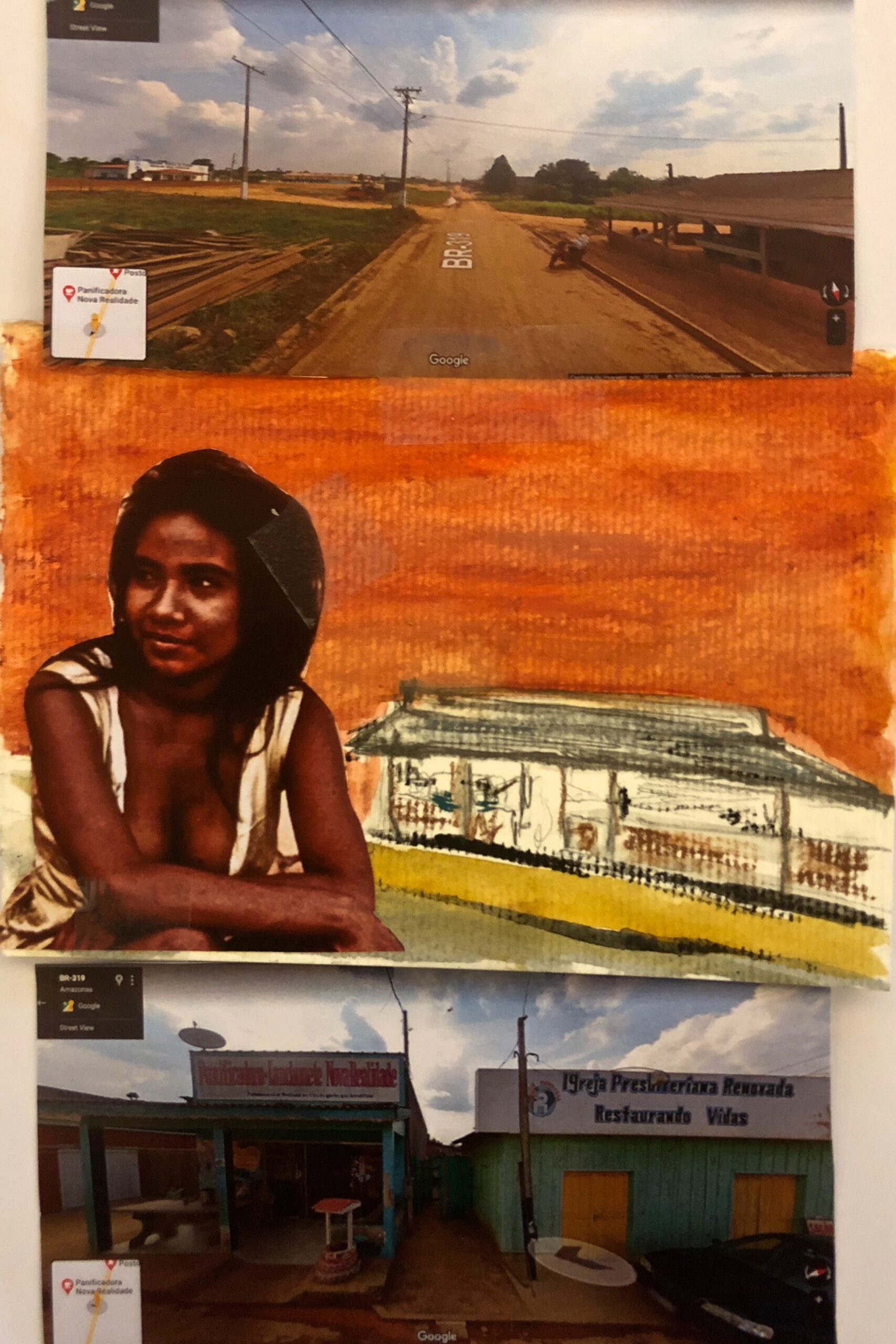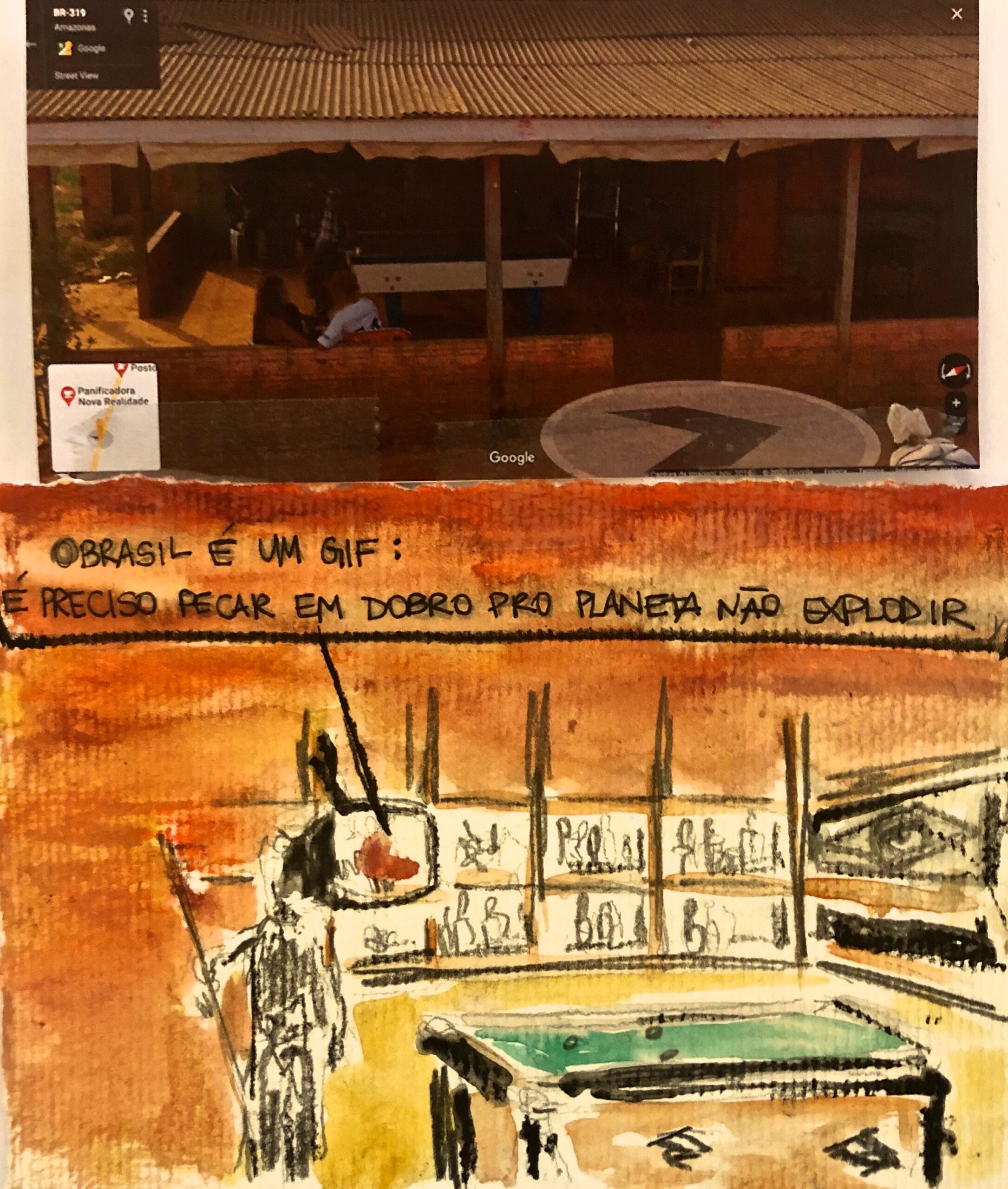 Drawings. assemblages and storyboard: Janaína Wagner
Drawings. assemblages and storyboard: Janaína Wagner
Practical and
natural lights
In the bar scene, I don't remember exactly how it all went, but basically, we used the lighting structure of the place itself, with adjustments. Some more powerful lamps at a certain point and turned off some. It was a difficult light design due to the limitation I had. Janaína had also taken a colored light from her. That blue for me comes a lot from an admiration and identification with the work of Luiz Braga, who so well captured the Amazonian nights. It feels a bit.
We didn't have much time for more accurate testing. We paid more attention to specific things that Janaína had more doubts about. She was getting guidance and feedback from the person responsible for the post.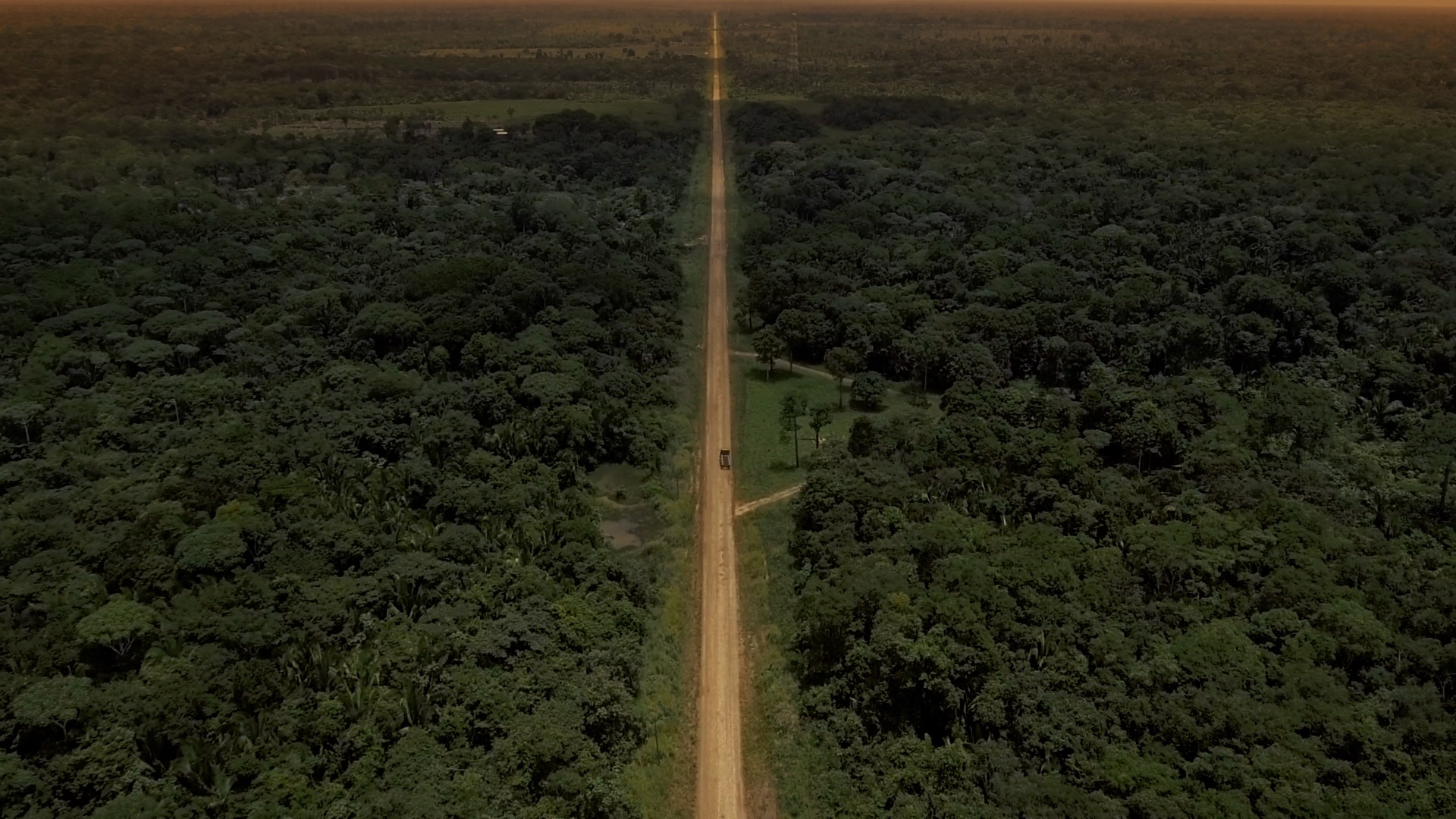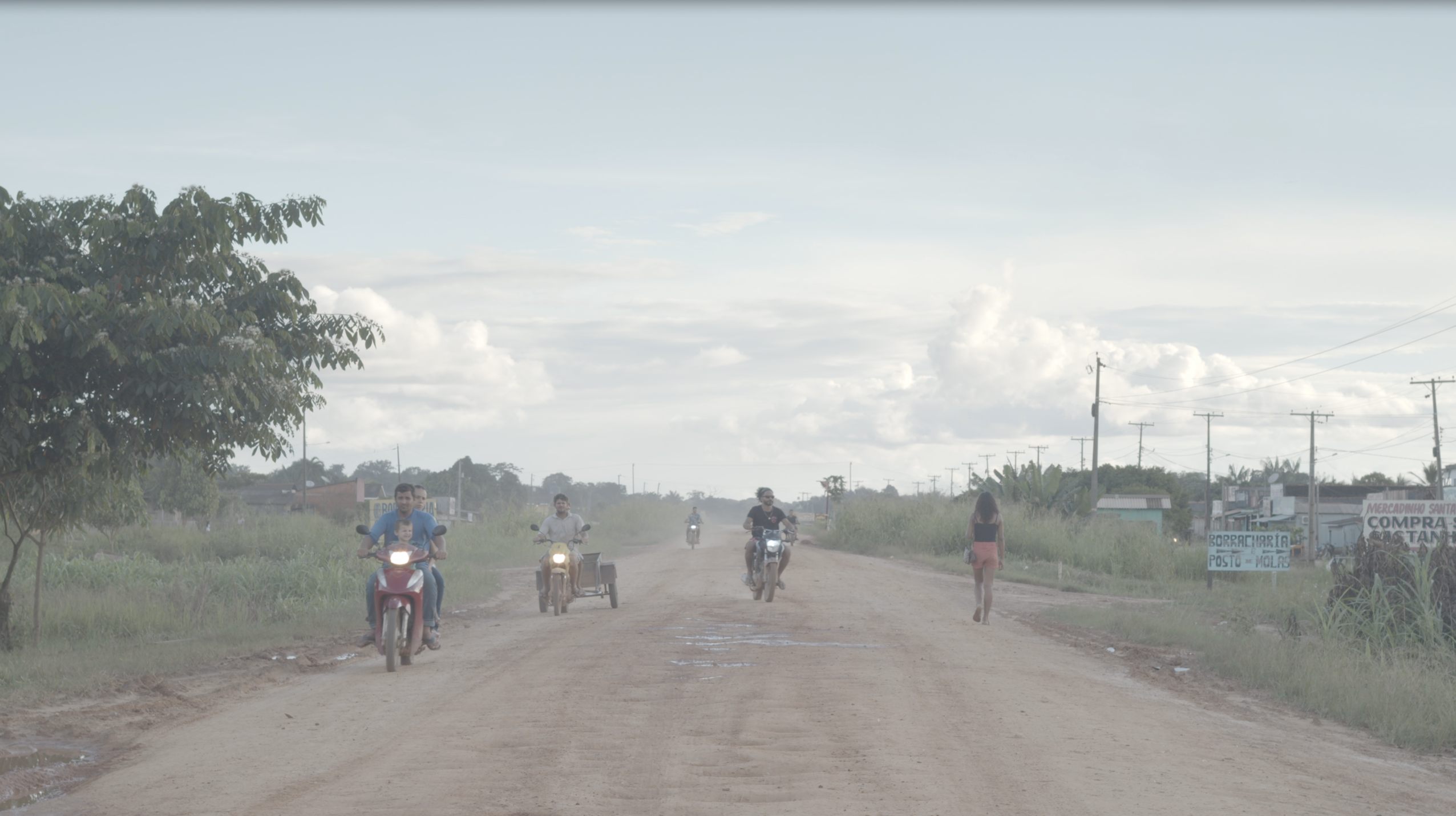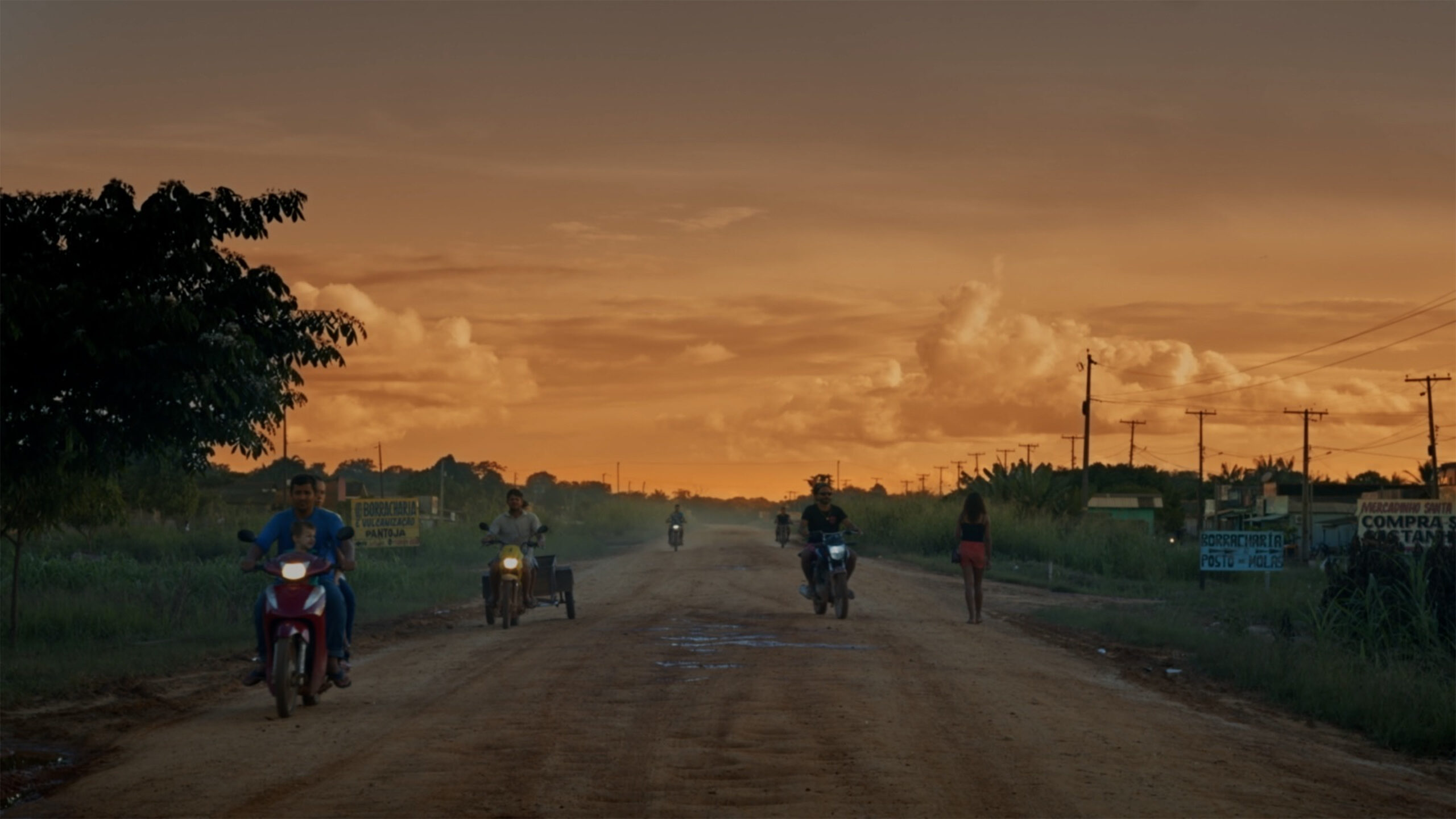 A sky characteristic of the fires in the Amazon
The color was made in France, so my contribution was all remote. Janaína sent me images during the process, and I was able to make the adjustments with her. Color is a fundamental element of my creative work, so it's a time when I participate a lot and interfere. I often do the color myself. This is quite evident if you include my personal projects and those to which I contribute, they have a chromatic unit. The green of the woods initially proposed by Janaína was more heated/saturated, I proposed that we take a path that led us to the definitive tone. Our objective was to bring the sensation of a sky characteristic of the fires in the Amazon, this orange that is almost tactile, that is familiar and strange at the same time.
The chroma key was made there in the forest. The actress, who was also a producer, wore a chroma outfit that later served as the basis for her post work.
We broke the mirror into different proportions and from some tests we identified what best suited our expectations. From there, we experimented on different planes, with different technical approaches. Concepts such as presence and absence, what is physical and what is subjective/memory/spiritual are present in these choices.
We made some fire-only plans when we returned to São Paulo so that Janaína could explore the possibilities in the aftermath.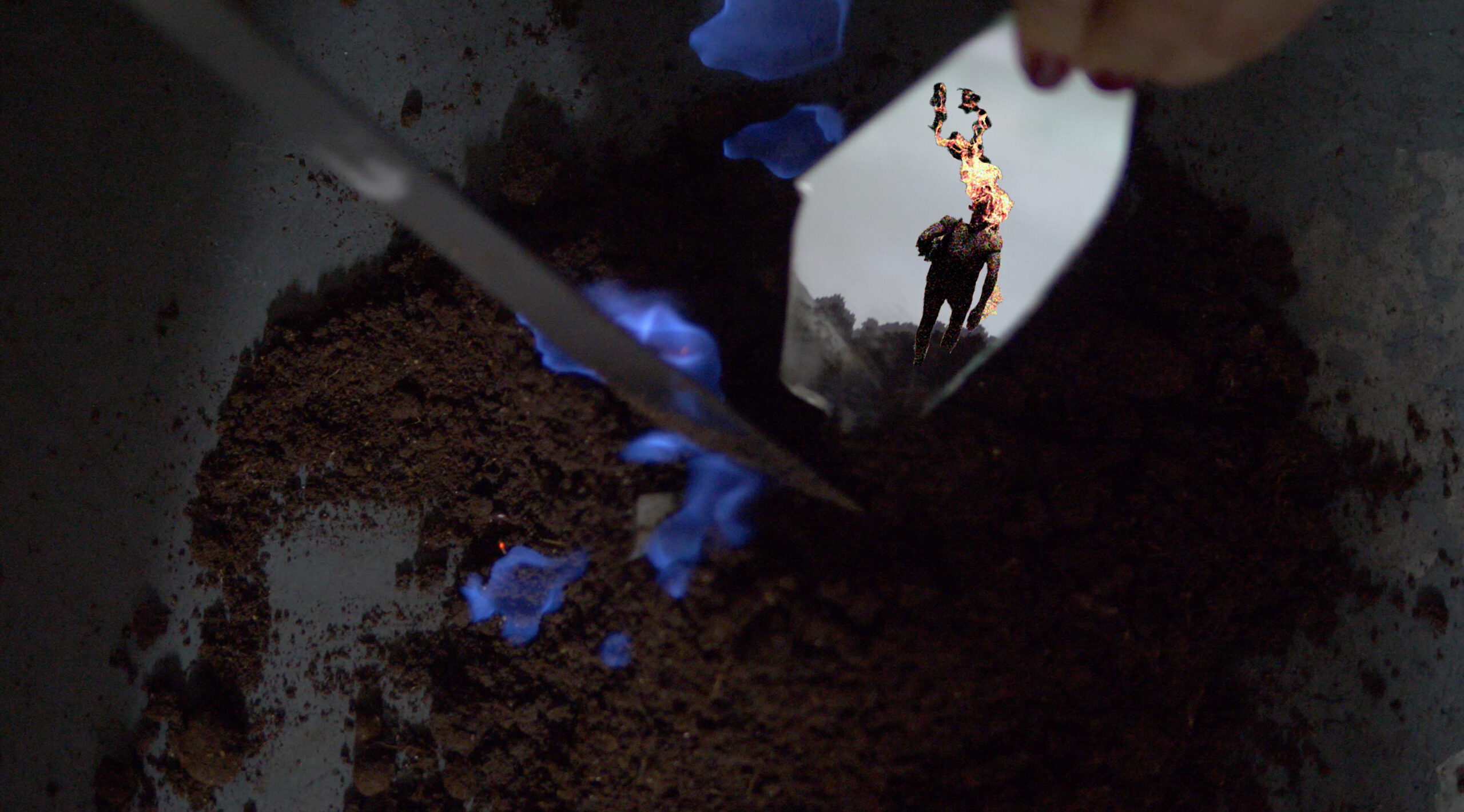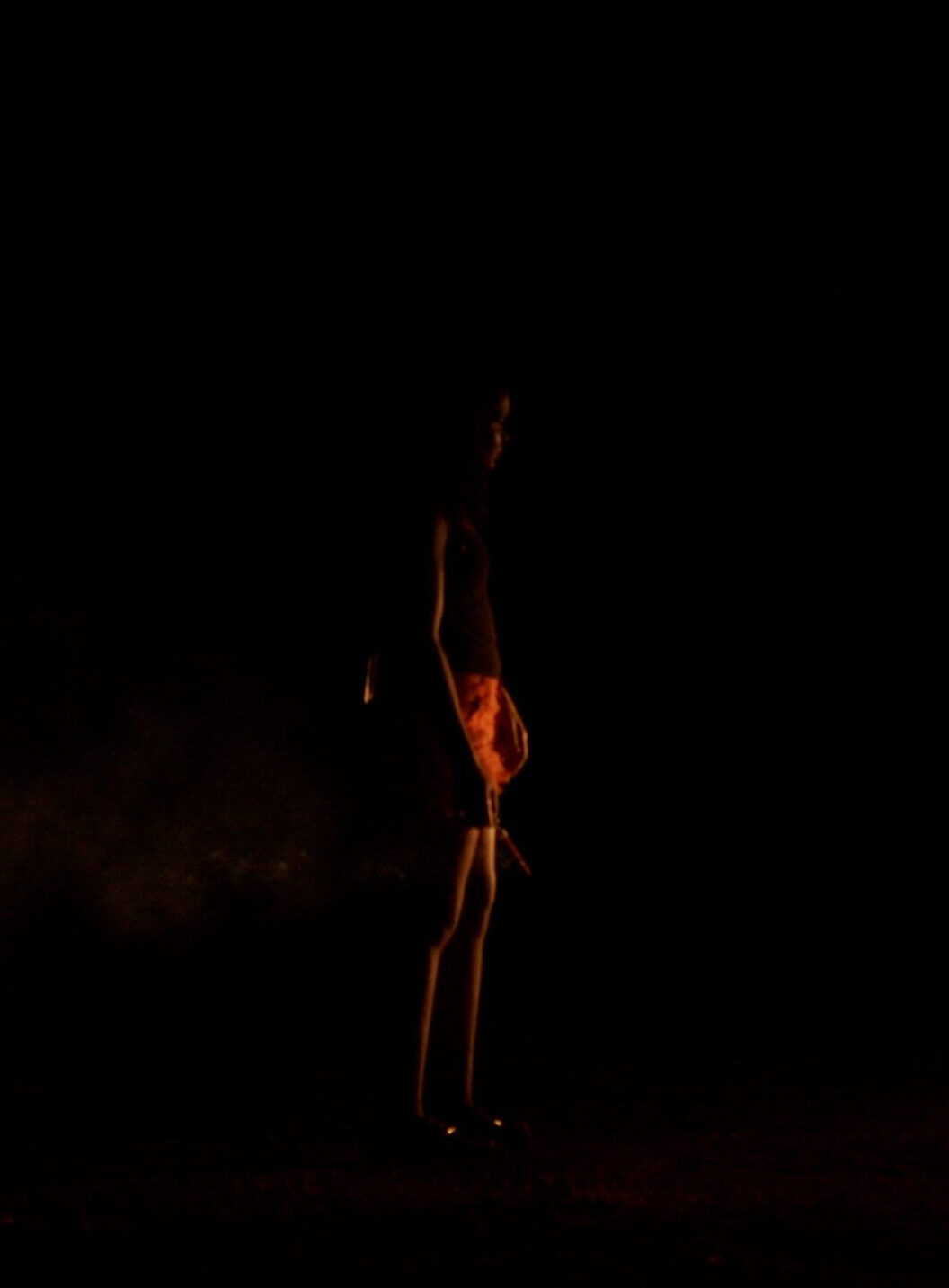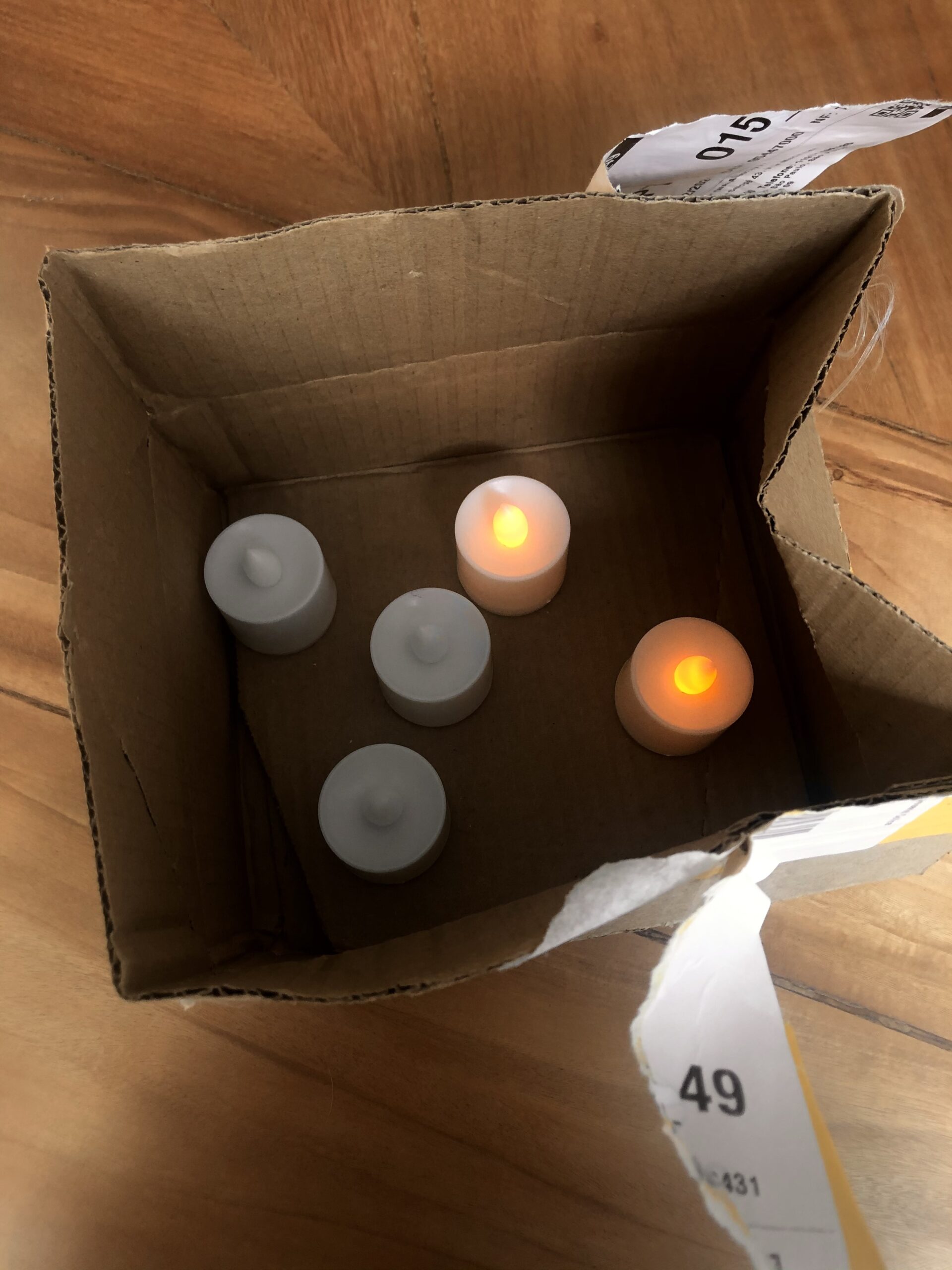 All we had was a limited number of candles, lighters, and a car's headlights. Janaína prepared the children and from then on, it all worked out. I am reassured because I believe that beauty and poetry are everywhere, in any context, in any condition – despite limitations. We need to feel and connect with people. Everything happens.
It's quite different to work with artist directors and those who come from a film background, with a technical background in that sense and an understanding of set dynamics. In addition to being a photographer, I'm also a director and visual artist – so I move well through different creative worlds and their processes. I understand my role in this structure, and I build my space with respect, placing my points and bringing what is unique and unique to my look.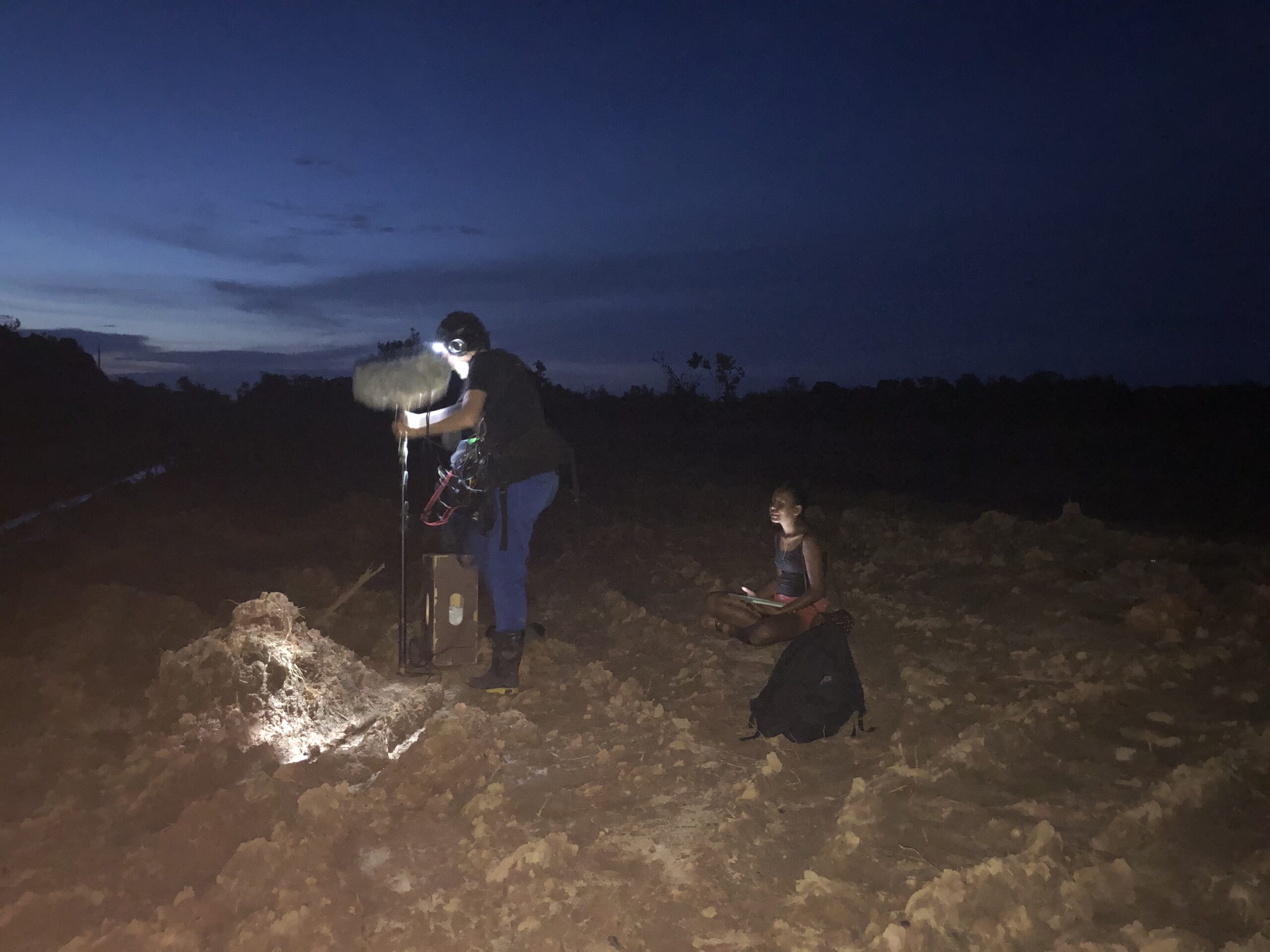 INTERVIEW WITH THE DIRECTOR OF THE SHORT FILM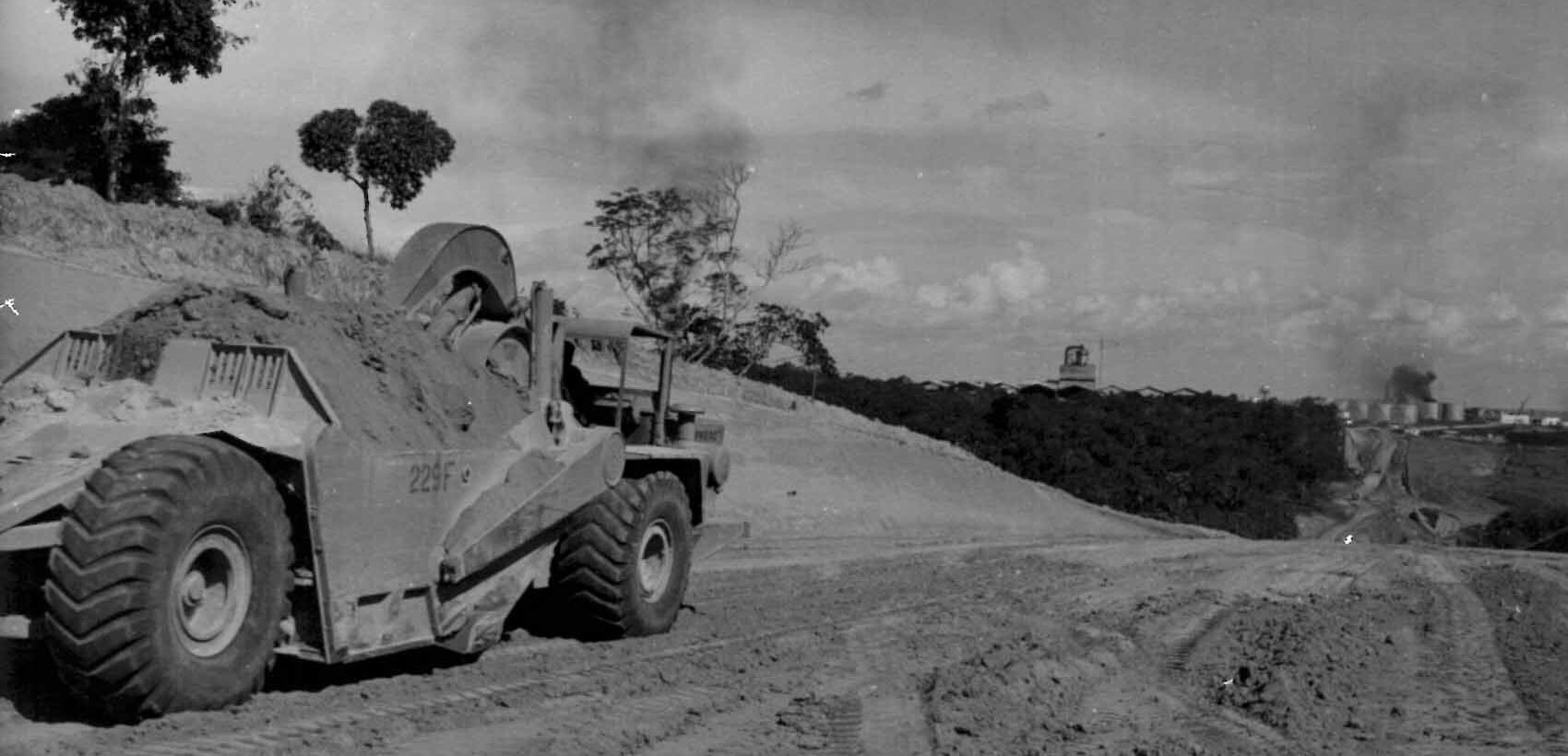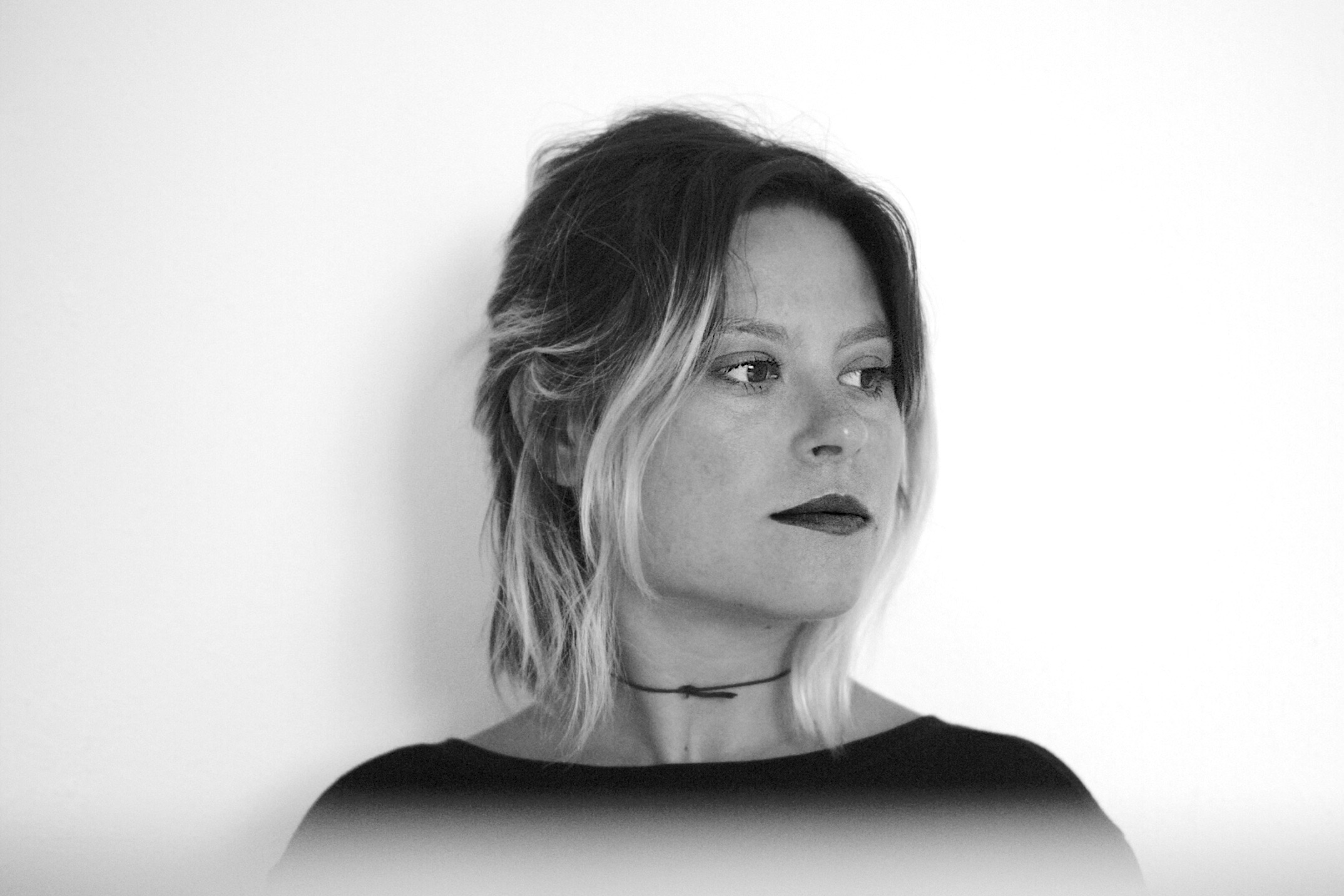 At what point in your creative process did the idea of crossing Curupira an the film "Iracema, uma Transa Amazônica" come about?
I have always been interested in understanding how our society is subjectively structured. At the beginning of my artistic work, I worked a lot with architecture, constructions and forms that create barriers between human beings and the world. When the first fences and property boundaries are built, the inside and the outside are separated, it is the beginning of History with a capital H. I went through the various ways our species builds subjective structures. In 2016, I did a residency in Belo Horizonte, with a research project on the mining fields of Minas Gerais and its artificial landscapes. They are human constructions carved from the gnawed earth, giant holes. At that time, I was researching the historical literature on werewolves and Leviathan, on man being the wolf of man. I interpreted the mining camps as great wolves' mouths built by man to swallow men themselves. This became a video, called  "Lobisomem", filmed with a drone flying over an iron ore plant. At that moment, I found the key to working with characters that populate our imagination. Werewolf stories appear in Ancient Greece, but they arrived in Brazil as a colonization tool, when Portuguese said that indigenous children would become werewolves if they were not baptized. From then on, other creatures appeared related to social issues. Curupira has this autonomous fire, a "flame without a wick", as the Clube da Esquina song says. Several stories I researched about Curupira place it as protector and owner of the forest, which creates a barrier against exploitation. She is a force of chaos, of change. She is a Prometheus in reverse, who returns fire to the earth. When writing the script and creating blocks of scenes with drawings and paintings, I realized that the future needed to be in the hands of a very young girl. In an almost magical way, I realized that this girl already existed. She is Iracema. They are the ghosts of the Iracemas that remained. She and other girls continued to prowl those roads. The reality of girls who hitchhiked in trucks is still repeated.
What is you connection with the Amazon?
I am from São Paulo. I'm not from the Amazon, but the problem of the forest worries us all. I think my outside look might be interesting. I ventured into that territory. Before filming the short, I made three trips there and got to know very different places, as there are many Amazons. In 2019, I also made a video called "Cães Marinheiros", which had the river as a backdrop. In "Curupira e a Máquina do Destino", the landscape is cut by dirt roads and no longer by water. It was through "Iracema, a Transa Amazonica" that the world saw, for the first time, the Amazon being destroyed, at the time of the construction of the Transamazônica highway. The film premiered in Europe in 1974 because it was censored in Brazil. I decided to bring that to the present. I recreated the decoupages and camera movements of some scenes. I reproduced, for example, with the same typography, the sign of a truck that appeared in the original film, with the phrase: "From fate, nobody flees". I work a lot with collages, not only as references, but also to show how these realities accumulate. The song "Máquinas Humanas", from 1973, plays in both films, but in my short it is a new version, a tacky sung by a woman, Luzirene do Cavaquinho.
How did you work with Carine Wallauer in the direction of photography from images that you had already built-in research, drawings, paintings, collages and photos?
We filmed in February 2021, at the height of the pandemic, right after a stricter period of lockdown. There was another cinematographer on the team, but we had to fill in at the last minute because she tested positive for covid. Carine joined the project the day before our trip, 12 hours before boarding. The equipment was already defined, but there was still time to go to the rental store to do tests, so we decided to change the Sony Alpha for the Black Magic because it was lighter, because Carine was more familiar and for the sake of color depth. In filming, we only used a tripod, three fixed lenses and the camera. I wanted the photographer to be a woman, as I invited Marcela Santos for the sound, Carolina Gesser as producer and Yuyan Wang as editor. I was the driver myself. While Carine was doing the late-night logging, I went out to buy pizza. It was 9 days of travel and 5 days of filming. I knew exactly what I wanted aesthetically and conceptually. The difficulty was to make it happen, because a lot can go wrong when turning a drawing into reality. That bar scene, for example, was during the day, but we decided to do it at night because we realized it would look better. Vitória Pereira, the actress who plays Iracema, entered the film the day before we filmed. When we arrived, the weather was cloudy. Luckily, the sky opened and we were able to work on the color better. The dust from the road also interfered with the shades of green in the forest.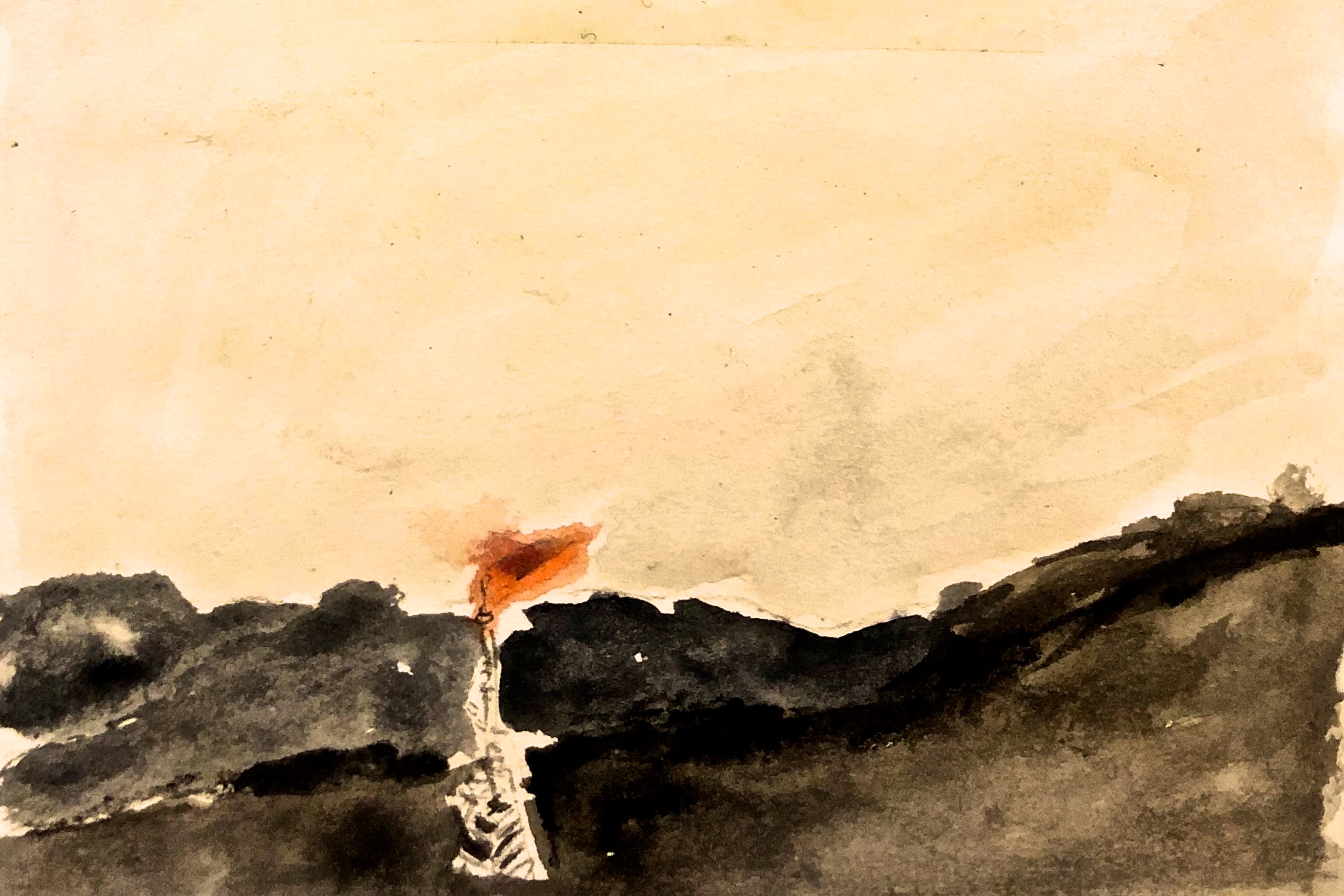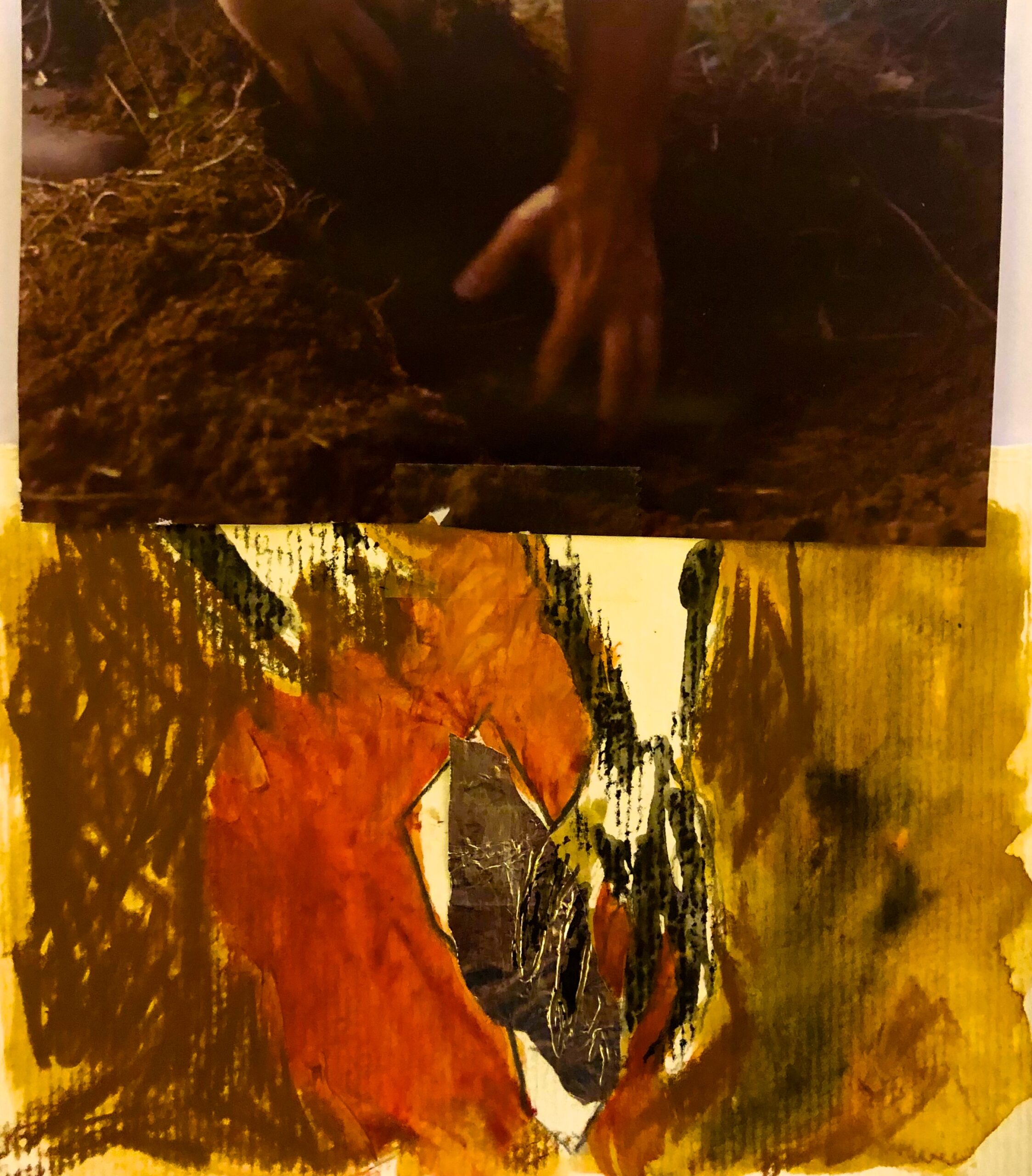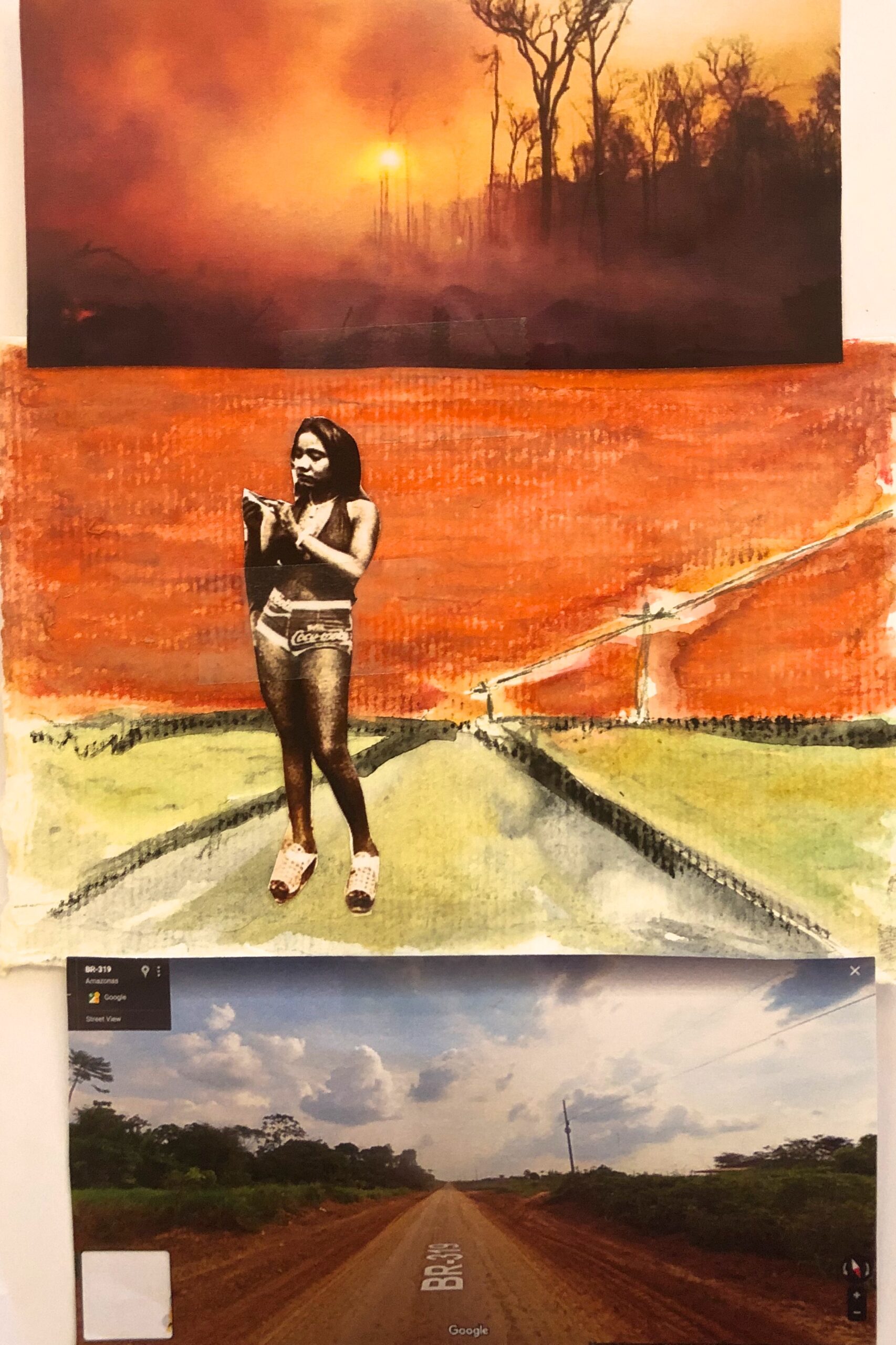 Drawings, assembleges and storyboard:
Janaína Wagner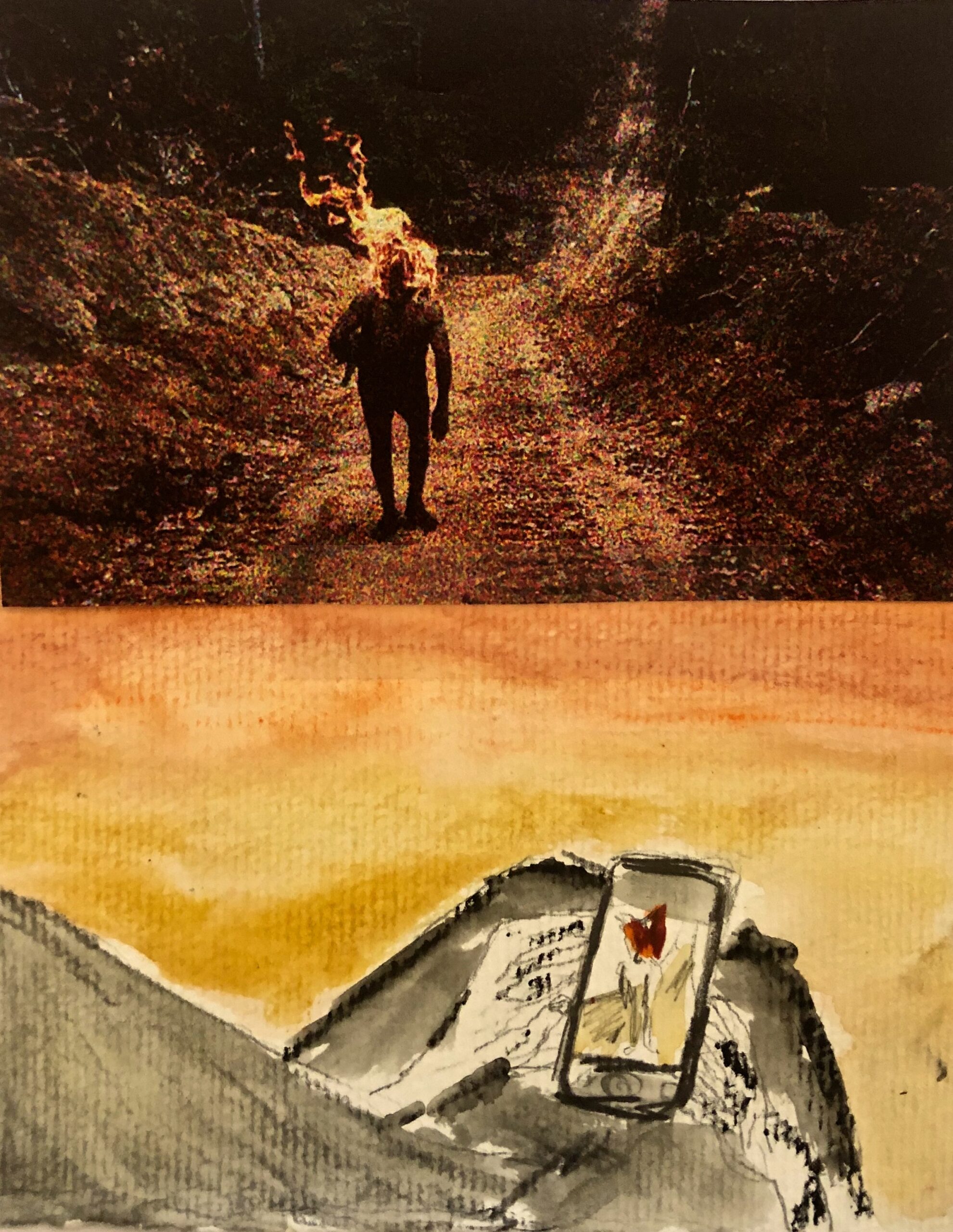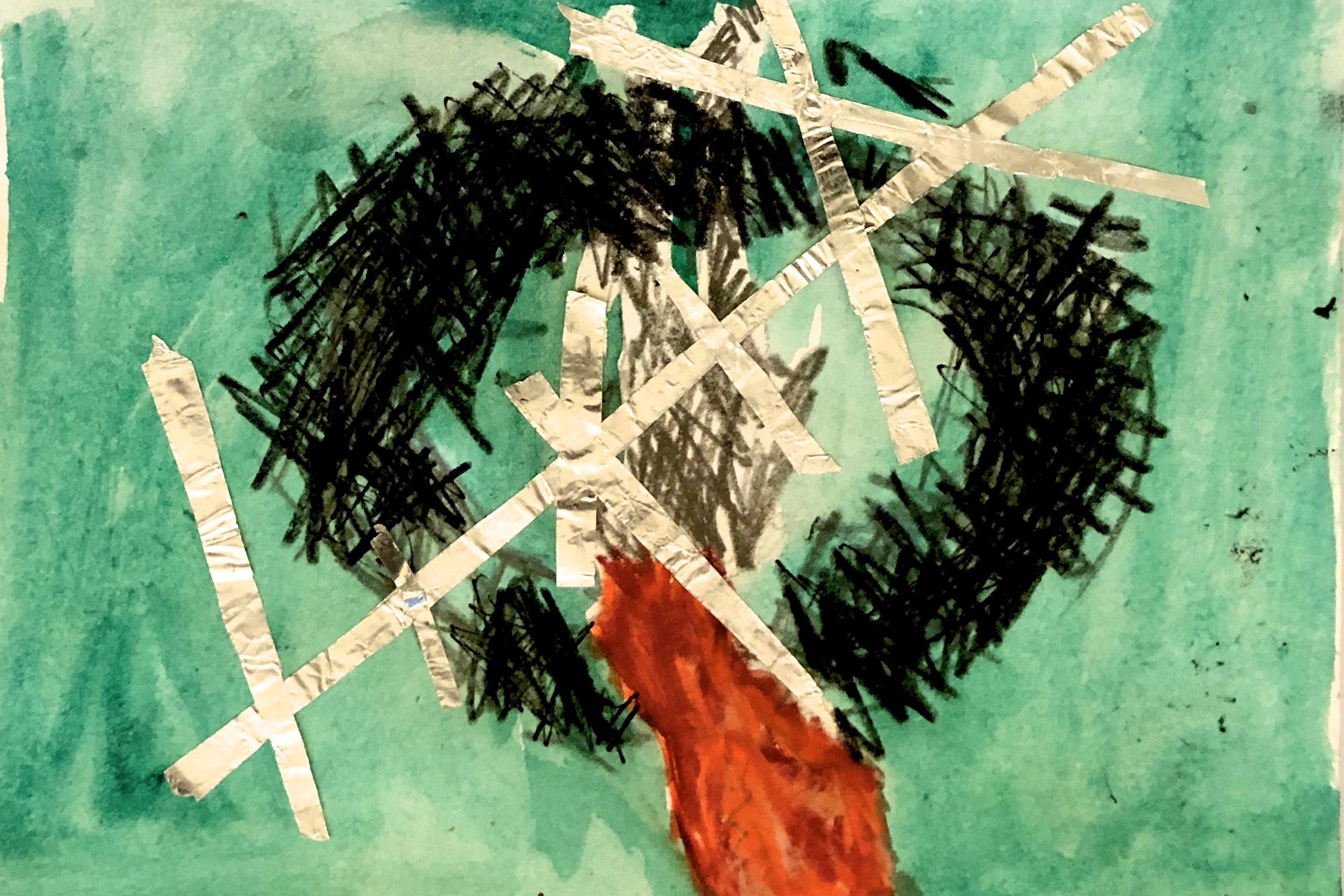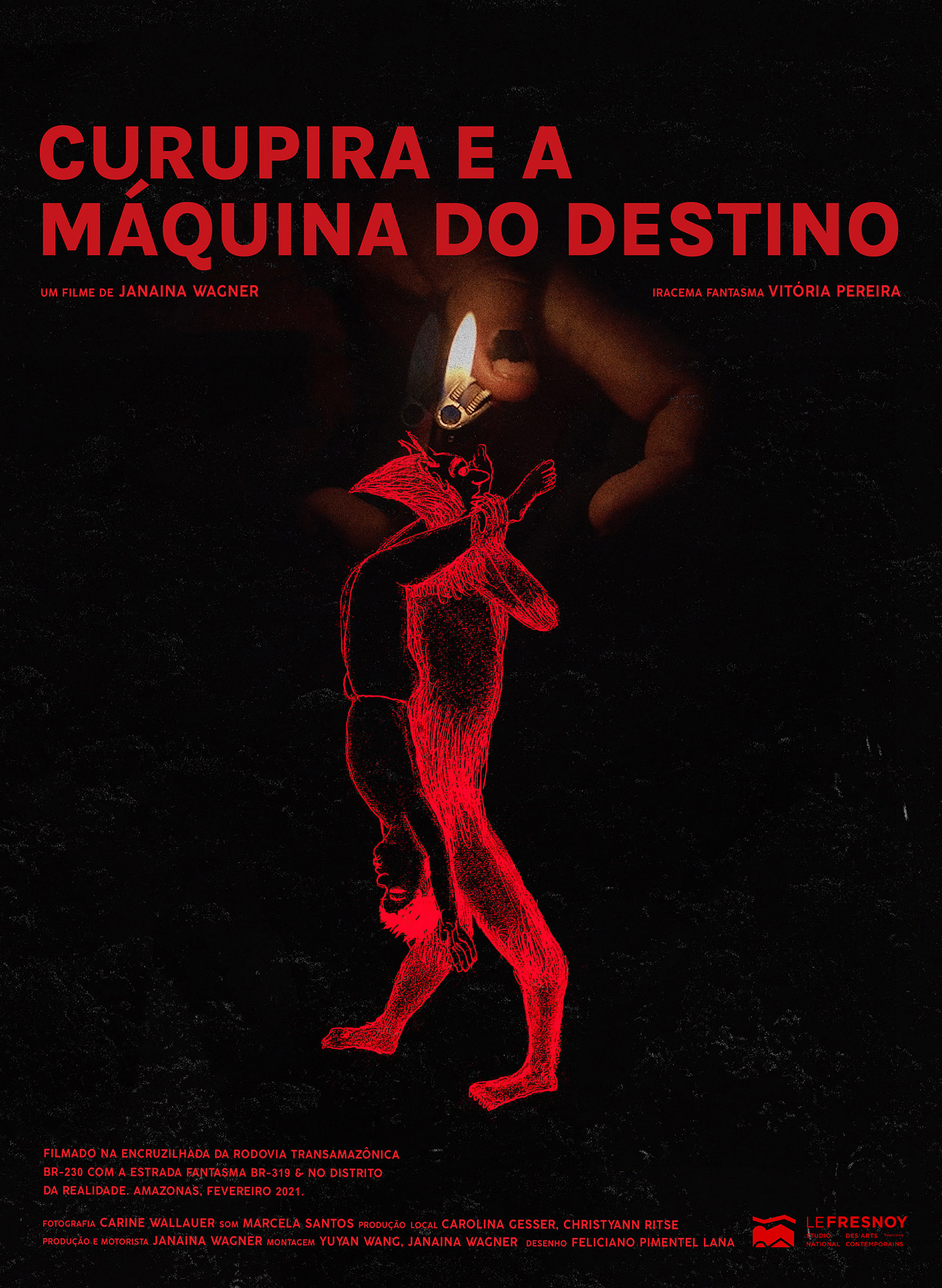 SINOPSE DE "CURUPIRA E A MÁQUINA DO DESTINO"
Filmado no Amazonas, em fevereiro de 2021, na Estrada Fantasma BR-319, Transamazônica BR-230 e no Distrito da Realidade, o curta-metragem é o encontro entre uma curupira e o fantasma encarnado de Iracema, personagem fictícia do filme "Iracema, uma Transa Amazônica" (1974), de Jorge Bodanzky e Orlando Senna. Na fratura do tempo, como cicatriz que corta a terra, existe no Amazonas uma estrada em linha reta chamada Estrada Fantasma. Aberta feito ferida durante a Ditadura cívico-militar que enredou o Brasil nos brados da ordem e do progresso, o vergalhão de asfalto que vara o país foi construído, destruído e se afoga agora em um processo de reconstrução. Ruína morna de um futuro viciado. O projeto foi desenvolvido por Janaína Wagner em uma residência artística no Le Fresnoy Studio National des Arts Contemporains, na França.
Diretora, produtora, diretora de arte e motorista: Janaína Wagner
Fotografia: Carine Wallauer
Assistente de câmera: Christyann Ritse
Chroma Key: Carolina Gesse
Drone: Bruno Graziano e Patrique Costa
Modelização 3D: Felipe Meres
Montagem: Janaina Wagner e Yuyan Wang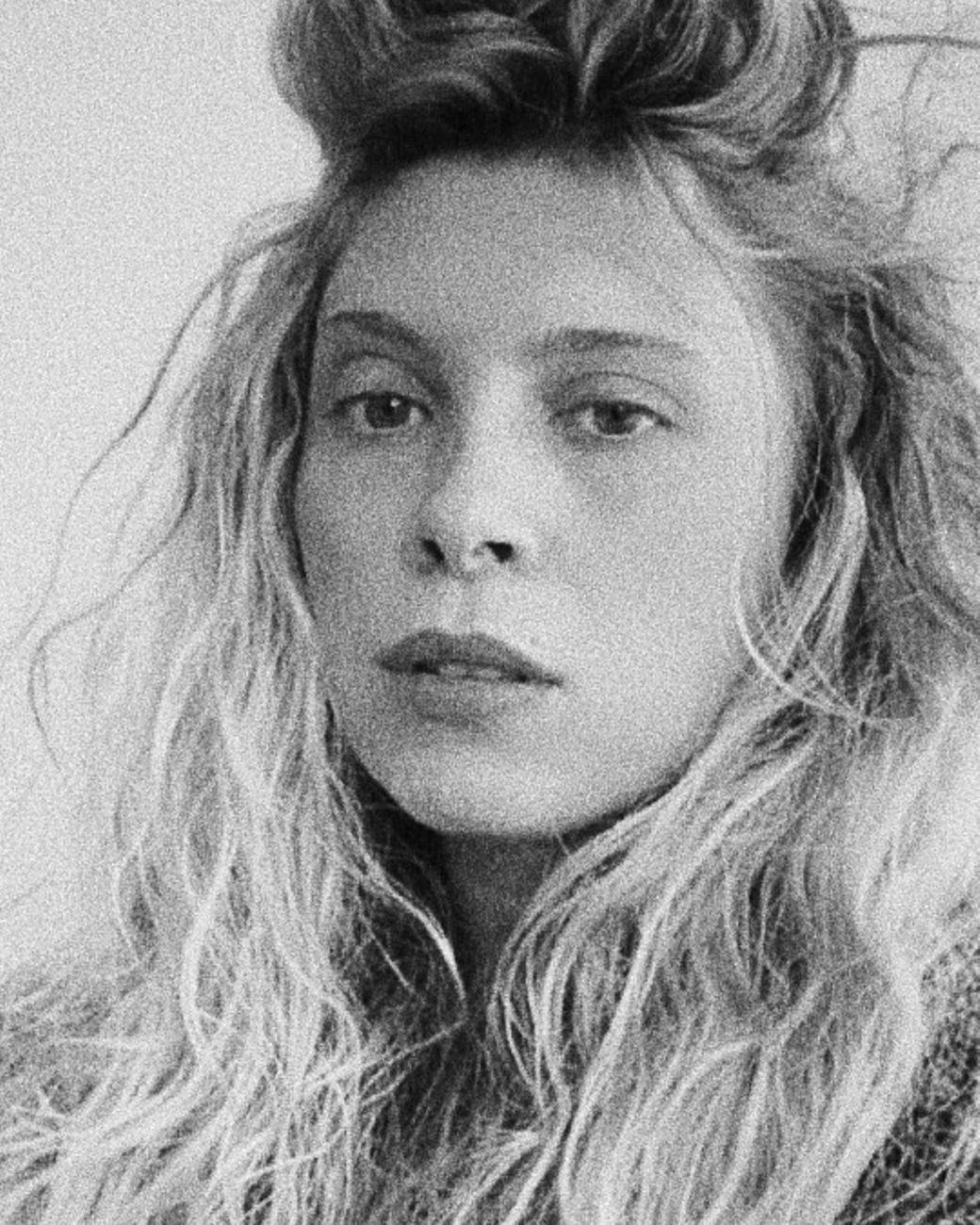 MINI BIO
www.instagram.com/wallauercarine 
Carine Wallauer is a visual artist, photographer, cinematographer and documentary filmmaker. For the cinematography of the short "Temporal" (2017), she won the Kikito Trophy at the Gramado Festival and was a finalist for the ABC Award. He also signed the director of photography for the feature film "Irmã", by Luciana Mazeto and Vinícius Lopes, selected for the Generation section of the Berlin Festival in 2020, and for the short film "O Último dia Antes de Zanzibar" (2016), by the directors Filipe Matzembacher and Marcio Reolon. To Channel E! Entertainment, she photographed the documentary "Vozes do E!" (2021), with the participation of actresses such as Zezé Motta and Maria Bopp. With the choreographic collective Núcleo Pausa, she filmed the "Performances-Observatory" (2021). For Uol's MOVdoc project, she directed the series "Saul Klein: O Império do Abuso" (2022), available on Youtube. As an artist, she has participated in group exhibitions in countries such as Italy, Canada, Turkey and the United States, in addition to having two solo shows in Brazil. She is the author of the photobooks "Quando o Coração É um Caçador Solitário" (2018), " O Vazio É um Espelho" (2016) and "Visões Elevadas de Eros" (2013). In 2022, she participated in the Berlinale Talents. She started her career in Rio Grande do Sul and is currently based in São Paulo, where she develops a feature-length documentary about the Copan Building.