I met Adirley Queirós and his work at a festival in Argentina in 2014. A mutual friend, Cecília Barrionuevo, thought we had to get to know each other. We started talking at night and didn't finish until 11 am, talking about a thousand things, about cities, literature and science fiction. I saw "Branco Sai Preto Fica" and Adirley saw my short film, "As Figuras Gravadas na Faca com a Seiva das Bananeiras". Soon after, he proposed that I do the cinematography of "Era uma Vez Brasília". I immediately said "no" because I had done the photography for my films, but I understood that I could only be a director and photographer for myself. I didn't think it was possible to direct photography for someone else. My background comes from a place called the Sensory Ethnography Lab, where we work a lot alone or in teams of two, in an elastic way. We do the sound, direction, photography and editing at the same time. I thought it would be very difficult to make that transition to the idea of working with a larger film crew. It would be a very big risk to work on a project like that. We decided to make a contract that would allow me to leave in three weeks if everyone was unhappy, but it turned out to be all right.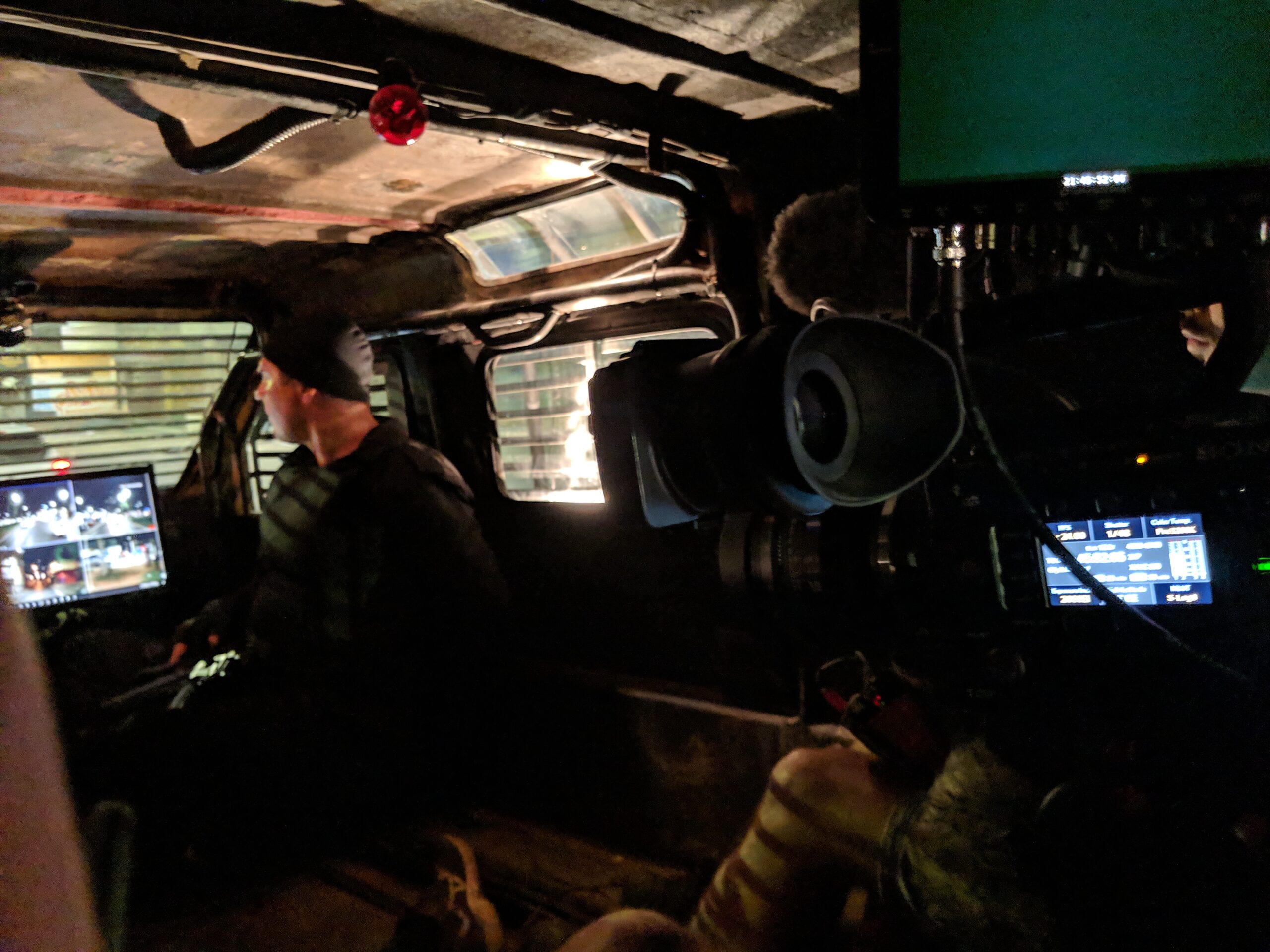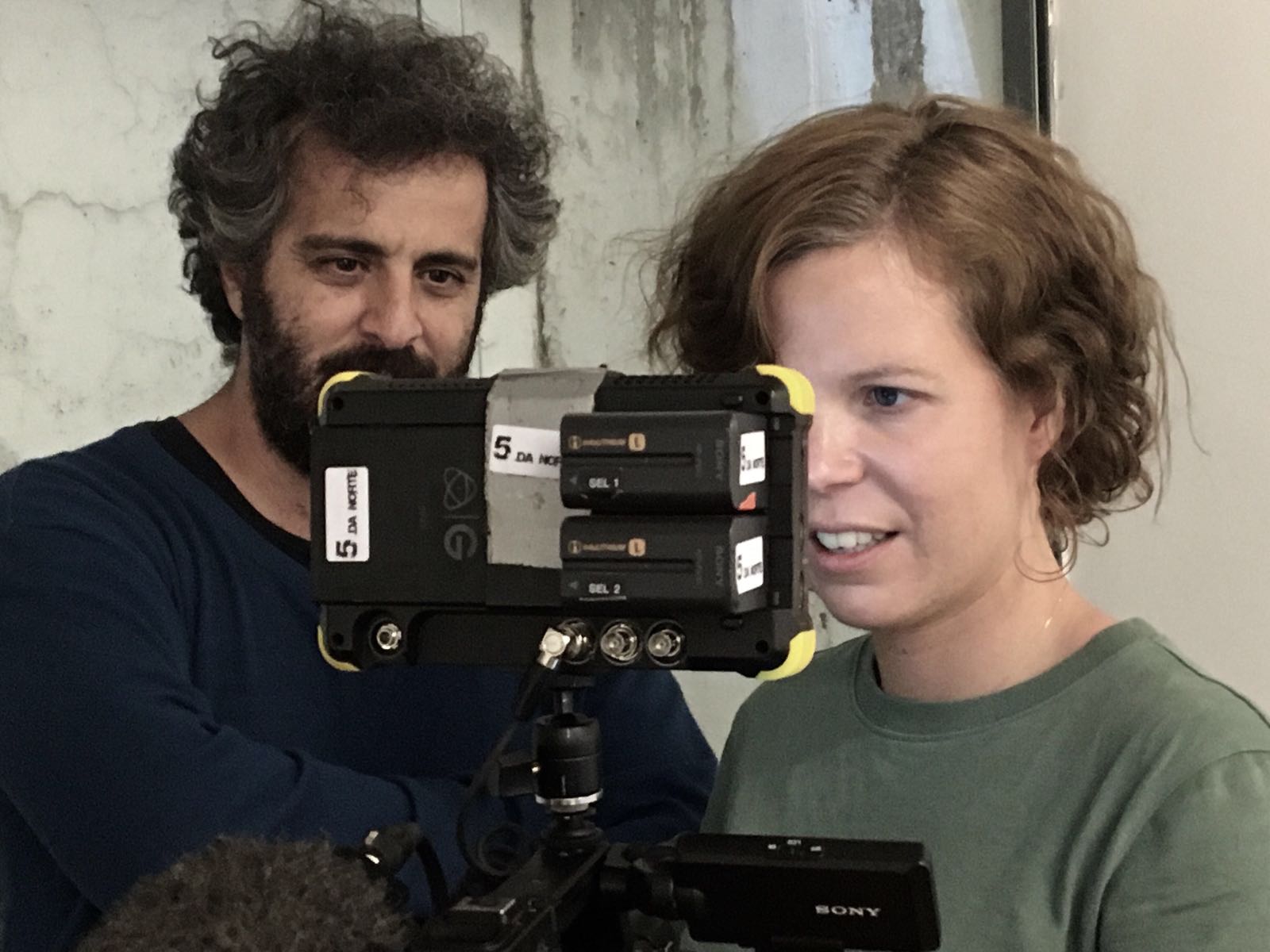 My father was an amateur photographer. When I was a child, he set up an enlarger in the building where we lived, on the outskirts of Lisbon. I took a lot of pictures and spent a lot of time there. I started learning photography as a child as a hobby. When we were still trying to understand what the image of "Era uma Vez Brasília" would look like, at that time, I filmed a lot in 16 millimeters and in medium format.
When I met Adirley, I had never been to Brazil. On my first trip to the country, Adirley asked me to take only analogue cameras and spend a week in Brasília, before going to Ceilândia. He directs the team as if directing actors, he also creates characters for the team, and the idea was that I would be an alien that just arrived on Earth and landed in Brasilia. I took medium format photos, filmed in 16mm, got lost in the city and wrote a diary. This was the initial moment of conception of the photography of "Era uma Vez Brasília". I took all this material, and we had our first meeting, already in Ceilândia, based on what this character experienced in the capital. Everything started to take shape from there. In the filming process, everything was transformed, but much more from the relationship with this photography dramaturgy process than from the image in more technical terms.
"Mato Seco em Chamas" had the possibility of having a complete lighting, electrical and machinery team, but our work with the actors and with the city leads us to work in a different way. A smaller structure allows us to have much more time to do things, and not impose the structure of cinema production on the city. We always work with the film that can be shot in the city.
The way Adirley worked with the team in "Era Uma Vez Brasília" is by proposing a performance process, a dramaturgy also for the technical functions. In the kind of cinema we make, the team is so small that everyone has a say in everything, even though the directors have the last word. There is always this malleability of the process being somewhat elastic. We started talking about "Mato Seco em Chamas" in parallel with "Era uma Vez Brasília". The two films advanced simultaneously.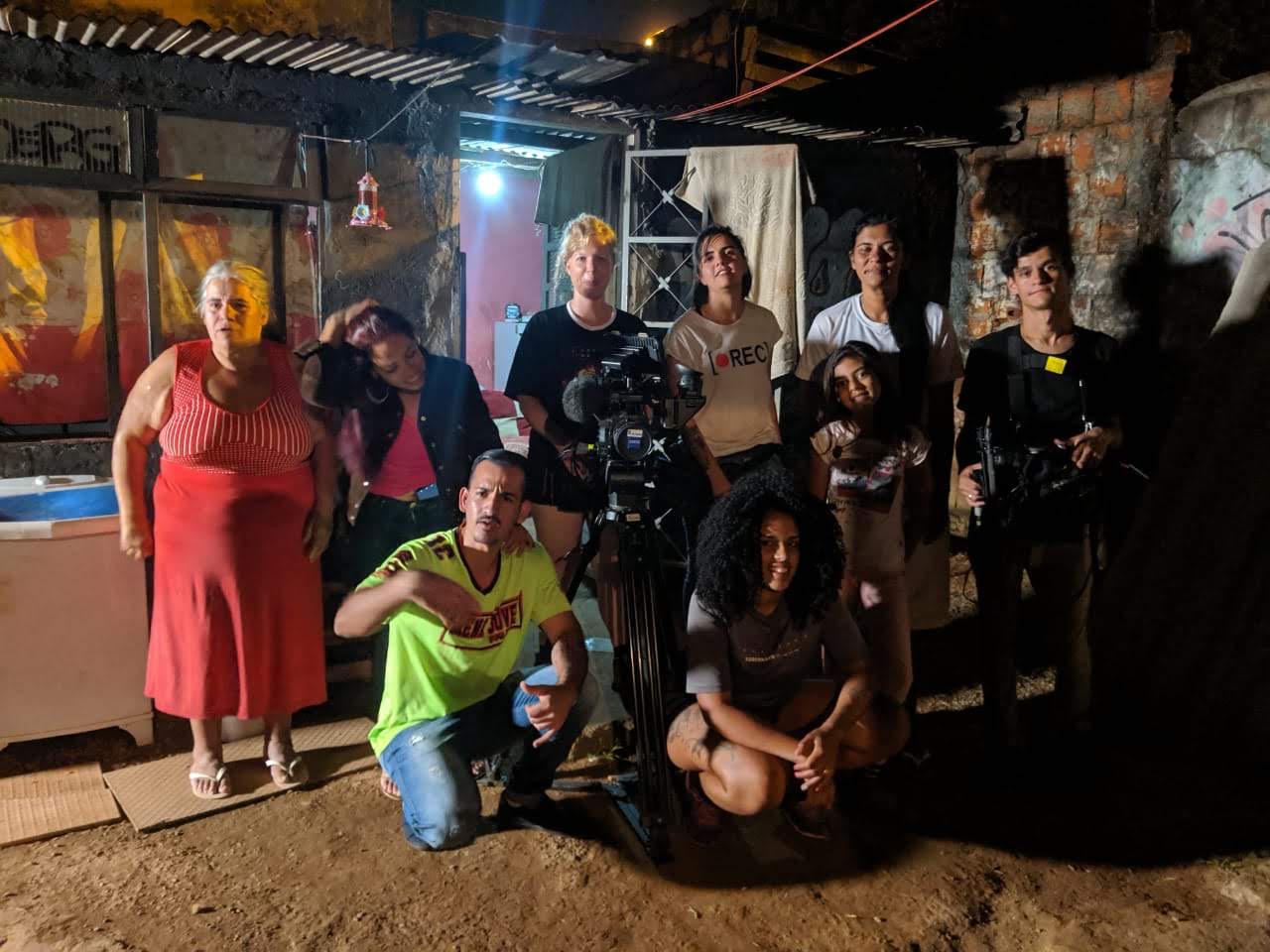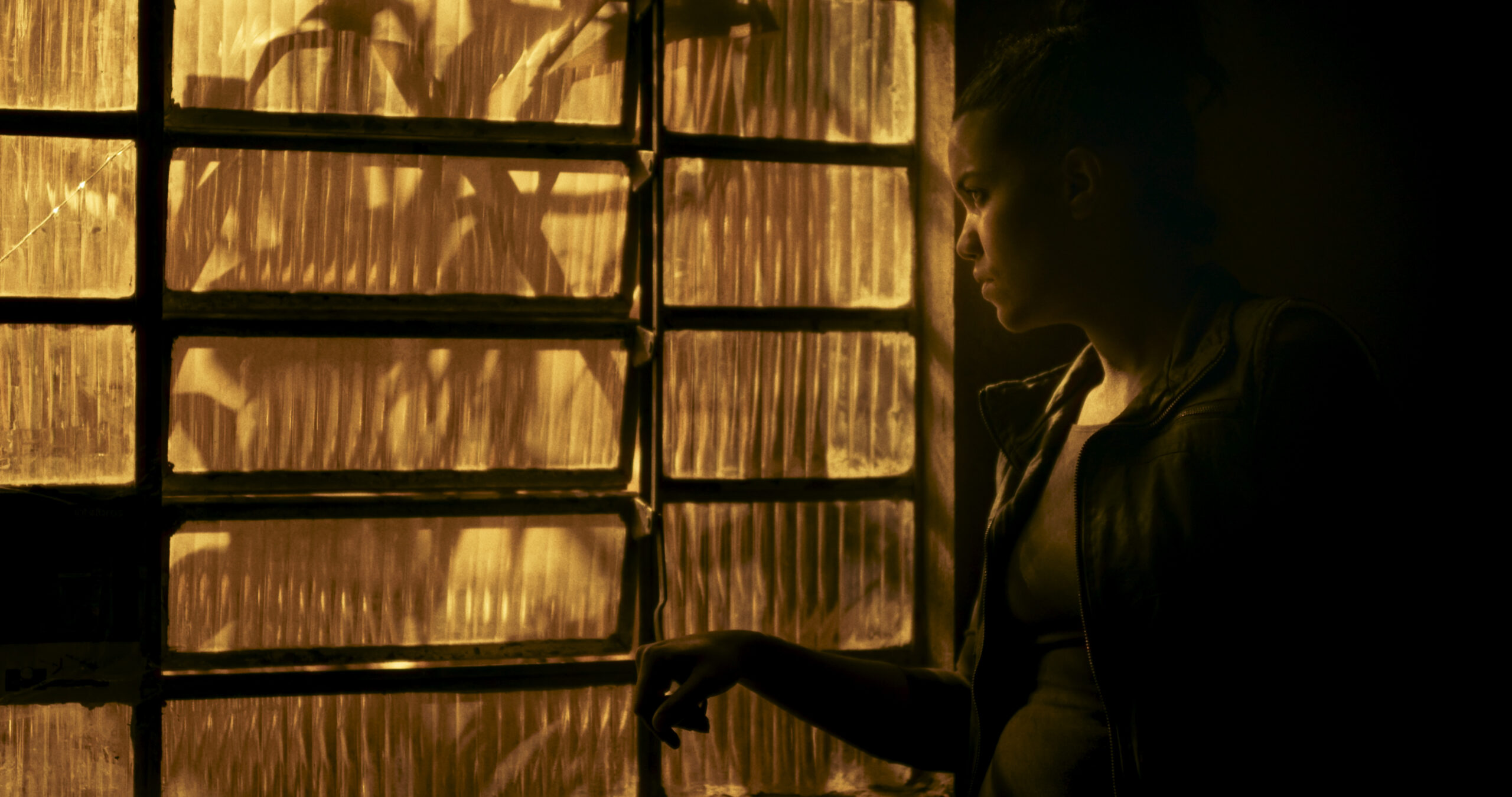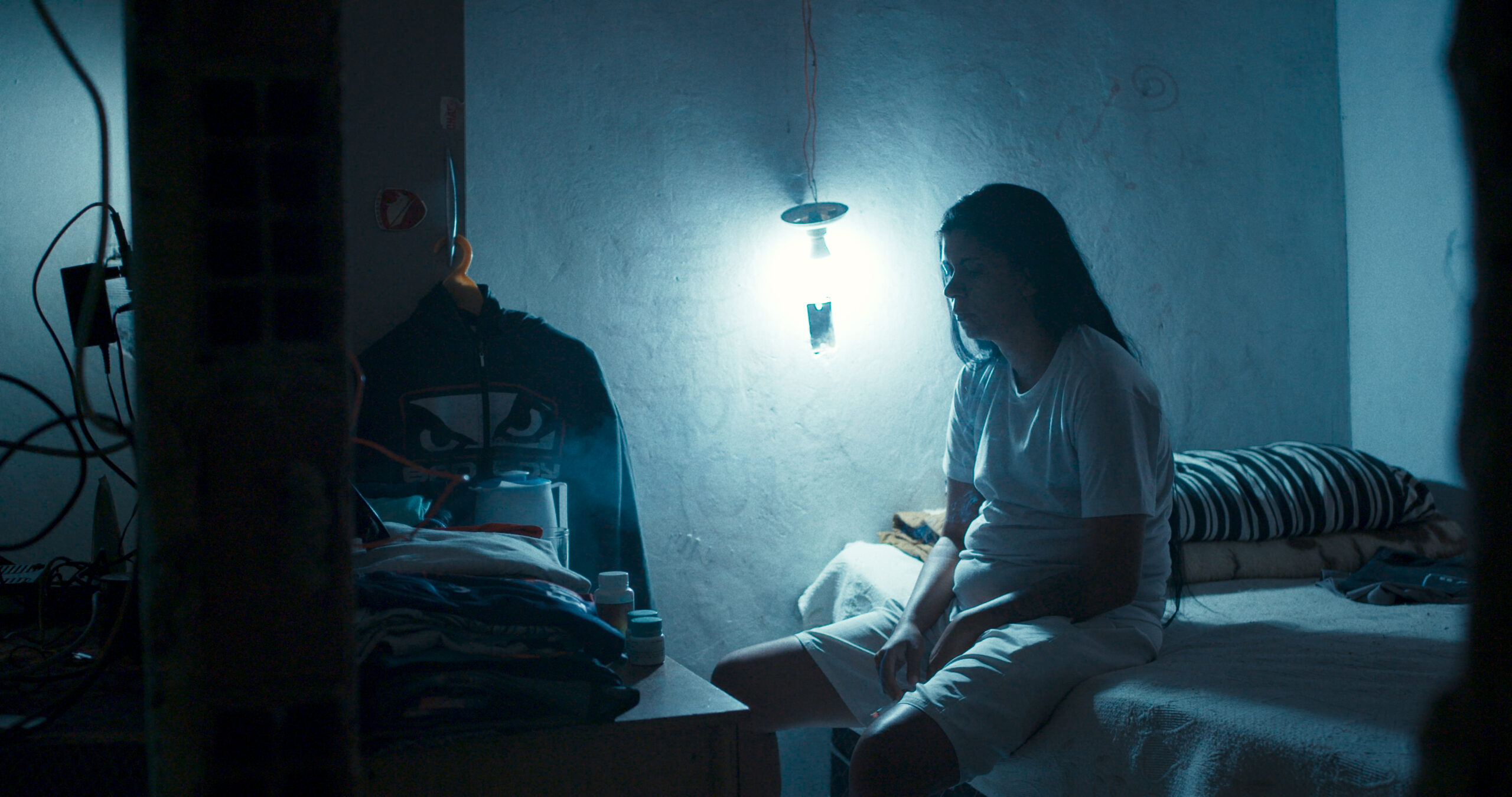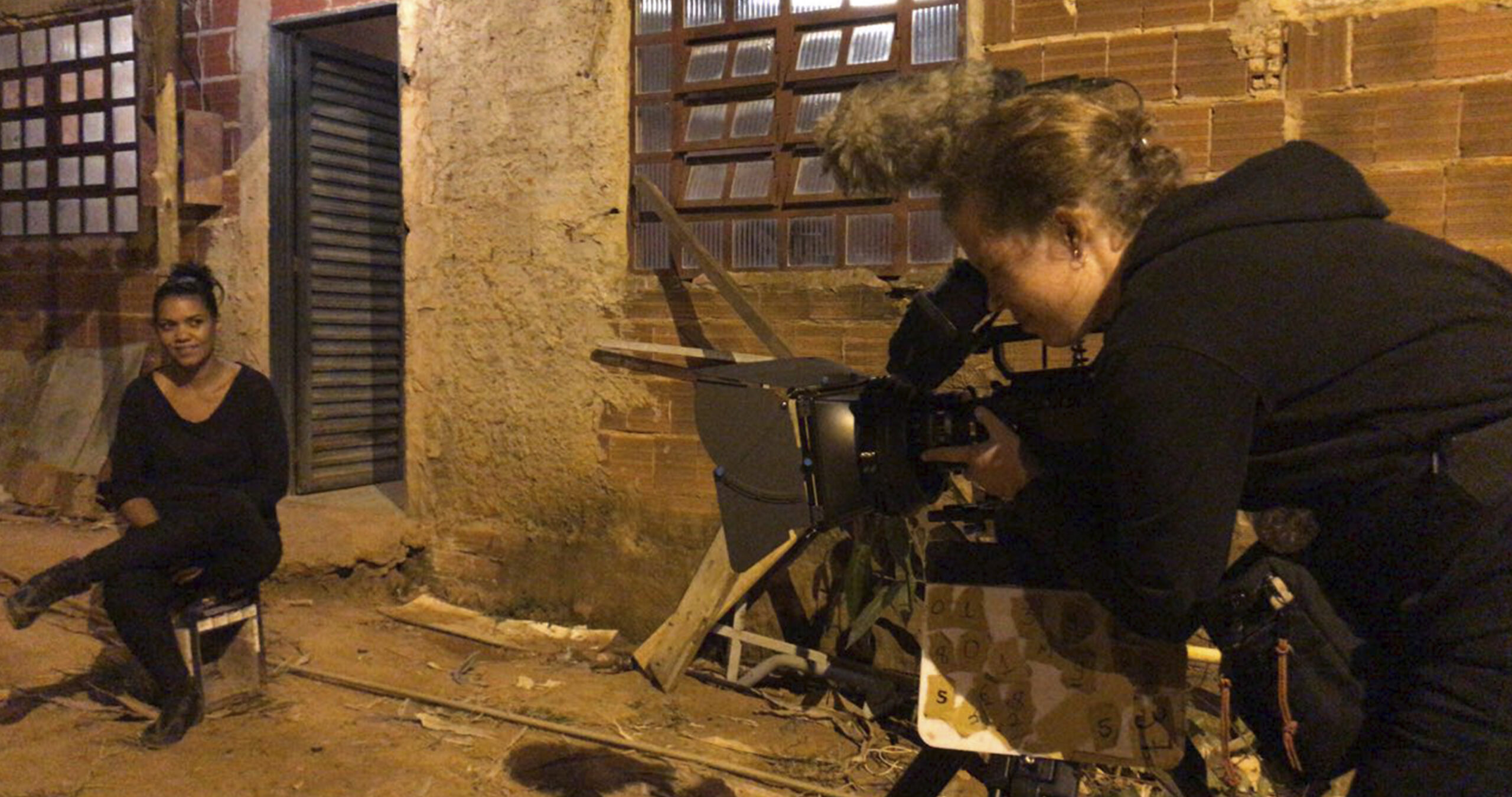 In "Era uma Vez Brasília", despite all the elasticity, my focus was really the image. In "Mato Seco", in a way, I had to change my way of filming, because everything moves along with the direction, because we were two directors. I was more focused on photography and Adirley on directing actors, but we made all the decisions together. Our parameters were built together.
In both films, there are things that we always keep. One of them is natural light or the light that exists in the scenarios. We had no structure and no desire to close streets to film. We negotiate with neighbors, we are flexible about schedules, and we are also very light in terms of staff, so we can adjust to where we are filming. We're very strict and perfectionists, so there's a lot of light building work. It was a very careful job of asking residents and factory managers to turn off or turn on window and streetlights.
To prepare and shoot at the main locations, we rented a lot in Ceilândia and signed a one-year contract. As the actresses are not professionals, despite quickly picking up the movie codes, the moment to arrive on set and talk had to be very fast because the energy was dispersed, and they have life things to worry about. Filming is usually very long, the time we spend together is extensive, but we try to make it as focused as possible, it's not possible to wait four or five hours for light or machinery to be ready. The lighting needed to be ready when we all arrived. Couldn't keep them waiting. And the film must be prepared to react very quickly to what is happening in the city's present, whether it's a campaign or a fire, or a defining moment in the film like Léa's arrest, the sets have to be always ready and lit so that we can filming, so that the scenes can have the urgency we are looking for.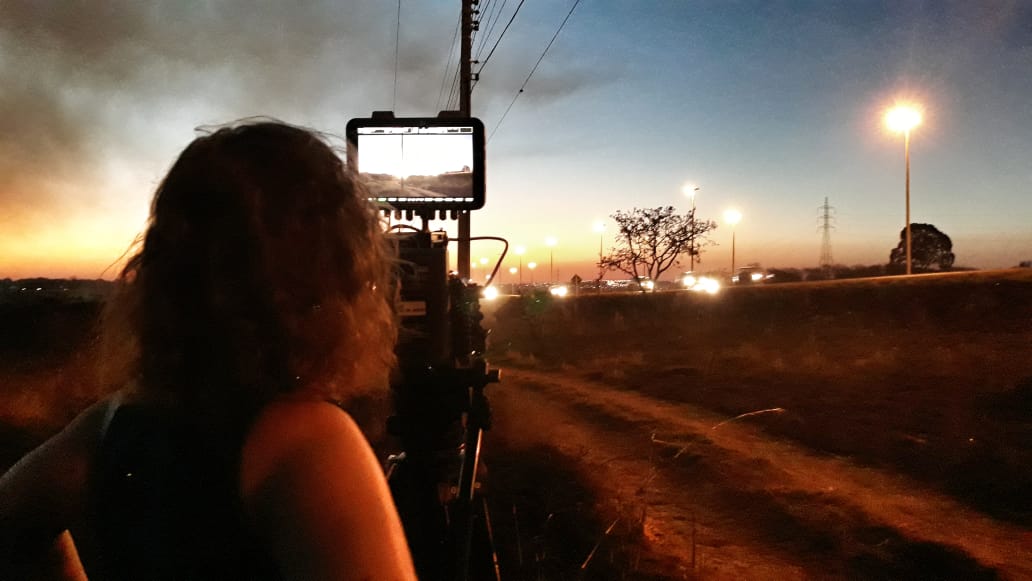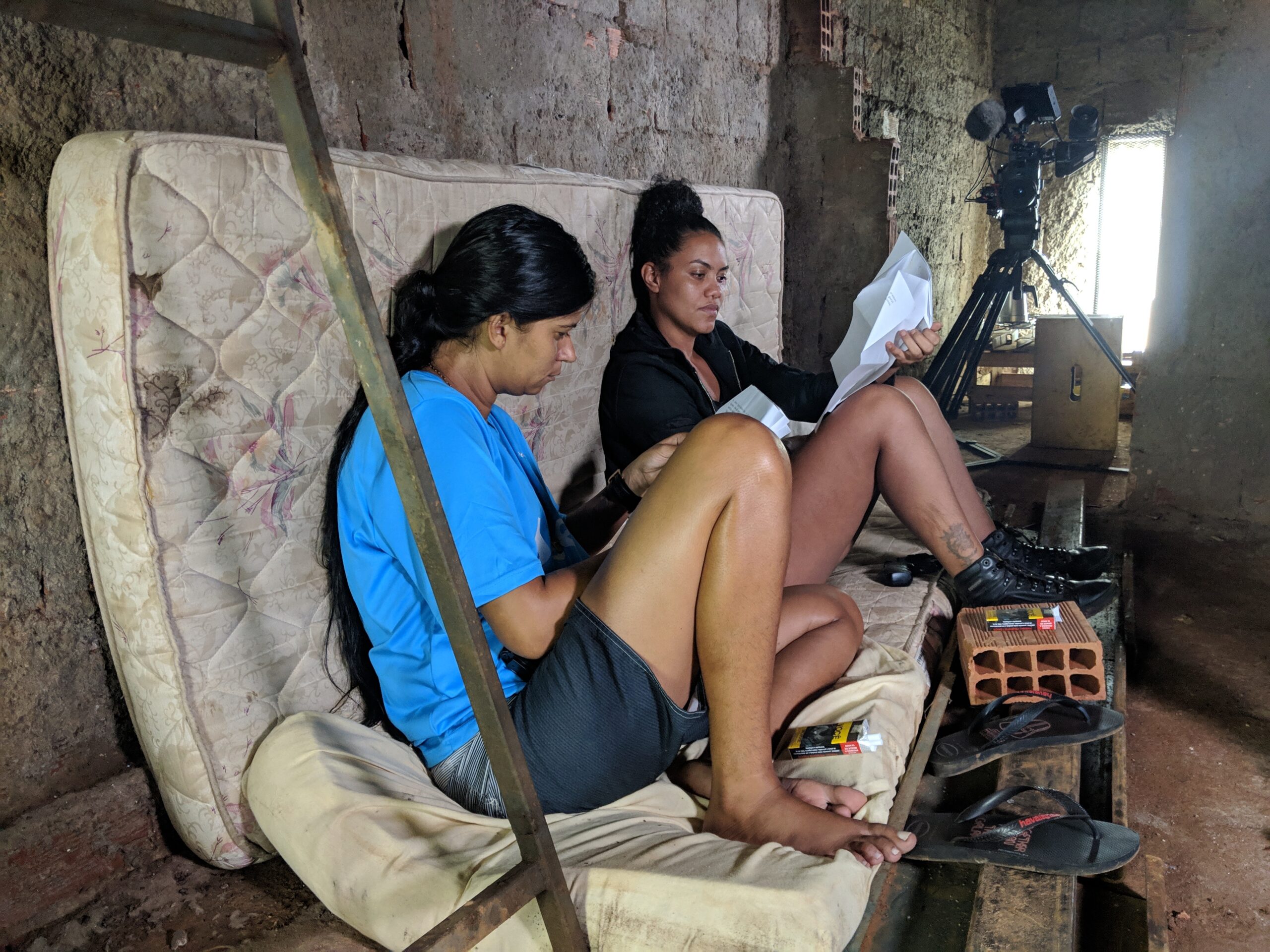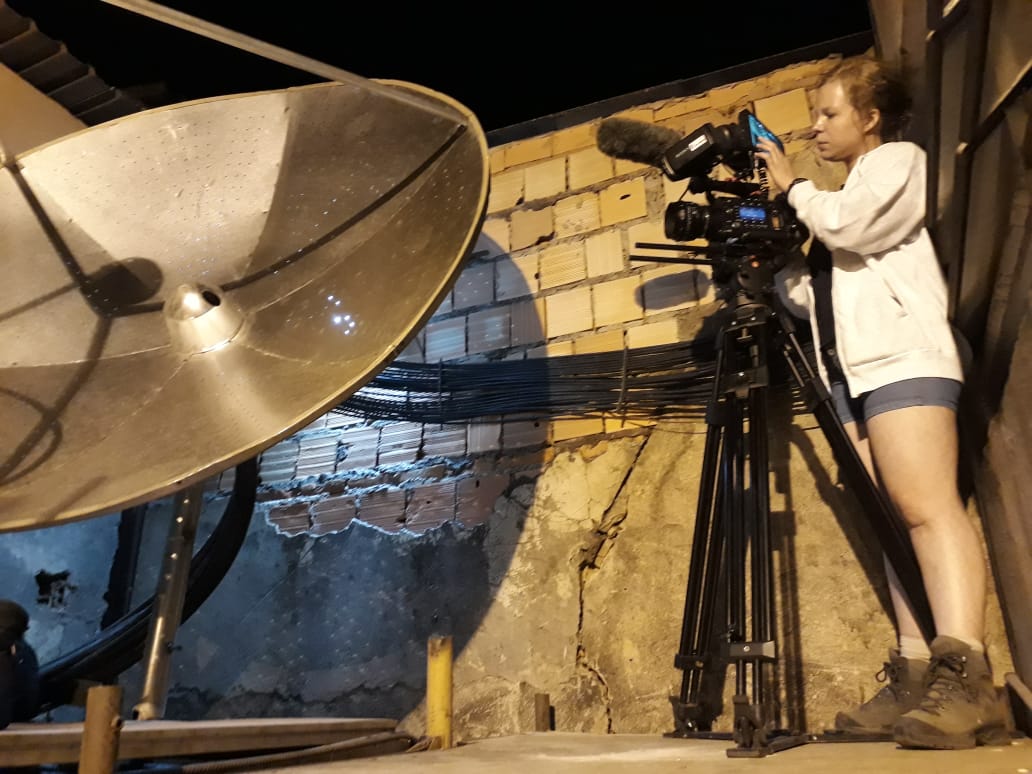 Together with the camera assistant, Nathalya Brum, who is from Ceilândia, we basically did a survey of the lights that are used in the streets, on the poles and in the houses in the surroundings. She went to all the electrical supply stores in the city and bought a collection of very simple light bulbs, which are exactly the same as those found in the region. At the entrance to the lot, we built a pole that did not exist, but of exactly the same type used in street lighting, a sodium vapor lamp that had a CRI (Color Rendering Index) of 20 and that, therefore, initially, soon determined the colors of movie nights.
We work a lot with used office supply stores, where we buy lamp frames. All these elements were discussed a lot with the art direction. The choice of the Chitara lot considered the possibility of building an oil platform and the way in which light entered the very thick double-glazed windows.
At the beginning of the lot, the pole we built served to also light the internal spaces. In the second part of filming, when the platforms were set up, the place was completely different, there were a greater number of fluorescent lamps in the scene, with more color temperatures and a greater direction for science fiction.
Lighting fixtures could be controlled by the cast themselves, with simple switches. This started with "Era uma Vez Brasília" and continued with "Mato Seco". In the light work, we use lamps that we can install ourselves, and that the actors know how to control on stage, since the directing work of an open film and without a fixed script is always reacting to what happens when we start filming. Lighting and dramaturgy advance side by side, and if the actors change places in the scene or want to turn the lights on or off, it is important that they also have this control over the technique.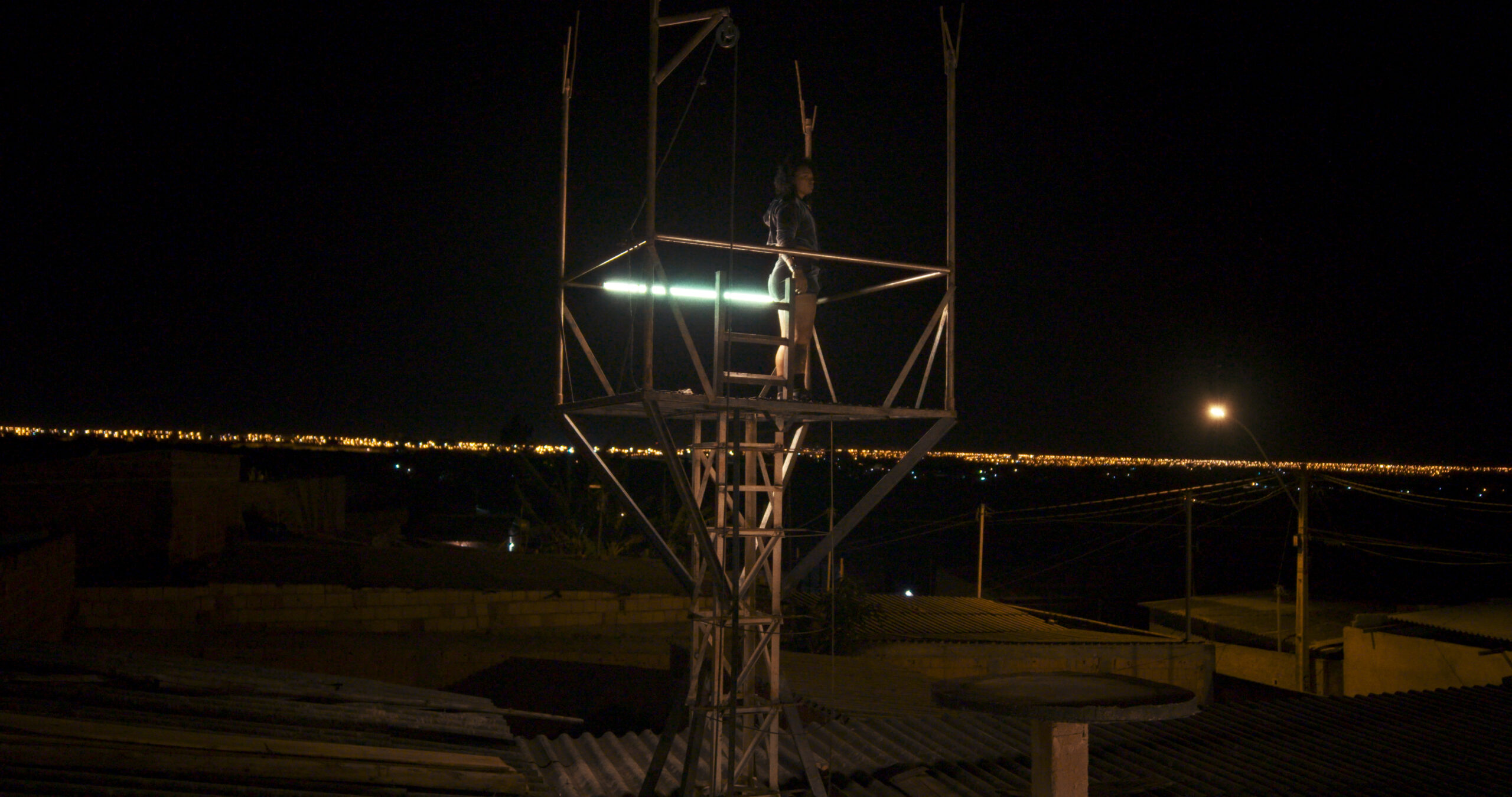 About the colors, as we work a lot with the lights that exist in the city, there will usually be a little limitation to create a barrier. The light will always be fluorescent or incandescent. The same happened with "Era uma Vez Brasília", which was also all blue or yellow.
During the day it was simpler because there was always that incredible light from the Rising Sun and the red of the earth from the streets. Cocão, who was the head of the motoboys, always showed me places with beautiful sunlight. Adirley was also always shooting and finding new locations.
I always work with Marco Amaral, an amazing colorist from Lisbon. Our relationship started from the beginning of production. He saw the newly filmed shots and already sent us some corrected images to give us an idea, as we filmed a lot at the limit of visibility at night. It was Marco who proposed introducing green, which became quite dominant in the film, as a way of upsetting the balance between blue and yellow. This green was already present in the motorcycle lights, or in the interventions we made on the headlights or the LEDs on the motorcycle wheels. What was done in the color correction was a work in the sense of creating a disharmony, a tension between this science fiction green and the warm tones of the city, and of the western that we proposed.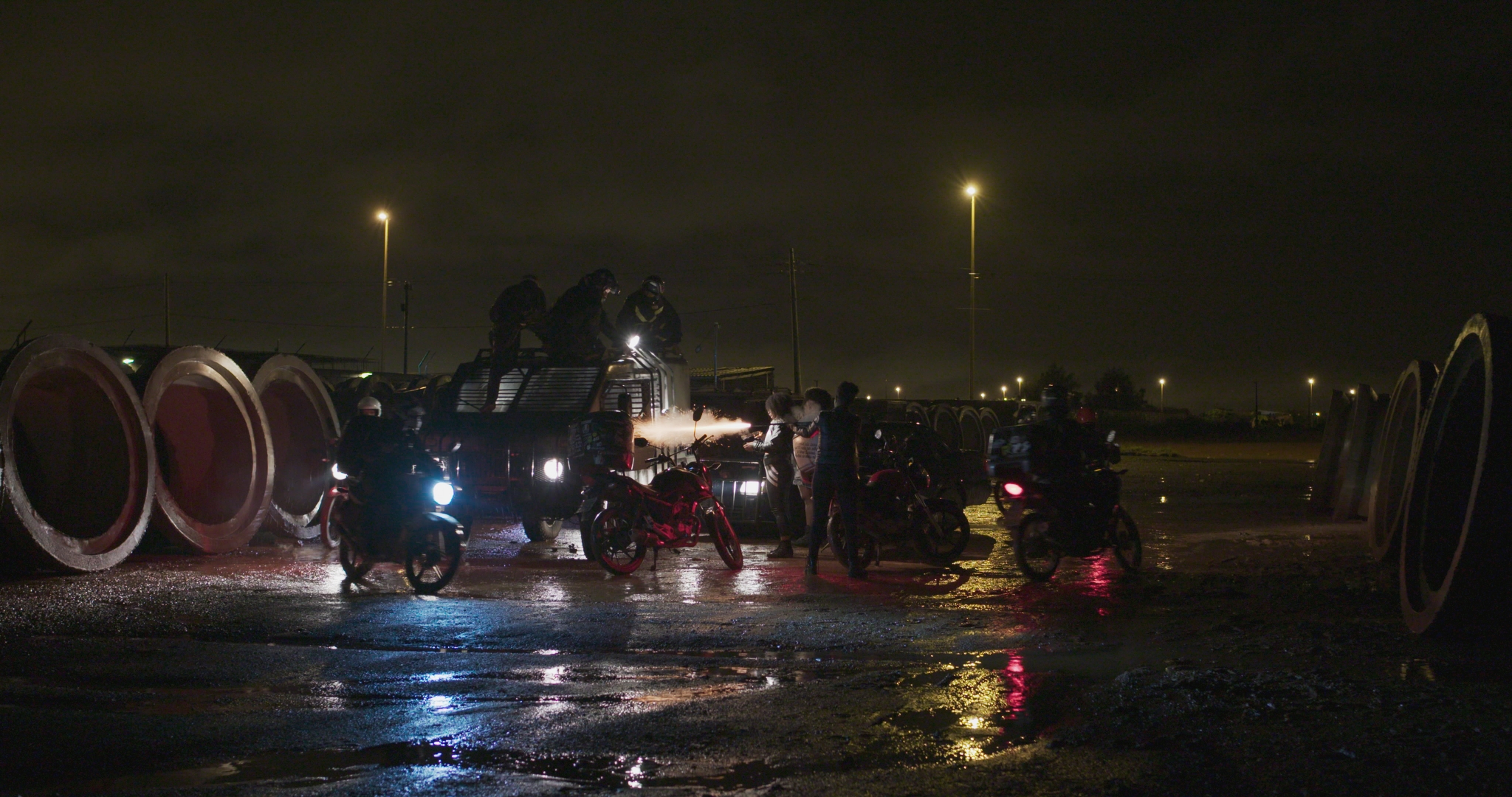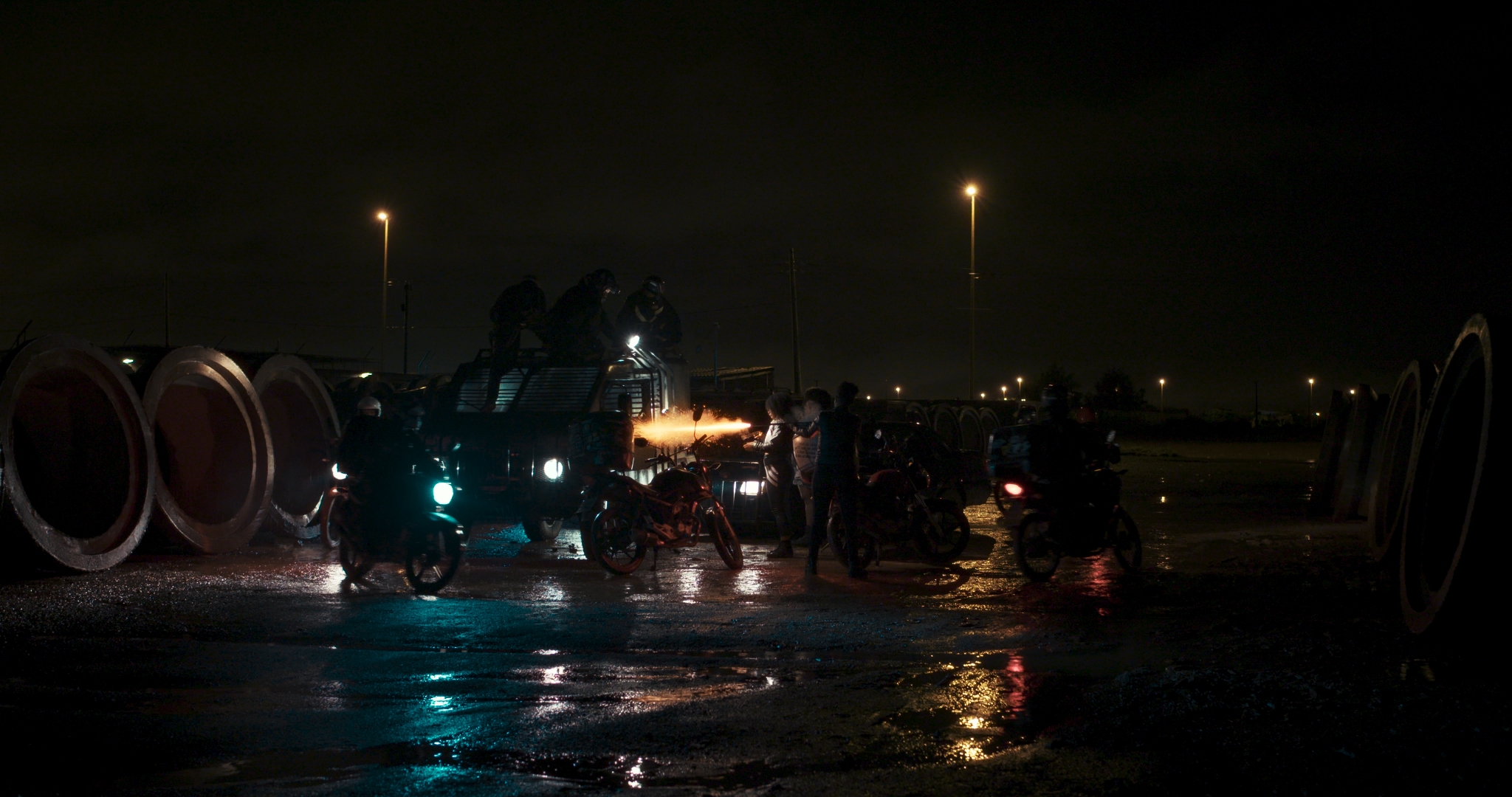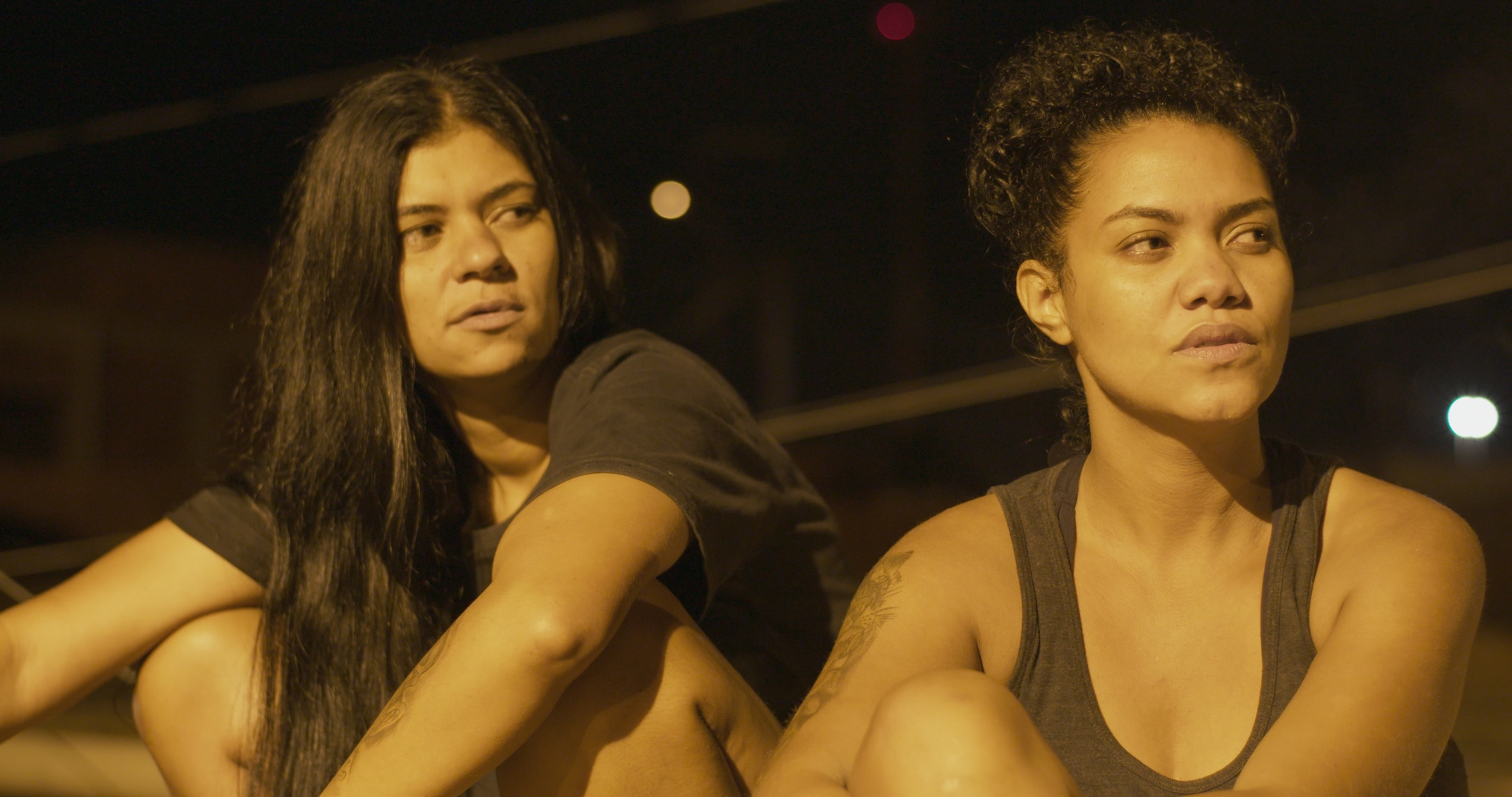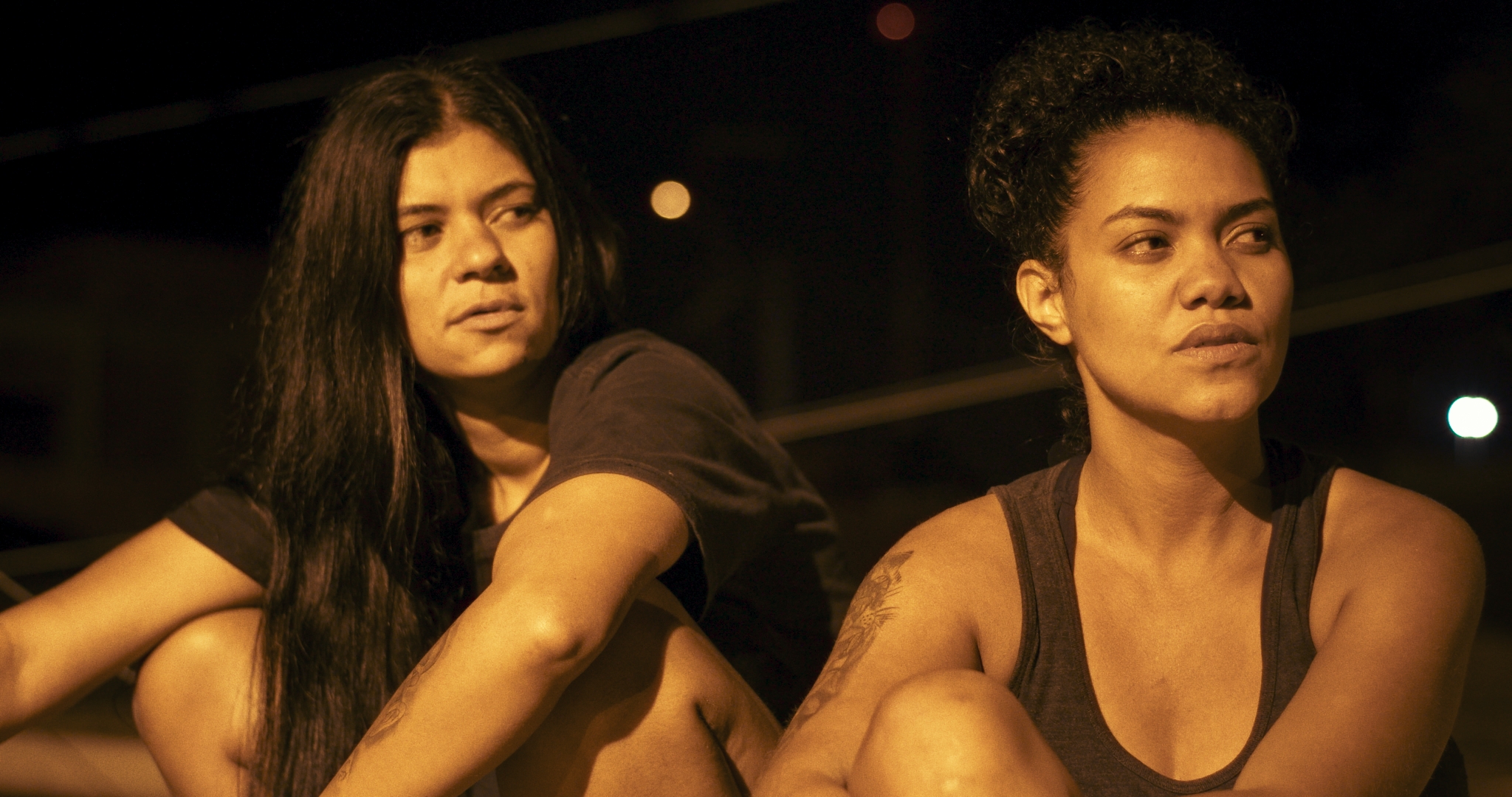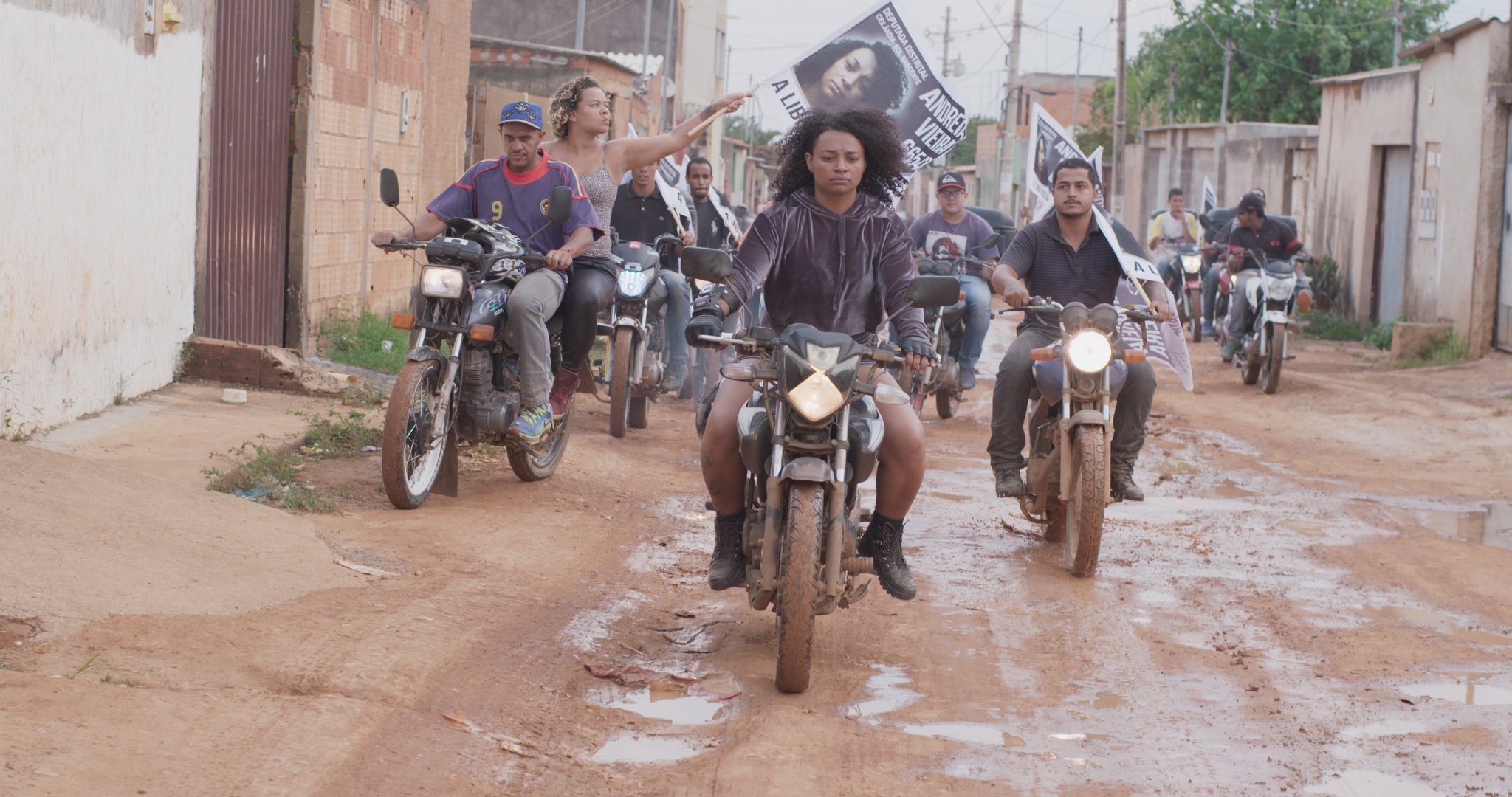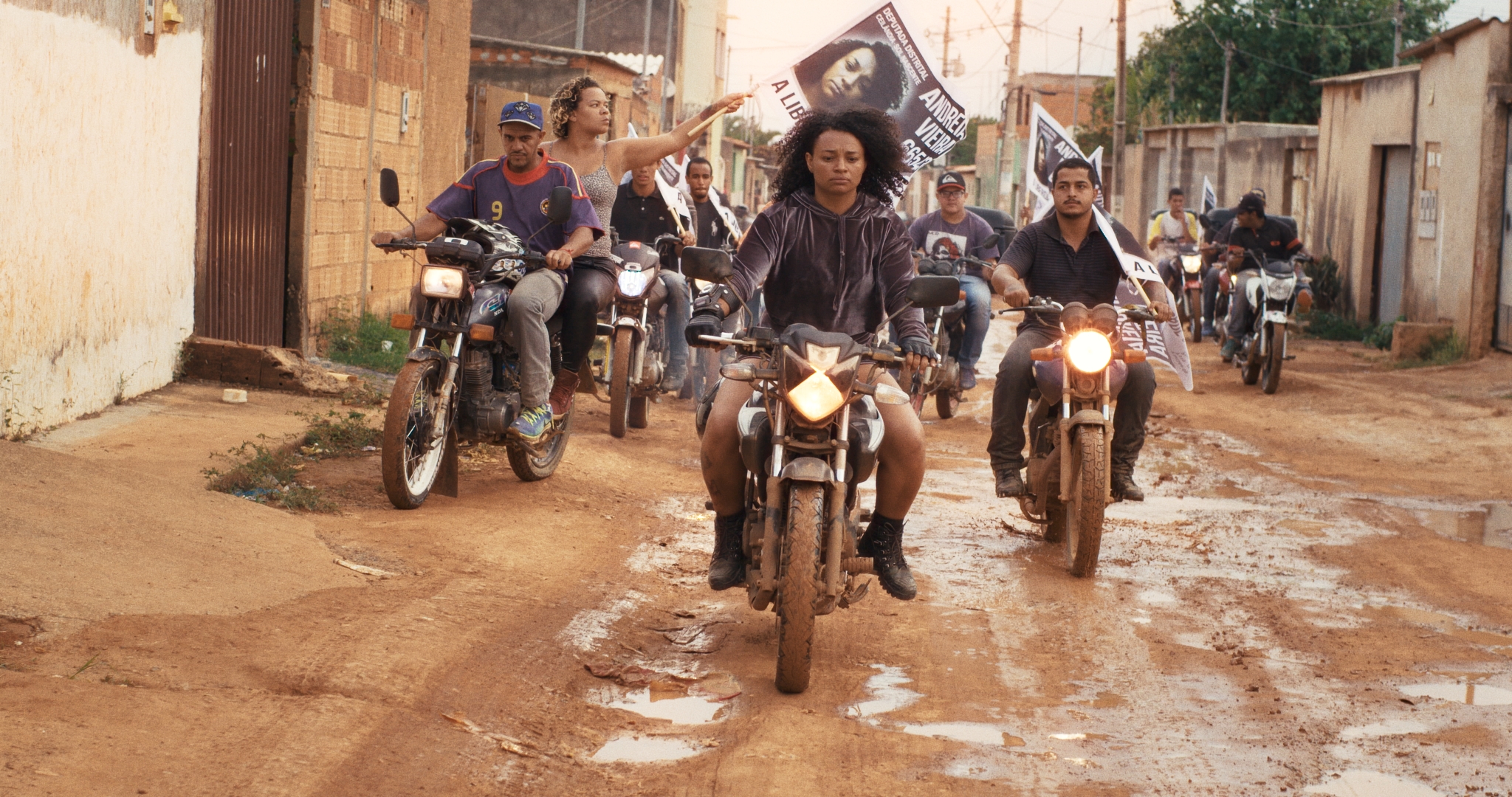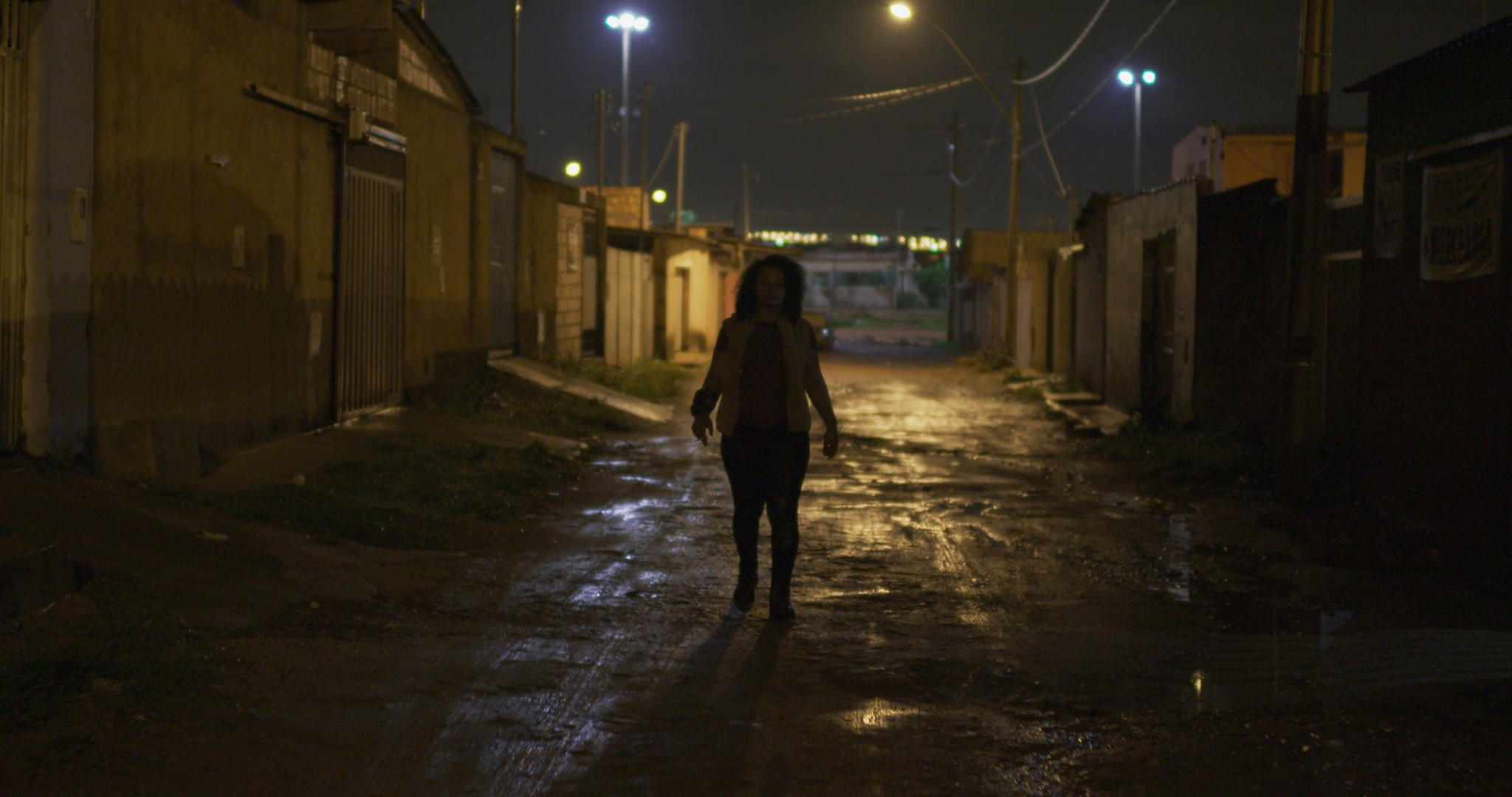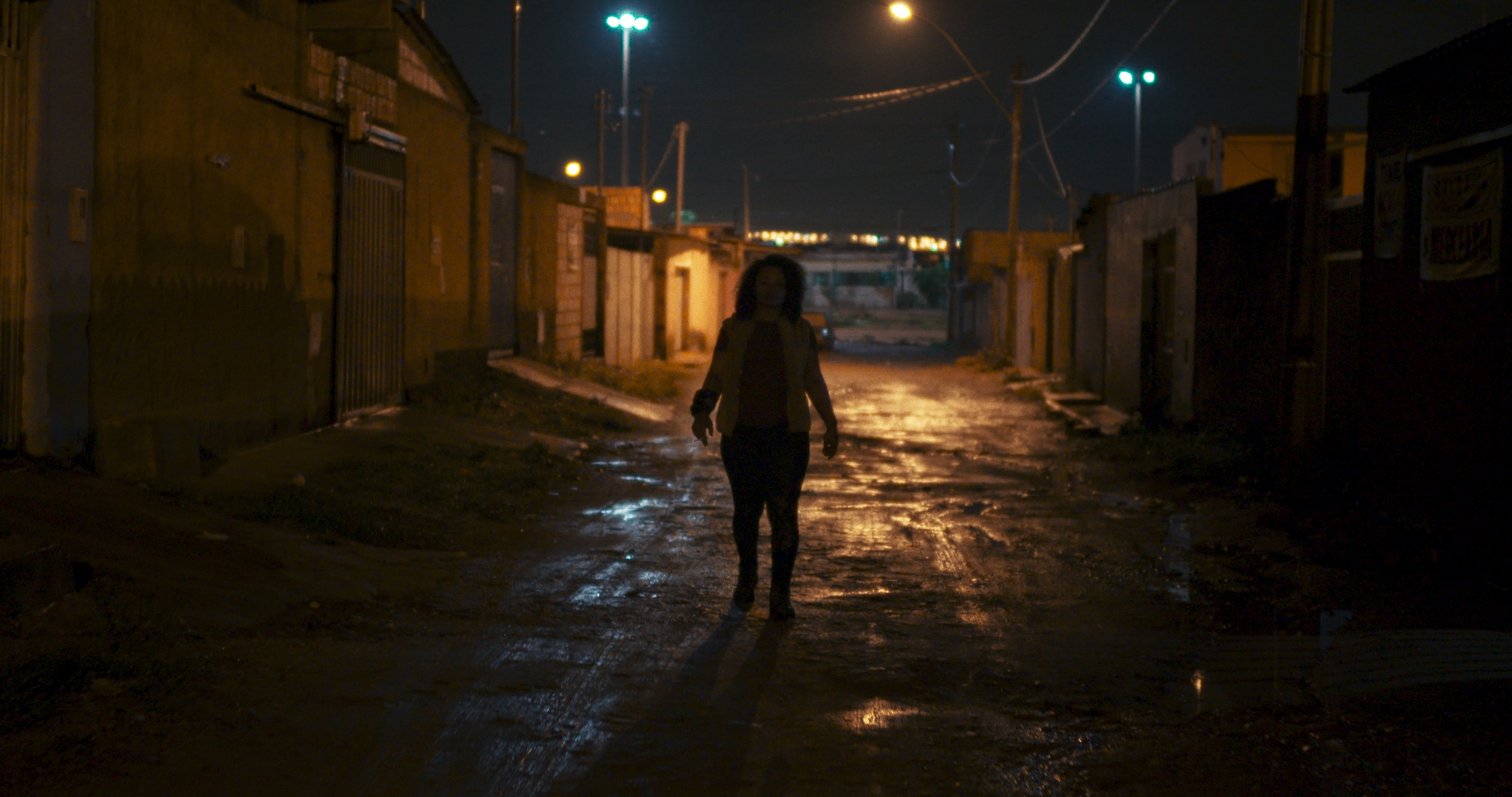 I did some research on how to light the fire. Several times, we would place three battery-powered LED projectors behind the fire to regulate the flames, give a larger cutout and allow a better read from the camera. We also work a lot with motorcycle lights. Everything is highly choreographed not only in terms of position, but in the way they are helping to read the fire on camera. Adirley himself controls the fire because he insists. He's kind of pyrotechnician. This creates tension that is also important for filming. It's not a scene fire, so we all must be very attentive.
We even invited the firefighters once to make a more controlled fire, but it took 10 hours, and the flame was very small. We filmed in places where the police don't enter, so we didn't want to call a fire truck to participate, and we didn't want to close streets. The movie has this game. We were able to film there because the actresses live there and know everyone. There's a whole negotiation behind it and the film must respect those limits. If you mobilize a very large structure with fire engines, it would be the end of filming. Our cinema does not exist in a place where cinema is more important than the people who live there. We don't want to get there full of privileges, with seven security guards and fire engines. It is a process policy. It's understanding the place where we film.
The pottery was already working. They were very generous to us for giving us access. She didn't stop working for the film as we fit the actresses into her. They worked there for a long time before filming to learn from the professionals and we went together to learn the whole process of making the bricks, first without filming. As there aren't many of us and nobody is in a hurry, things are all done very calmly. In a set with 50 people, it would be much more difficult to have the control we had, with risks of generating overtime for the team. If the fire is not working or if someone is not feeling well, we stop with the greatest tranquility and leave it for the next day. There was no need to be in danger.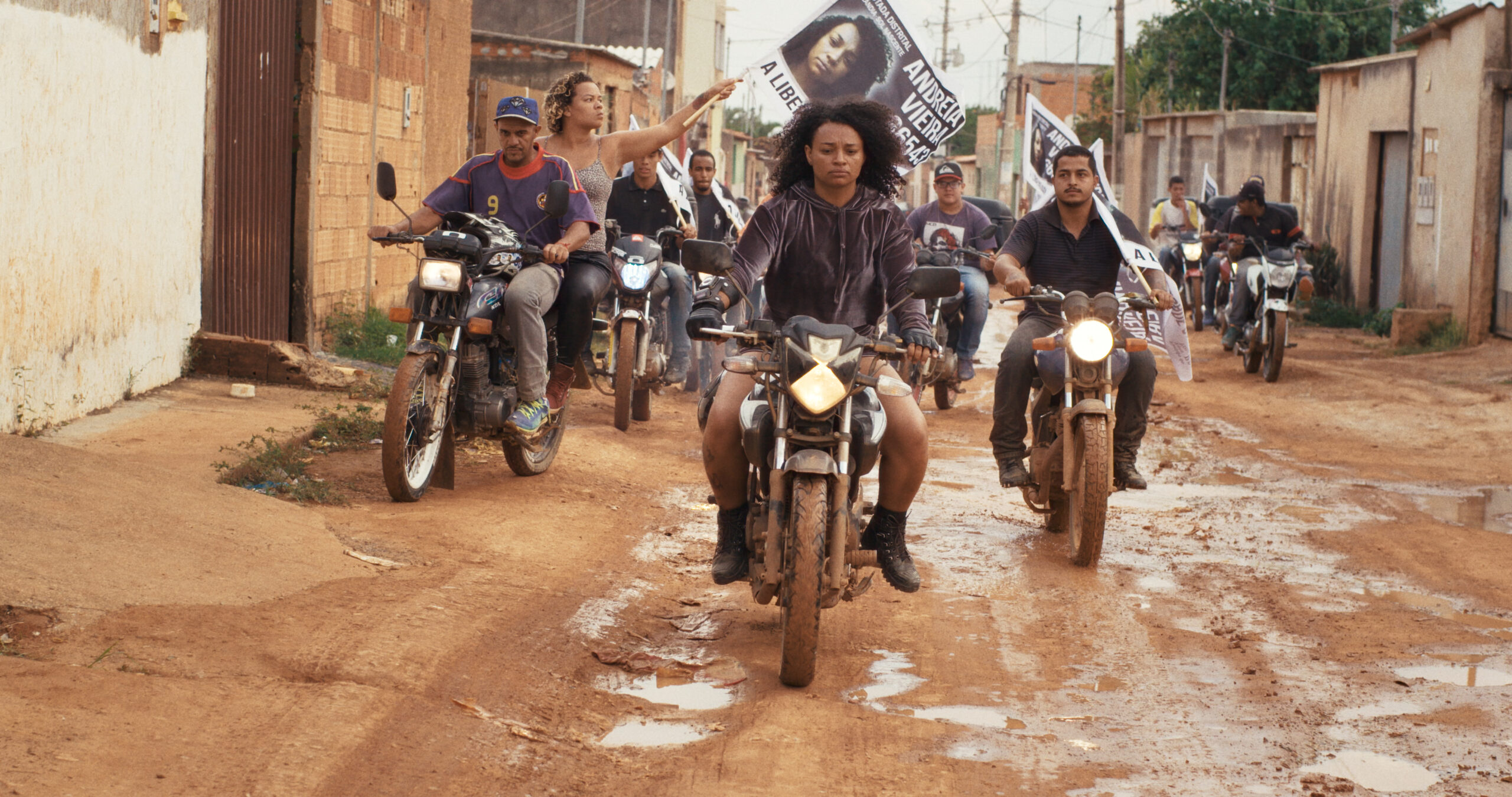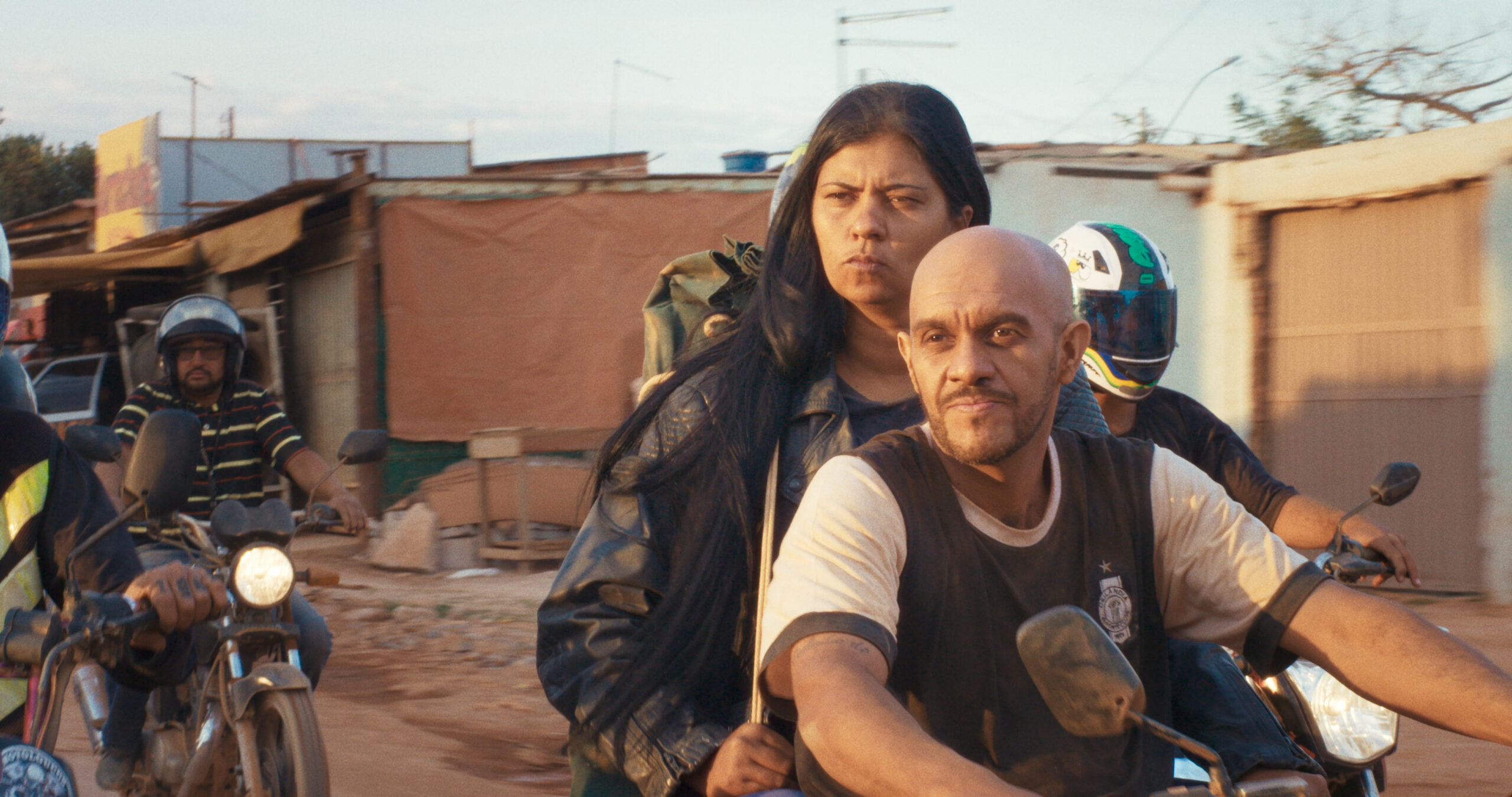 Our Camera Car was a structure that we could easily assemble and dismantle, with three tables, turnstiles and a top hat. We couldn't walk around Ceilândia at dawn with a mobile device that looked like a big movie production. The stabilizer was Adirley himself, who drove the car. He's a great Camera Car driver, amazing.
Regarding the motoboys, we went to their midst a few times, but we wanted them to be an army that had volume in the city, so our aesthetic decision was to leave the camera almost always further away. We also wanted to confront this idea of motorcycle riders, create our own motorcycle rider of that lumpenproletariat that are the delivery couriers, and a visual record that could create their imagination as an army. We intervened in the headlights of motorcycles, especially the main characters. We often change the original bulbs, modifying the light cut through friezes placed on the headlight glass or generating more intensity. Sometimes we replace the lighthouse with another geometric shape. On Chitara's F-1000 truck, we added more interior lights, seven or eight, but we used the same model as the originals. We also put lights on the dashboard to better illuminate her face.
The characters are real motoboys. With them, we started filming after 1 am, when they finished making deliveries. Cocão has a lot of commanding voice. He worked as a kind of camera assistant specifically charged with coordinating the movements of the headlights on the scene. Most of the lighting of the scenes involving the motoboys is done with this choreography of the motorcycle lights.
In the scene where Andreia makes a recording with her cell phone on the back of her motorcycle, the light comes from her own phone. We repeated that image between 20 and 25 times until we got the focus and distances right. It requires a lot of patience, but it is simple in technical terms. I don't know if this is simpler or more complicated. I have this doubt, but it's the cinema we want to make.
The jeep of the Brazilian brand Gurgel was the most expensive item in the art direction. There are few for sale these days. Denise Vieira went to buy the car in São Paulo and promised that she would take good care of it, but at the end of the film we removed all the parts and set it on fire. Many of Gurgel's collectors today are far-right old Bolsonaristas. I think they're going to have a heart attack when they see the picture.
Our initial idea was to shoot "Mato Seco em Chamas" like a western, with lots of light everywhere, dirt roads and rising sun. The movie still has some of that, but two things happened. The first was the arrival of Léa after seven months of filming. Her arrival changes a lot because she made the film more connected to the idea of the prison. The second thing was Bolsonaro's election, which brought new meaning to the idea of someone appropriating oil and to the presence of militias on the streets. This all made the film more nocturnal and reinforced science fiction.
When Bolsonaro was elected, we decided to go film in front of the National Congress and took Andreia, but shortly after the election we saw that it had turned into a very violent place and asked them to take her home. It was just me, Adirley and Francisco Craesmeyer, sound technician, who is over 1.80m tall. Adirley's job was to pretend that he worked for us and that we were filming for a German TV. People asked and he replied that Chicão and I didn't know how to speak Portuguese. I think that whole performance was the only way we were able to shoot that shot in such a violent and hostile place, where there was so much tension around the cameras. It was a visceral thing to be there with all those people who are not ashamed to make a gun sign with their hands. They were all white. One of the only blacks there was serving drinks. It was a very violent energy. We took a panoramic view that allows us to see people's faces, despite our fears. We didn't film from afar, it was almost a melee, face-to-face with Bolsonaro's voters. For me, the great seduction of that plan is that it is extremely violent, but it is also very human. It is not the abstract allegory of myth; it is the image of belief performed by the bodies of supporters. It was a turning point because the film also has this power to communicate about a new reality.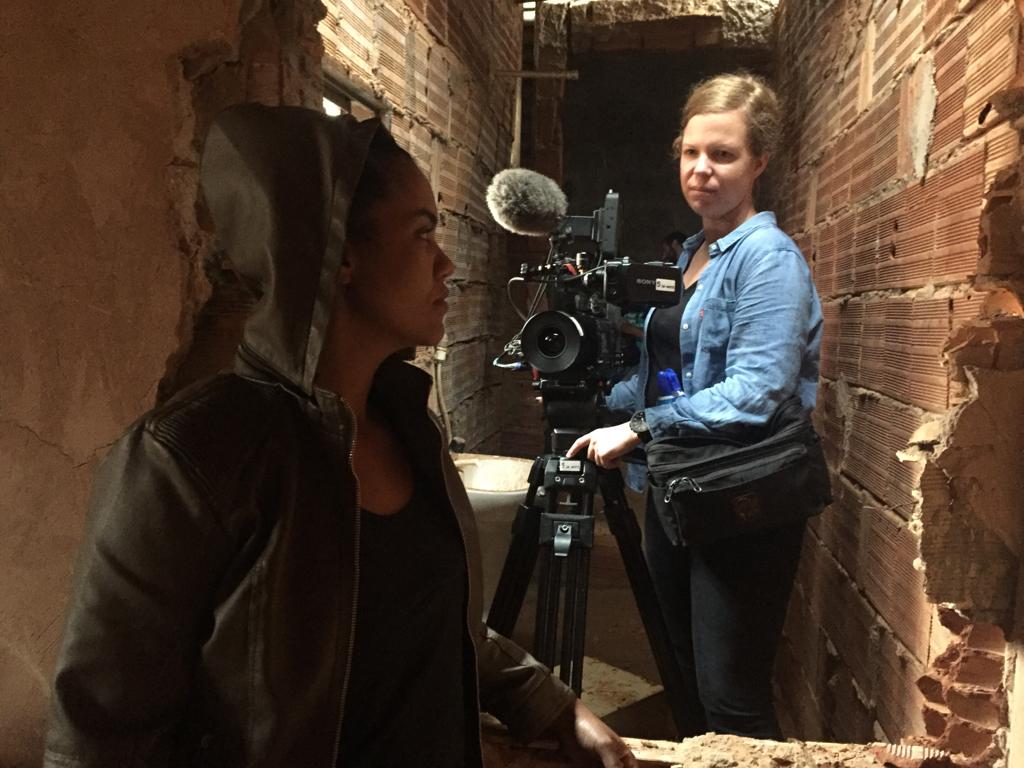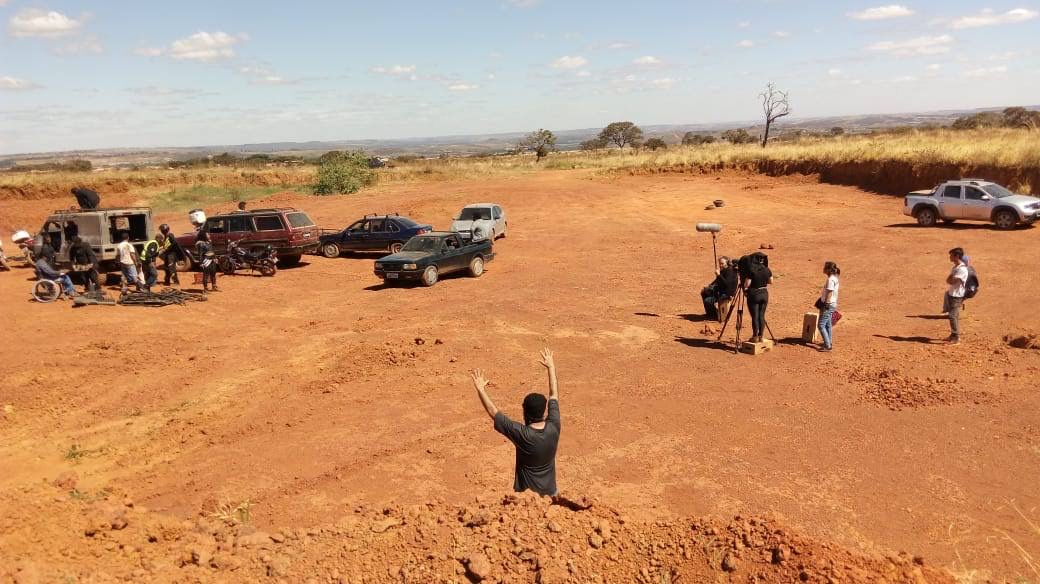 There are scenes that have a storyboard, not all of them to be filmed, but for us to start to understand, especially at the beginning, what is what we are looking for. We did a lot of camera testing with the actors, including setting the window and seeing how they could move around the frame.
I'm very strict with framing. I'm one of the first to arrive because it takes me a long time. I'm kind of obsessive about lines and fields. There is a time for photography, which is a longer time. We always start with the foreground images before defining the following frames.
In the beginning, we tried to film with camera in hand, but the informality and agility did not serve what we tried to do. Fixed framing allowed the actresses to understand the limits of movement in the frame and in space. They quickly understood the logic of language. The rigidity of the fixed camera had already paid off in "Era uma Vez Brasília", which has many scenes of the ship extracted from a single shot that we shot for three hours without cutting. The camera fixed on the tripod allows for a trance-like state in the footage. But our next film is going to be all handheld.
The film has almost no medium shots. At the scale we chose to work with, there is always a relationship between the characters and the landscape, because faces are like landscapes. We've always played along this line of going from very open to very closed. The bodies and faces of those women, around 35 years old, bring with them the history of the construction of Ceilândia. It was the mothers of this generation who built the city. The open shots are also a reference to the western.
We wanted a film with a lot of contrast, sometimes too much, with black as black as possible. It's been a decision since "Era uma Vez Brasília". In the bunker where they rest, I wanted black light cutouts, with total black. I work a lot with ViewFinder and photometer. I use a monitor, but I come from analogue photography. We shot with a Sony F5 connected to an Atmos Ninja. We use Zeiss CP2 (35mm e 50mm) e CP3 (18mm e 25mm) lenses.
In my photography direction classes, I always start without a camera. I give students just the meter and ViewFinder. Particularly for first-generation students, students who are the first in their families to come to university, or students who have historically been excluded from leadership roles in cinematography, the imposition of technique, all the jargon, can be intimidating. I have many students who truly believe they can make a good assistant, but never a photographer. I prefer to start from the inside out and not turn on the camera for the first month. Start with still images, making notational drawings from what they see in ViewFinder, and taking stills. If this is the base of work, you can work with any camera. It's a notion more of a visual artist than a photography. And this work of a visual artist is, of course, central to the work of a photographer. Developing intuition and all formal concepts, learning to preview the images as soon as you arrive on set, is important to then move on to the technical base.
Regarding the film, we followed the same process a little bit. We adopt the perspective of the non-professional body that creates imaginary situations. The predominant technique of the market and the industry prevents a certain idea of fabulation, of a work process between reality and fiction, which is what we are interested in creating. And this applies to both the characters and the team. Technique is fundamental, but belief in technique brings many elements that are rigid, hegemonic, authoritarian, and inappropriate to the type of cinema we make. The non-technical performance creates a possible common place for the encounter between the film's imagination, the imagination of non-professional actors, and the city's present.
The Sony F5 is a camera I like, and I will be using it again for my next film. It's also what we had. There was no budget or team structure to work, for example, with an Alexa during 12 months of shooting. We had 4K image quality and the necessary lenses. We had a series of filters, including some more unusual ones that I brought from my previous films, where I worked a lot with the insertion of colored or geometric filters (trying to emulate the idea of how in the film you can create "gates" for the camera sensor ) but I ended up not using it.
Chitara's character was written as a woman who worked at a gas station and smoked a lot, so there was a tension because her body was always impregnated with gasoline and could catch fire every minute. We look for someone everywhere, in bars, gas stations and bakeries. The one who introduced us to her was Marquim do Tropa, the wheelchair user in "Branco Sai Preto Fica". Chitara told us that she smokes a lot, worked in a gas station and knows how to shoot a gun. We did a test, and it was amazing. Chitara didn't know Andreia very well, but the connection point between them was Léa. Andreia participated in "Era uma Vez Brasília" and was in prison with Léa, who is Chitara's sister.
Before leaving prison, Léa was something of a legend in the movie. She was described as a woman nearly seven feet tall with long hair down to her knees, who had been hit by seven rubber bullets without falling in a prison riot. After seven years in prison, she came to film with us three weeks after her release. For her, it was like a job, a job with a signed contract and monthly payment. The close-up we shot with Léa entered the montage and contains a whole game, because we were intimidated. She imposed that we should find a way to film her. The cinema had to adapt to the actress and not the other way around.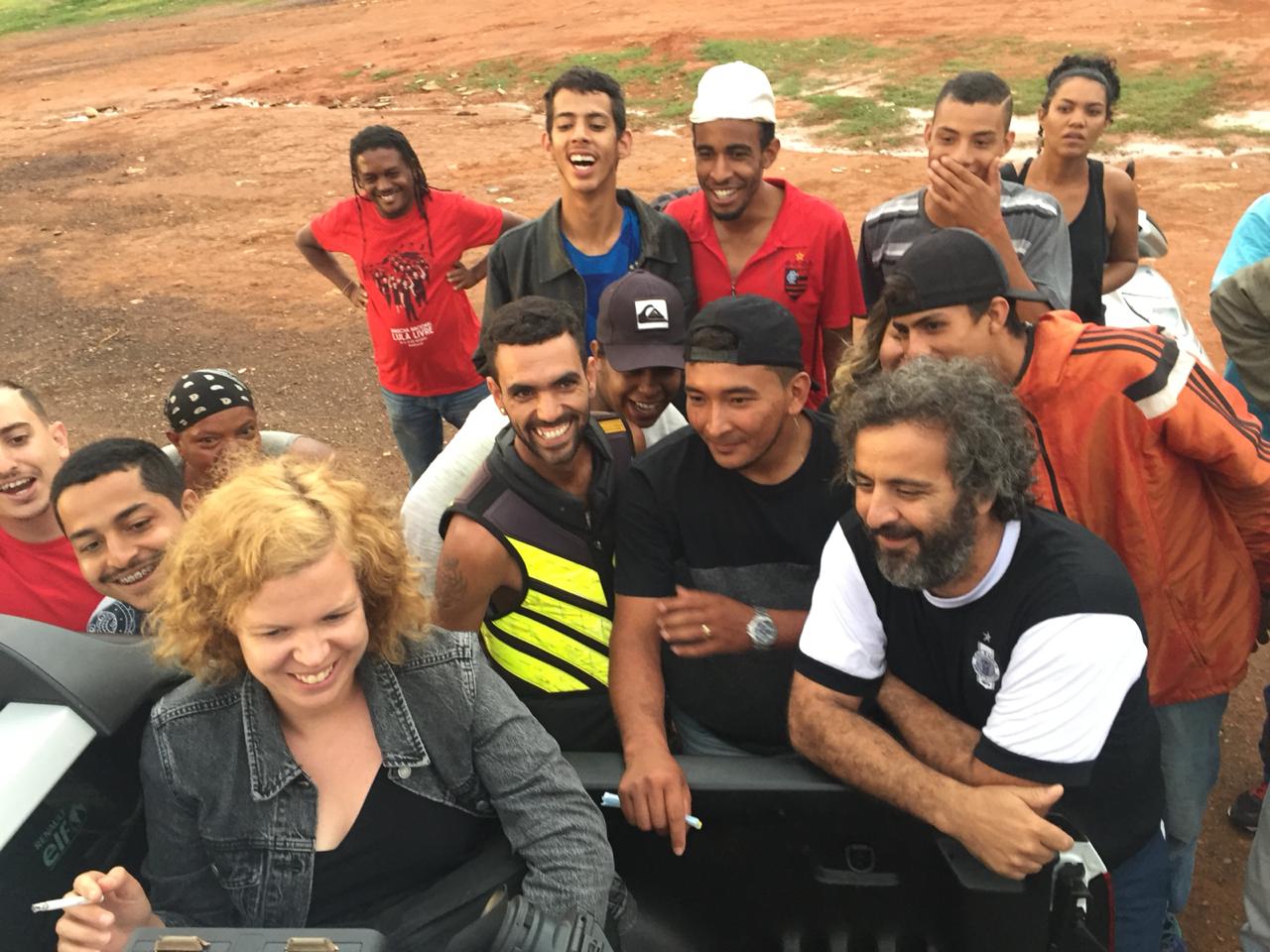 This film comes from the encounter between two processes, in terms of image and direction. Adirley brings an idea of ethnography of fiction, which is to assemble a fictional structure that is later filmed as a documentary. We started filming Chitara, for example, from the very beginning when we rented the lot and started building the platforms. That place is as much hers as it is the characters. She knows where everything is and how everything works. This goes against my training in Sensory Ethnography. My place of practice is to think of the image as the result of a great construction and preparation that lasts many days and incorporates everything that happens around us, from the children who approach to spy to the unknown biker who passes us three times at a time. dawn and makes us afraid. The truth of the final image involves a whole filming practice where there is no aesthetic imposition.
Me and Denise Vieira, art director, always talked a lot. I try to explain to her what I want to do in terms of light. These conversations, in fact, also involve the actresses and everyone is part of this construction process. When we're not filming, we're talking about everything. We do a lot of testing. The locksmith in the film is Franklin, who is also in the cast as the driver of the militia car. He's an amazing actor and he built the whole lot. Almost all the light boxes were made by an old man who lived on the same street. Me and Nathalya Brum would bring him the drawings and some material proposals. The frame was iron, super heavy. Metal plates did the diffusion.
When we arrived at the lot, we talked to all the neighbors and let them know that we work with cinema, we explained the whole process. But we spent so much time there that some people suspected that we had found real oil and that we said that we were making a film so the police would not suspect. I've never seen Adirley as sad as the day we disturbed the routine of a neighbor who had to wake up very early for work. The film is never bigger than the people, the neighborhood and the street. This limit creates a tension that forces us to continually find solutions. The filming process throws us into a continuous present. We are always reacting to everything.
When we're done shooting, I always show everyone the shots on the monitor. Everyone comes together to see. The first viewing of the film therefore takes place while the film is being made. For us, that motivates us. Our cinema is not a strange process in which we shoot and then put it in a closed box to show everything ready at the end. There is already a memory of the film in the city there, even before a first screening with everything ready and edited.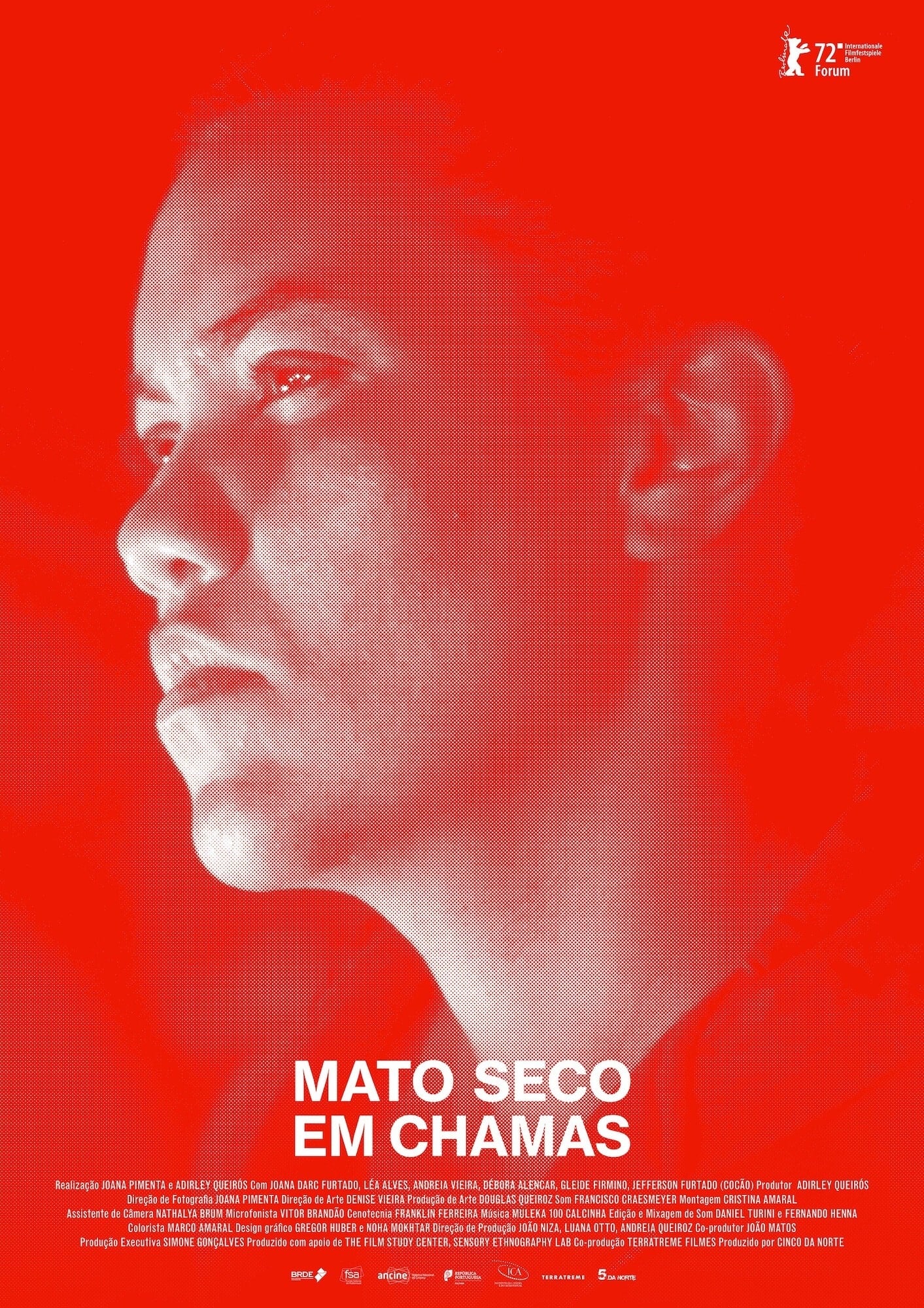 SINOPSE DE "MATO SECO EM CHAMAS"
As Gasolineiras de Kebradas são um grupo de mulheres que descobrem petróleo na Ceilândia, cidade satélite de Brasília. Ela vendem combustíveis para motoboys, que as ajudam a se proteger contra as milícias armadas do Brasil bolsonarista. Os termos "documentário e "ficção" não alcançam a complexidade do filme, que pode ser descrito como uma "ficção documental" ou "etnografia da ficção". O longa-metragem foi selecionado para a mostra Forum da Berlinale, ganhou três prêmios no IndieLisboa e venceu o festival de documentários parisiense Cinéma du Réel. O filme terá distribuição nos cinemas nos Estados Unidos, Reino Unido, França e Portugal, entre outros, e será exibido no Brasil no segundo semestre de 2022.
Direção: Adirley Queirós e Joana Pimenta
Fotografia: Joana Pimenta
Assistente de câmera: Nathalya Brum
Assistente de câmera para motos: Jefferson Furtado (Cocão)
Direção de arte: Denise Vieira
Colorista: Marco Amaral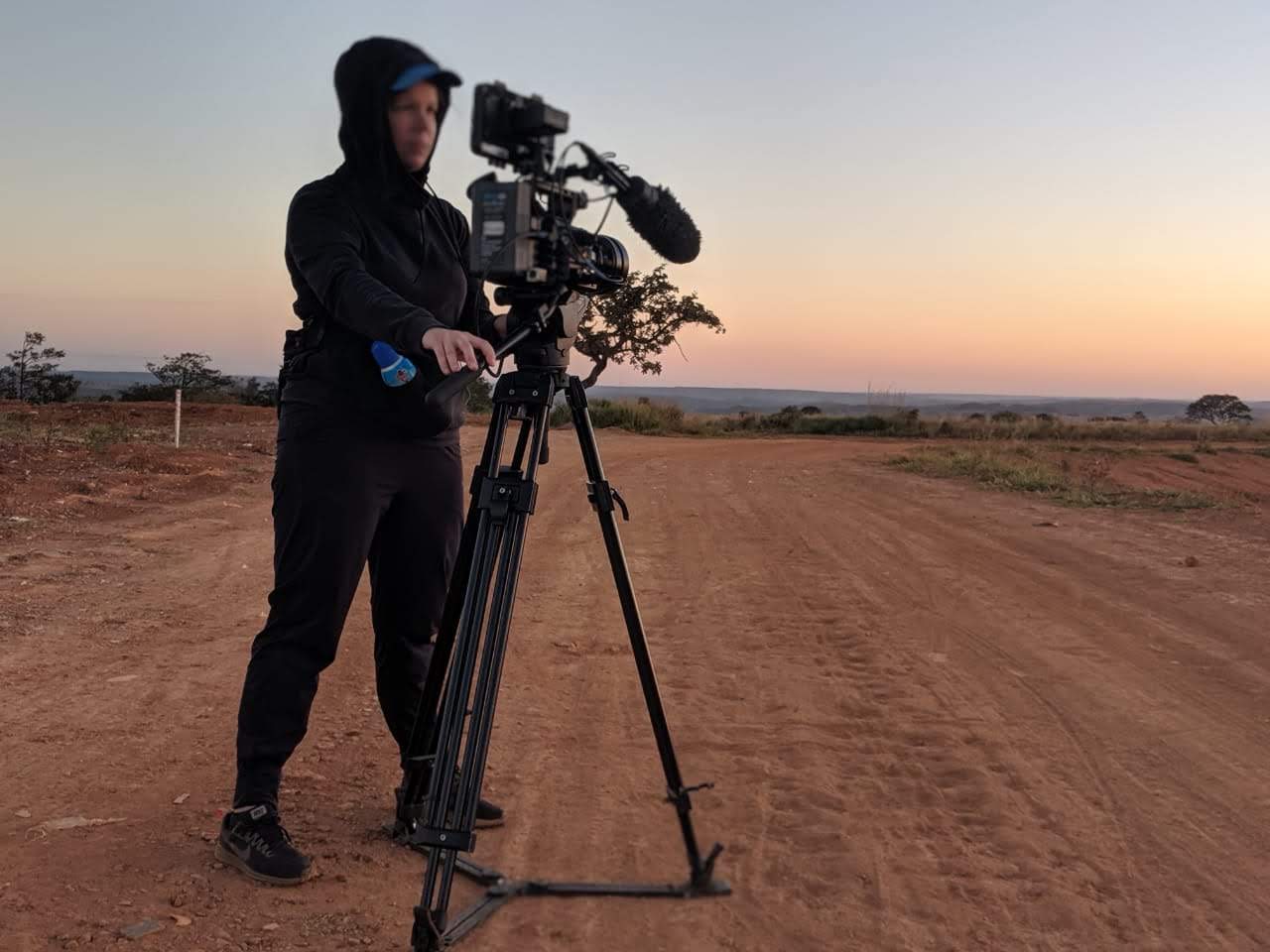 MINI BIO
Joana Pimenta was born in Oeiras, Lisbon district, in 1986. She graduated in cinema in Portugal. She taught and received a doctorate at Harvard University, in the United States, where she joined the Sensory Ethnography Lab. As a director, she directed, photographed and took on several roles in the award-winning short films "As Figuras Gravadas na Faca com a Seiva das Bananeiras" (2014), "Um Campo de Aviação" (2016) and "Rádio Coração" (2016). With "Era uma Vez Brasília" (2017), by Adirley Queirós, she won the Candango Trophy for Best Cinematography at the 50th Brasília Film Festival of Brazilian Cinema. She photographed and co-directed, with Adirley, "Mato Seco em Chamas" (2022), a feature film selected for the Berlinale Forum show, winner of three awards at IndieLisboa and winner of the Parisian documentary festival Cinéma du Réel. The film will be distributed in theaters in the United States, United Kingdom, France and Portugal, among others, and will be shown in Brazil in the second half of 2022.