I guess I am a frustrated musician. I am passionate about music and have been lucky enough to be working partners with many musicians. It was something that happened by chance in my life. I have taken piano, guitar and drum lessons, I play a little bit of each, but I don't really play anything. If I wasn't a photographer, I would probably be a musician.
"Hoje eu mando um abraçaço"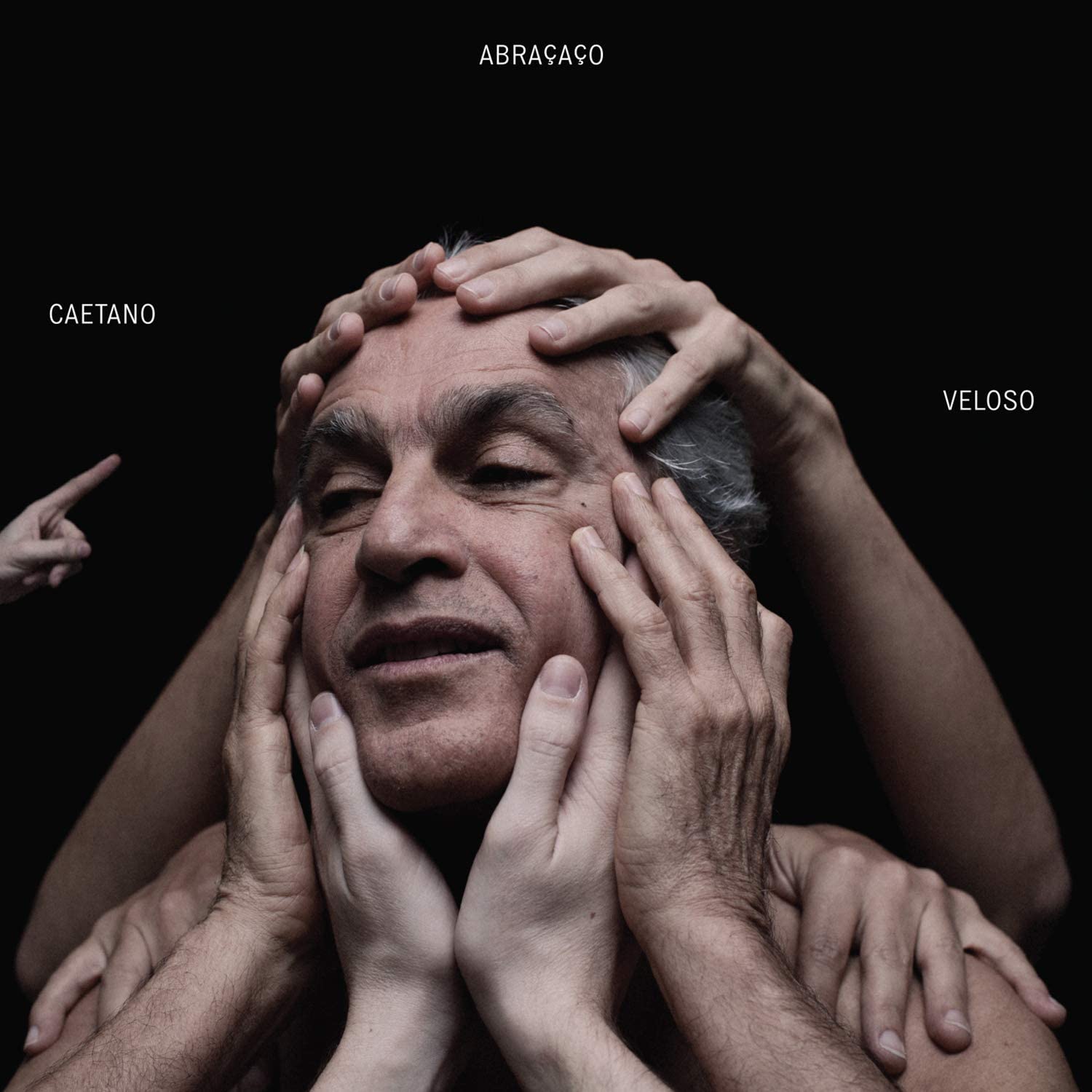 I started working with Caetano Veloso in 2009, when we did a photo shoot for the cover of Tpm magazine. He liked it and invited me to do the photos for the release of the album "Zie Zii". From then on, our partnership was established, and I also did, along with Paula Lavigne, the direction of the live DVD of the album, released in 2010. Following that, in partnership with Gualter Pupo, I designed the scenery for the tour with Maria Gadú. Next, I photographed the cover of "Abraçaço" and worked on the images for "Dois Amigos, um Século de Música" (live with Gilberto Gil) and "Ofertório".
When he recorded "Abraçaço", Caetano wanted to have his portrait on the cover, something he hadn't done for a long time. It was the end of the trilogy of records with the band Cê, so we also tried to incorporate the arms of musicians Pedro Sá, Marcelo Calado, and Ricardo Dias Gomes. I developed this project together with my friend and designer Tonho Quinta-Feira. The photo was a success and we decided to use the same concept in the music video for the song "Bossa Nova É Foda". In 2020, I signed the direction of photography of the documentary "Narciso em Férias", directed by Renato Terra and Ricardo Calil.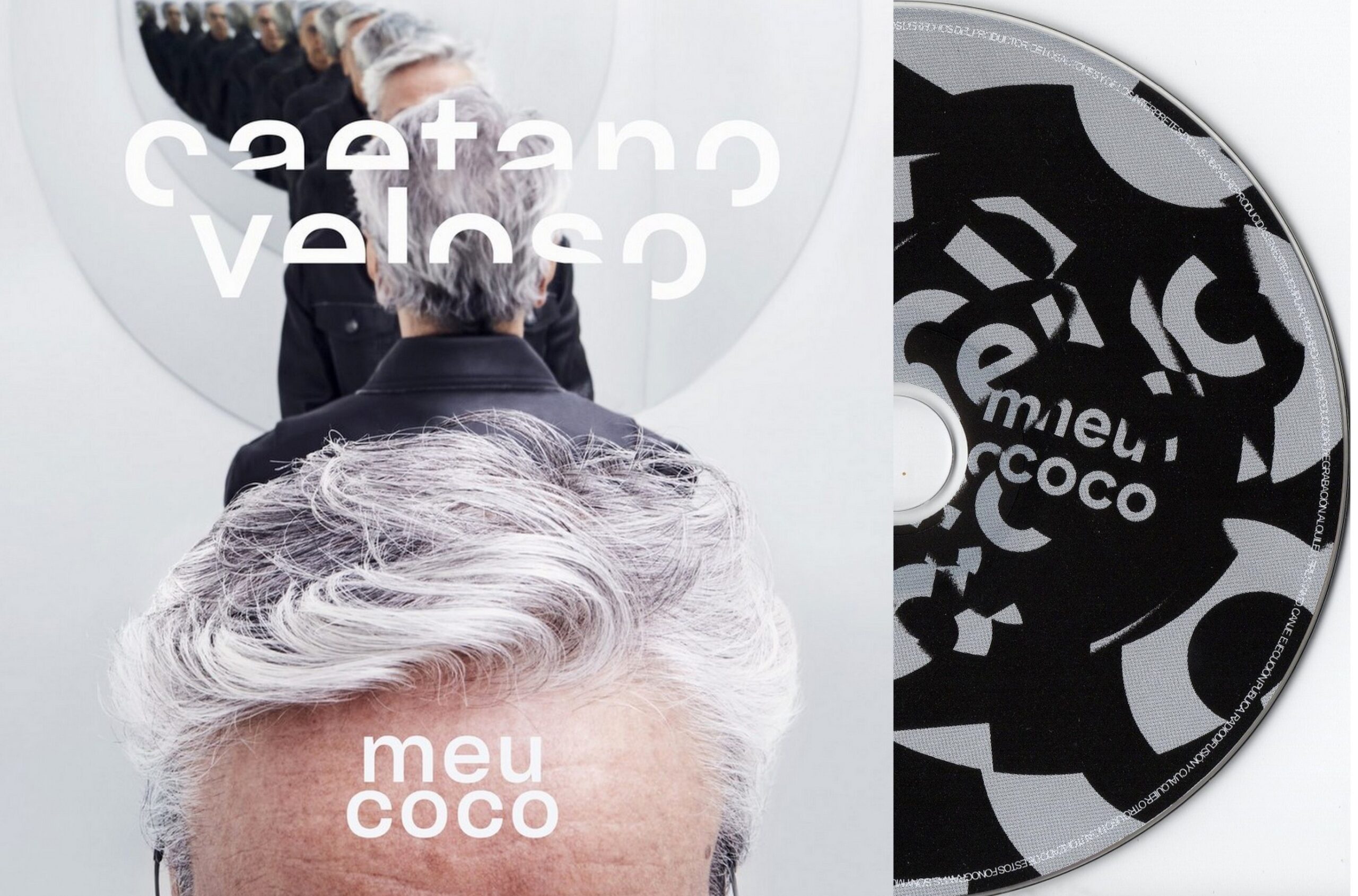 The project to produce videos for all the tracks on "Meu Coco" was born with the album cover photo. Once again, Caetano wanted a portrait and asked me to think of a visual path. At that time, I was filming the Amazon Prime Video series "Em Casa com os Gil". In between filming, I started listening to the songs and thinking about a proposal.
I realized that the album "Meu Coco" had a political attitude and a flirtation with the world of the algorithm that was quite interesting and current. I freaked out at the idea of what is real and what is not, what is Caetano and what are Caetano's refractions. I took this idea to the concept of the photo essay that gave rise to the cover. Design studio Cubículo and set designer Felipe Bardy also participated. We built the mirror sets and photographed in my studio.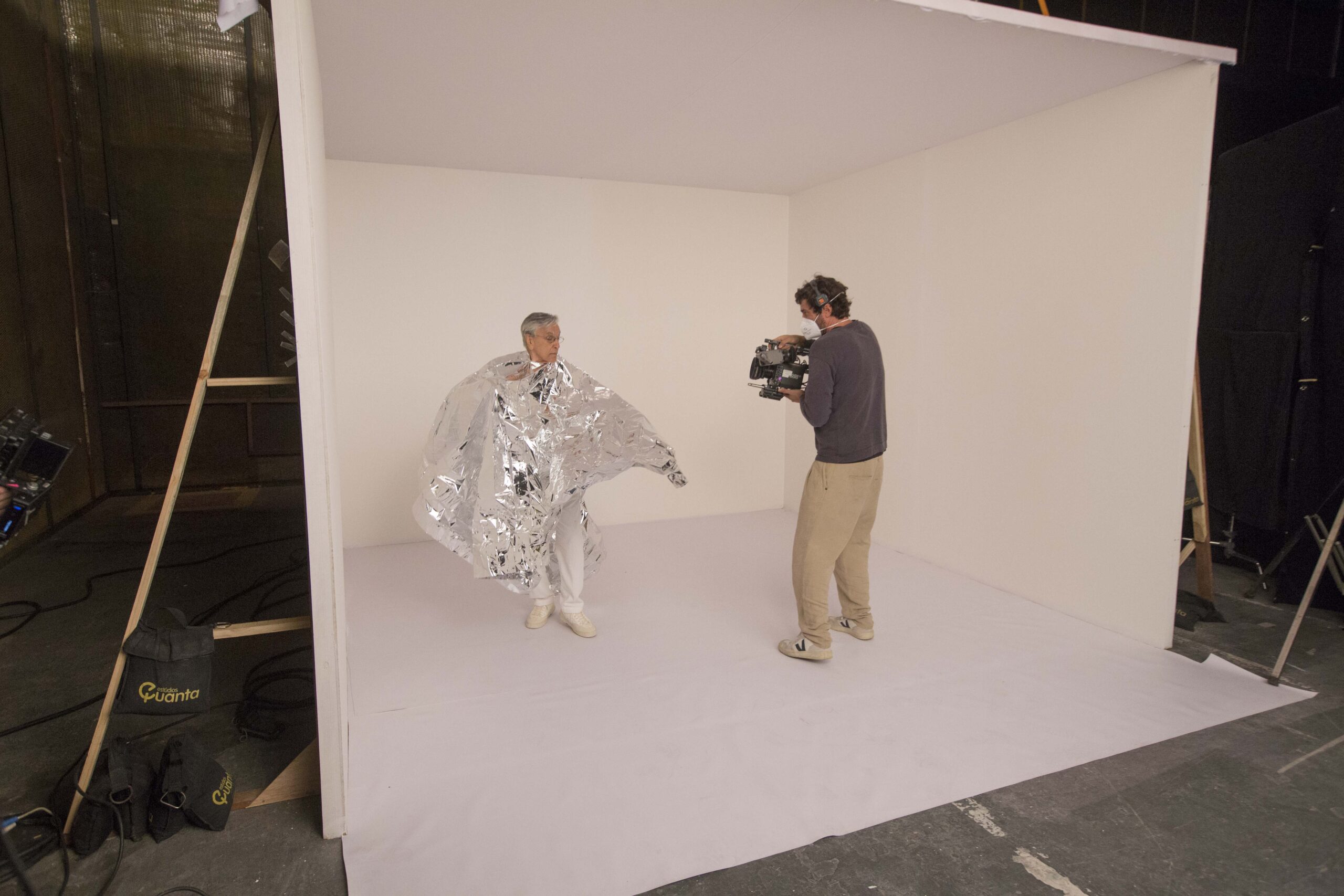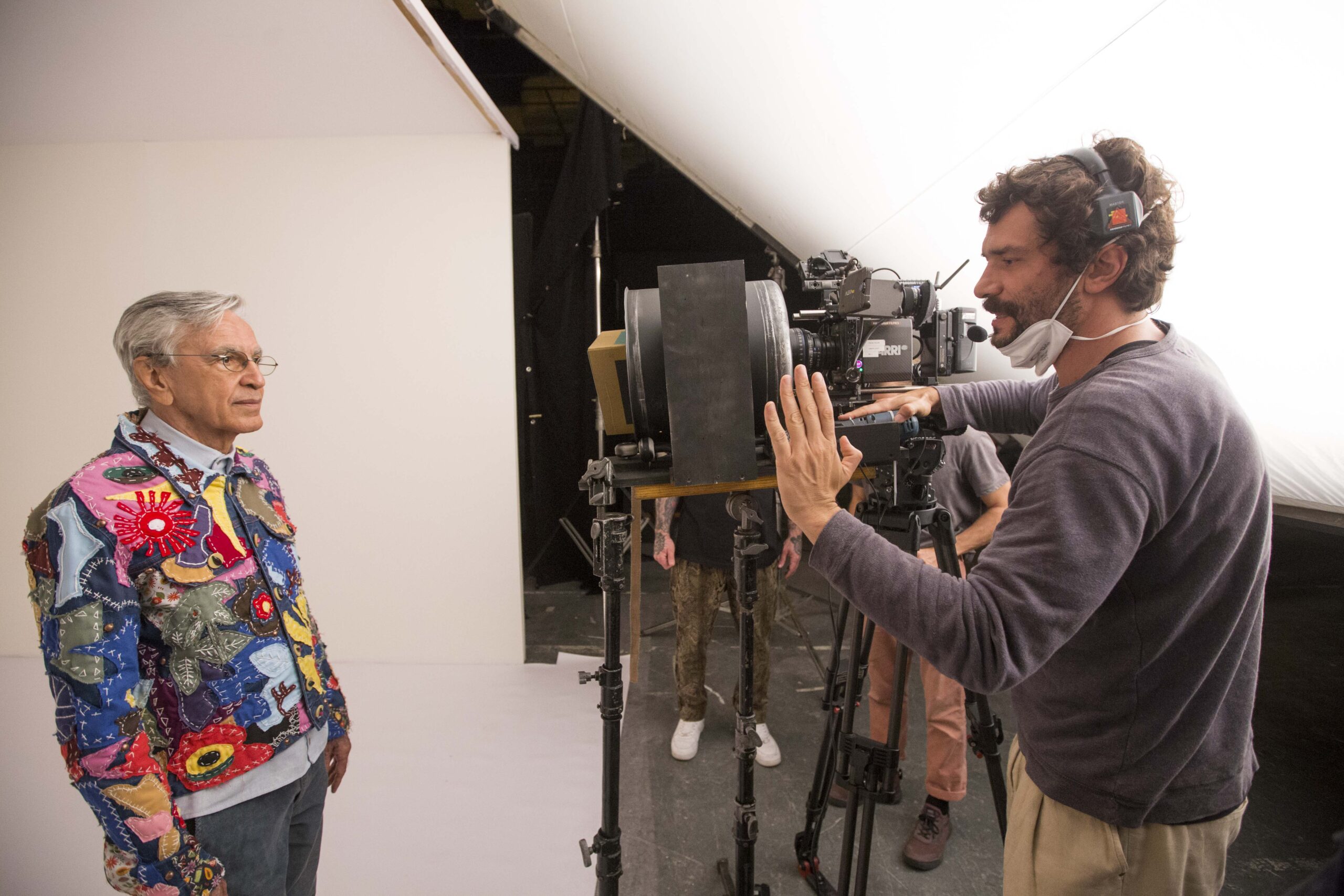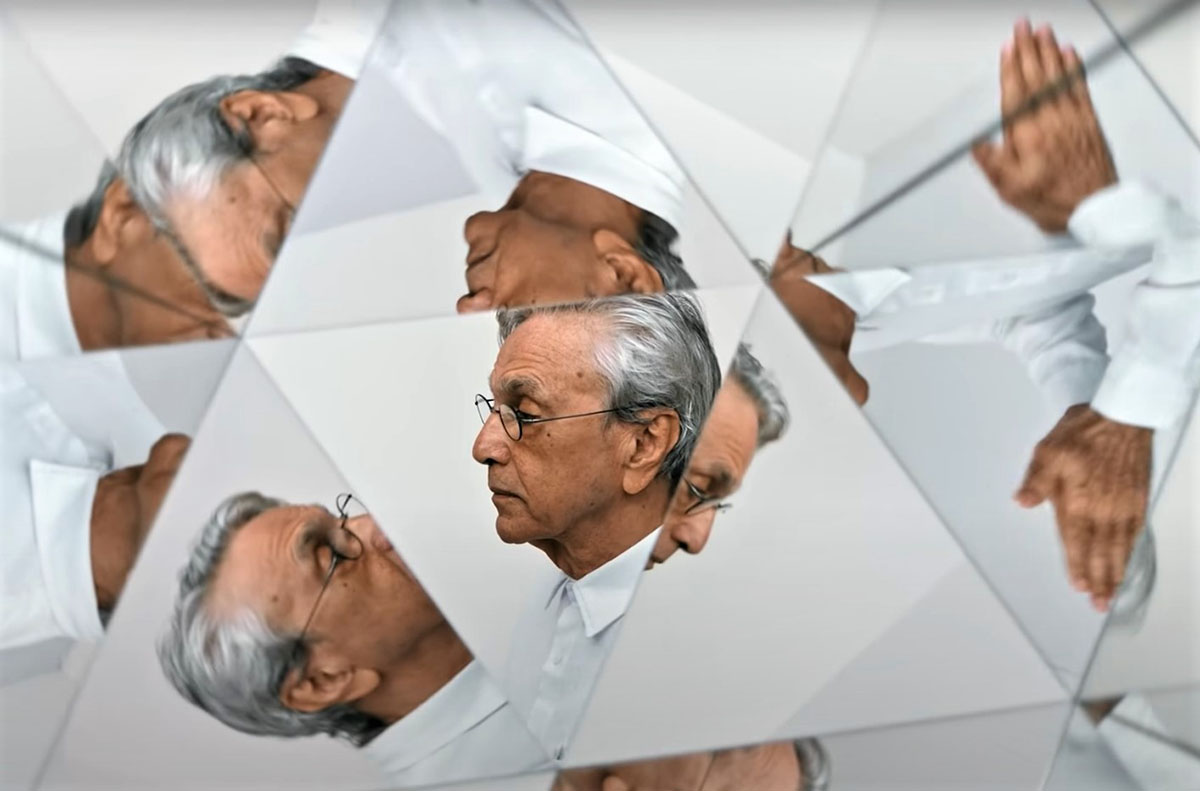 We decided to make the video for "Anjos Tronchos", a track from the album "Meu Coco", in a very artisanal way, based on the unfolding of the album cover concept. The idea, created in collaboration with director Del, was to bring movement to what we photographed. The mirrors move from gimmicks and light. It has no post-production digital effects. You see Caetano from the front, from the side and from the back at the same time. It's like a flirtation between the algorithm issue and the madness of his head.
We shot the clip in a bigger studio. We built seven simultaneous scenarios and took Caetano from one to the other. We filmed everything in two hours. I called Magno Alves, art director, to adapt the photo backdrops to a larger format and with more gimmicks.
Between "Abraçaço" (2012) and "Meu Coco" (2021), the music industry changed completely and new demands emerged, such as visualizers, to supply platforms such as Youtube, Spotify and other music streaming. Then we expanded the ideas for the clip and Caetano brought new suggestions. The music video was more elaborate in the sense of alignment with the concept of the disc, while the viewers brought a greater challenge, which was to illustrate all the tracks with images that translate them.
Some are more connected to letters, others to specific words, others are more abstract, it's all very mixed up. The synchronization of the lips with the song was something that Caetano decided when it was time to film, it was not something planned. In some, he sings just a few verses. There was very little decoupage of plans. Most camera placements were born on the spot. Paula Lavigne signs the direction of the visualizers along with me. She gave us a lot of freedom to build everything. We join our forces.
The ten videos were shot in two days in the studio. The sets and lights were assembled in the two previous days, based on layouts presented to Caetano and approved. We did it all with my ARRI Alexa Mini and a set of Cooke S4 lenses. I am very passionate about the result of this camera in terms of colors. We used half a dozen 2000w Fresnels and two SkyPanels S-60, but we adapted to each track on the record. I didn't use filters. There were always two sets ready to shoot. When we finished a song, the scene of the next one was already prepared for us to film without breaks.
It was super interesting to sit down with Caetano to discuss which was the best translation for each track. It's always a class to hear his imagery proposals. Everything has a reason, nothing is free. It is an enormous luck to develop this partnership. It is a privilege and a challenge. Afterwards, I was invited to create the lighting for the tour shows, which was also an extremely pleasant experience based on notions of rhythm, effects and colors.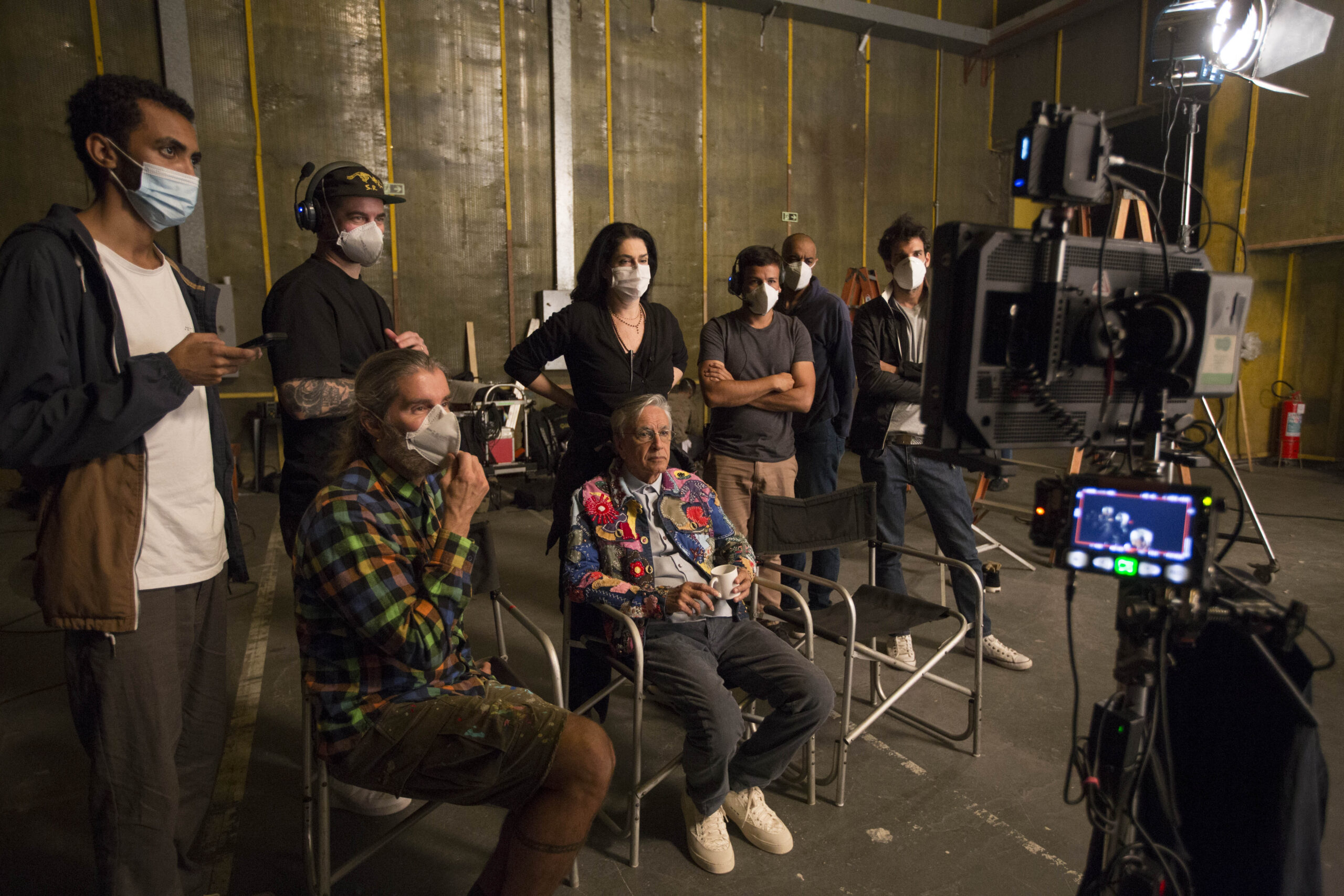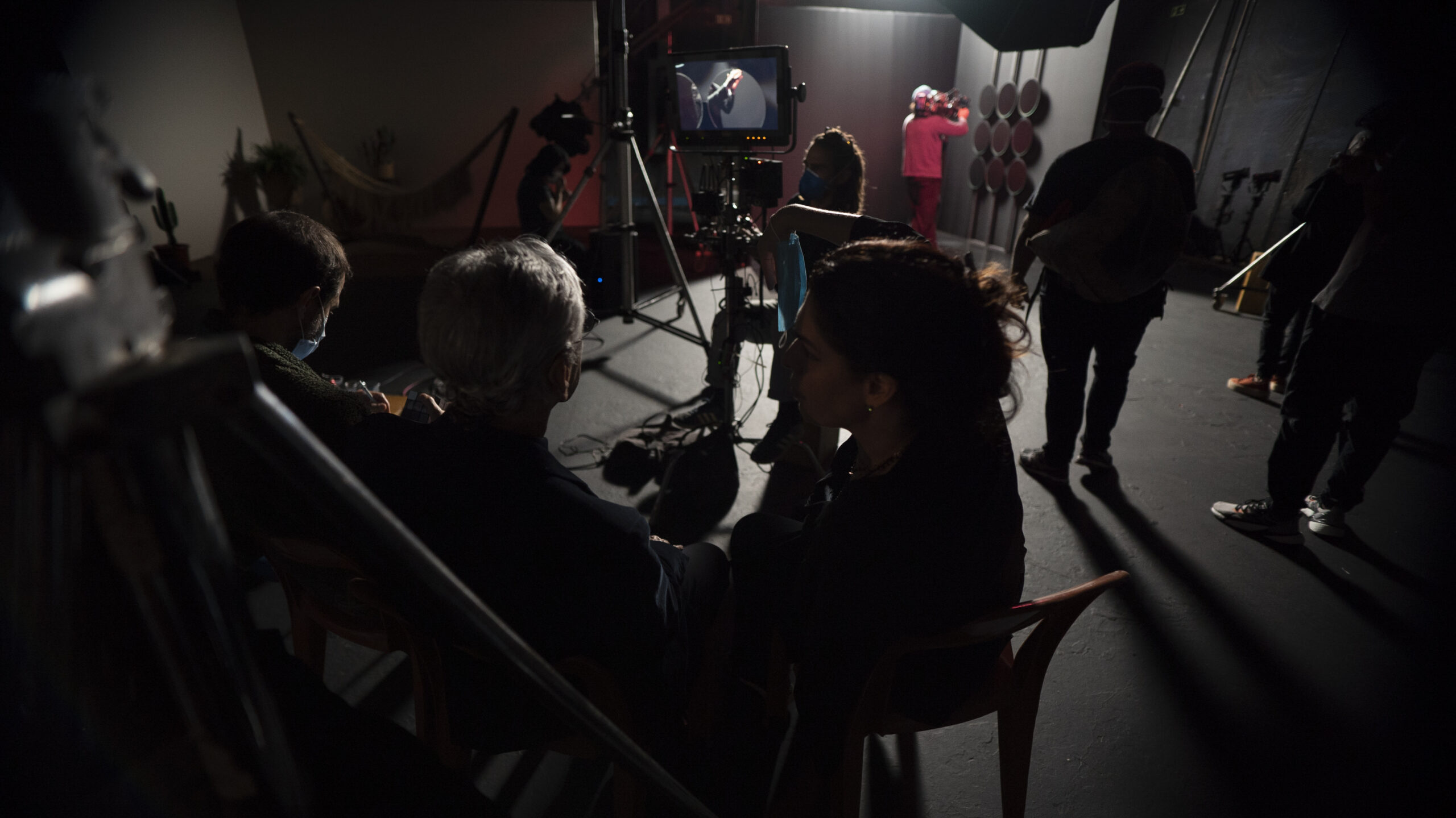 Sem samba não dá
Caetano showed the almost ready album to Pretinho da Serrinha, who listened and said: "Without samba, you can't do it", realizing that there was no samba in the repertoire. Then Caetano decided to compose this song with Pretinho on percussion. In the video, the two perform together, sambando, with a matchbox as an instrument for marking. The set with round mirrors reinforces the concept of the album. There's a little bit of color in the light to bring out some warmth, but it's simple.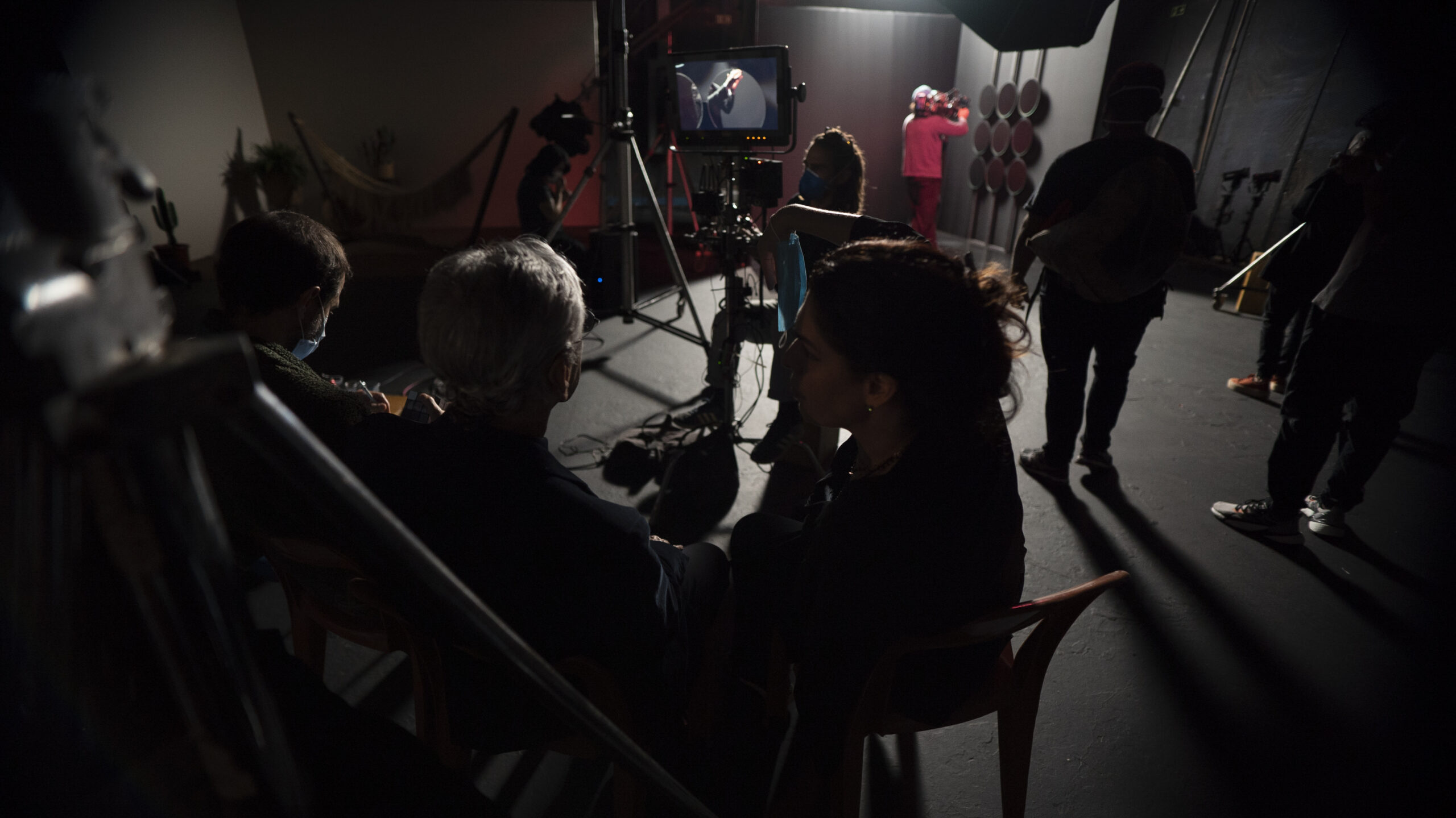 Não vou deixar
From the beginning, I thought that "Não Vou Deixar" had to be a long-shot performance. We filmed with a slider on a cart that approaches and departs. Caetano is very performative and makes a great impression on the camera. It's a political song, with a lot of feeling. The idea was to convey what he is feeling with Brazil today. We only shot two takes, with an emphasis on the face. The title and lyrics refer to Bolsonaro's election day, when Caetano was raging in front of the television and Pedro, the son of a couple of friends, commented: "Grandpa is nervous".
Meu Coco (o vídeo)
Caetano himself wanted to be filmed from top to bottom, to show the top of the head. We set up a scenario with the white floor, which matches the hair and the costume, to be very neutral. The idea was also to have no shadows. I locked the camera in a tube and made hand movements with a Zeiss Compact Zoom 28-80 mm lens. I was hanging over a tablecloth, which was also white.
Ciclâmen do Líbano
It is a love song in honor of a person of Lebanese descent. To illustrate, we look for the flower that gives title to the song, surrounded by plants, which I filmed in the studio through a small, broken and somewhat dirty mirror. One of the things I like the most is the thread of light that forms Caetano's silhouette. It is an ancient photographic technique. I think this profile picture is beautiful. To create this effect, I set up six backlit Fresnel reflectors pointed in different directions. I was inspired by a historic photo of Ulysses Guimarães taken by photojournalist Orlando Brito, an image that marked me. I've also used this feature in a photo shoot with Caetano and Gil, but with blue light.
GilGal
It was Caetano who had the idea of portraying Moreno Veloso with a Rubik's Cube made up of photos by Gilberto Gil and Gal Costa. There are two old portraits in Black & White made by the photographer Thereza Eugênia. The background and light are very neutral. Moreno, who is Gil's nephew and Gal's godson, is very good at Rubik's Cube.
Cobre
We made a water effect that makes us see Caetano sometimes more clearly and sometimes not at all. It is another way of playing with what is real and what is not, based on his image, which is an iconic figure in Brazilian culture.
Magno Alves, art director, produced a gimmick formed by a hose with holes that released water on a glass plate, like a waterfall. Caetano wanted an orange touch in reference to copper, but other colored lights come in at times. The background is a curtain that moves with the wind from a fan. We used three different light sources aimed at the water, his body and the bottom.
Pardo
We also wanted to work with Caetano's silhouette. It is more of a dance performance, with approximation and removal. He does not appear full body, as a way of preventing the ground from appearing. The fabric is a raw cotton, with a very striking texture, which is almost always in the focus of the lens. The camera was on the tripod. The concept is a desire to see through an enigmatic layer.
Noite de Cristal
We made this clip with a Lina Bo Bardi chair. We shot in a tracking shot along with a zoom movement. When Caetano did the live on the first Christmas of the pandemic, Bethânia asked him to sing " Noite de Cristal ", a song from the 1970s dedicated to her, but never recorded before. That's where the idea of filming him drawing her portrait came from. Because of the drawing, it was the filming that took the longest. While Caetano drew, I stood around him with the camera in hand.
Autoacalanto
It's a song in honor of Benjamin, his grandson. Caetano wanted to sing while lying down, a difficult idea for a music video. Then we proposed a jute hammock and he loved it. Just lie down and do nothing else. There are some plants in the back for better dressing, but everything was done in the studio too, nothing too lit, to bring the coziness of a corner. The shots are closed to focus more on him, without having too much scenery.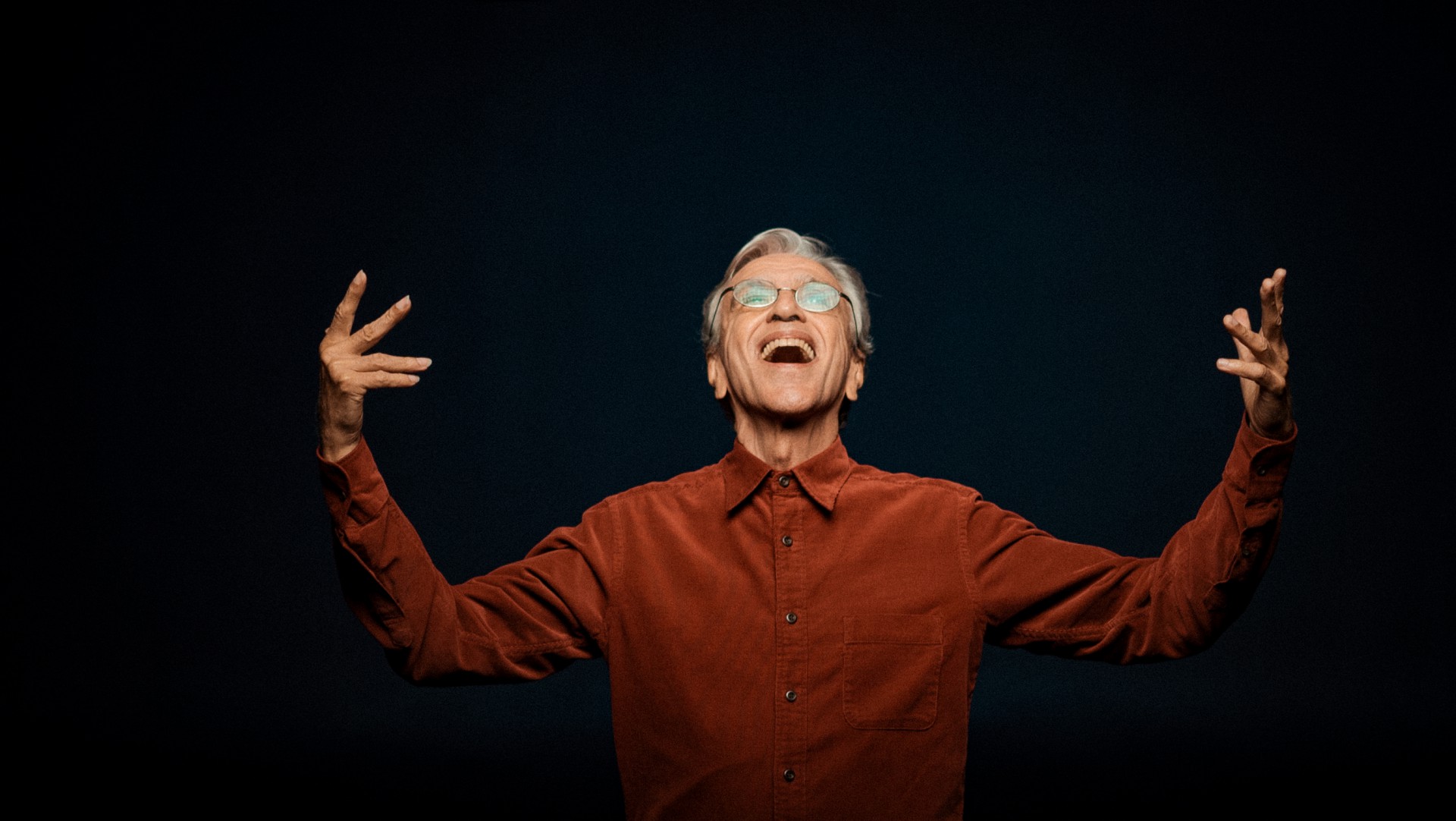 SINOPSE DE "MEU COCO"
The album "Meu Coco" (2021), by Caetano Veloso, was released along with videos for each of the tracks on the album. The clips were filmed in the studio with different optical devices, with reflection and translucency effects obtained through mirrors, gimmicks, lights and camera resources. Fernando Young is the director of photography for 11 of the 12 films. One of them is the music video for the song "Anjos Tronchos" and another 10 are visualizers released on streaming platforms.
Direção: Fernando Young, Del ("Anjos Tronchos") e Paula Lavigne (Visualizers)
Direção de Fotografia: Fernando Young
Fotos making of: Dan Behr
Primeiro assistente de câmera:  Felipe Ovelha
Segundo assistente de câmera: Carlos Nascimento (Carlinhos)
Terceiro assistente de câmera: Elber Xavier
Composição de Imagens: Claudio Peralta
Correção de Cor: Bleach Colorgrading e Tomás Magariños
Gaffer: Marcilio do Nascimento
Assistentes de Elétrica: Jorge Sena e Marcel Farias
Maquinistas: Flavio Bala e Anderson Santana
Assistente de Maquinaria: Eduardo Martins
Diretor de Arte: Magno Alvez
Figurino: Felipe Veloso
Projeto Gráfico: Cubículo 
Estúdio: Polo Rio Cine & Vídeo
Equipamentos de Câmera: Araguaia Filmes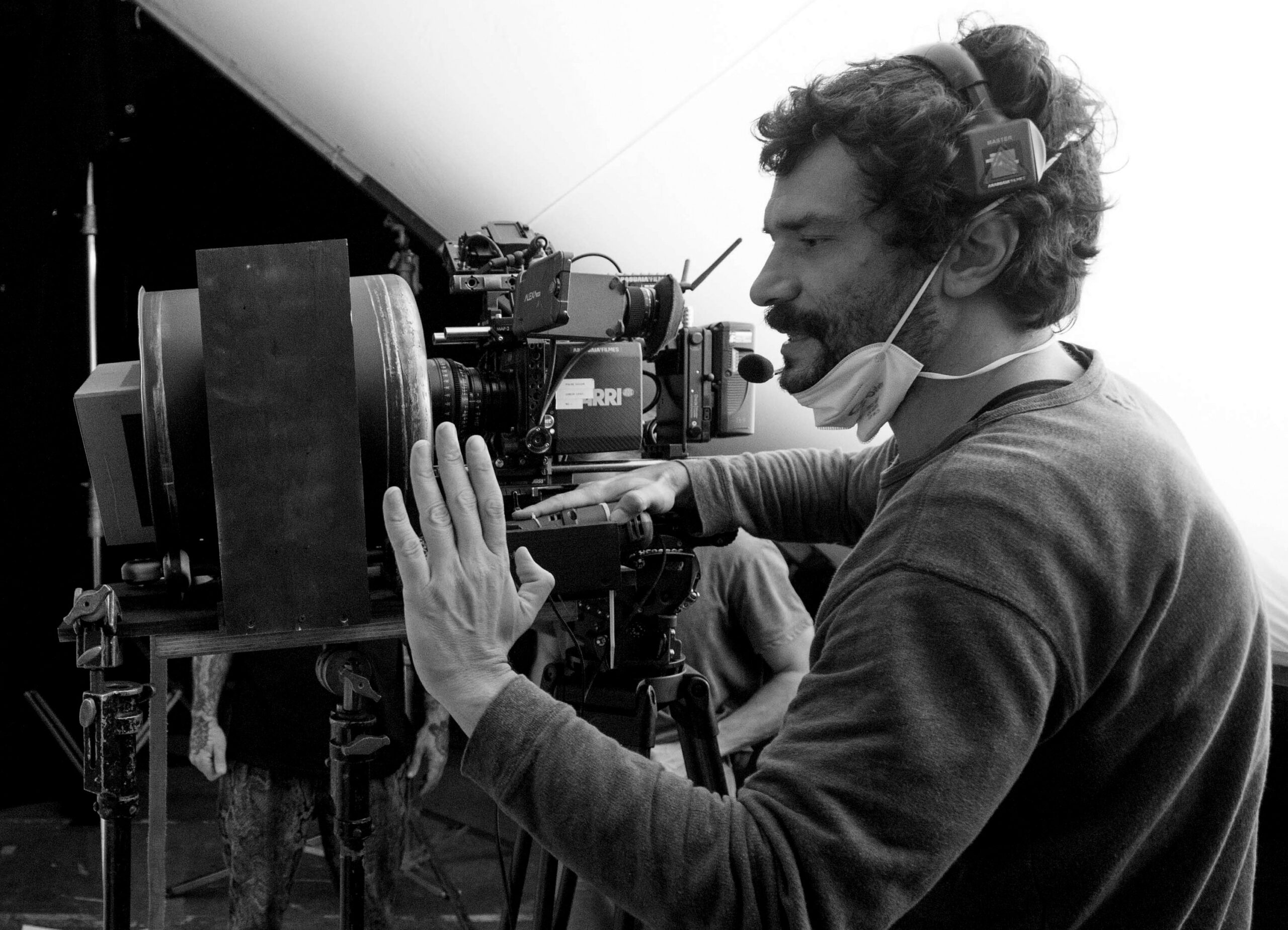 MINI BIO
Fernando Young, ABC, started photographing professionally at age 16 at Luís Garrido's Casa da Foto studio in Rio de Janeiro. He then studied at the Escuela de Fotografia de Andalusia, where he had contact with the Portuguese professor Tiago da Cruz. Back in Brazil, he worked as a camera assistant and still photographer until 2009, when he began to sign cinematography works in commercials, shorts and feature films such as "Sob Pressão" (2016), "Chacrinha" (2018), "Minotauro " (2018) and "Narciso em Férias" (2020), in addition to the series "Copa Hotel" (GNT, 2013), "Portátil" (Porta dos Fundos, 2016), "26 Poemas Hoje" (Canal Brasil, 2020), "Anitta: Made in Honório" (Netflix, 2020), "Sob Pressão" (Globo, 2017-2022) and "Em Casa com os Gil" (Amazon, 2022), among others. Whether in photos, films or videos, his work has always had a strong connection with music, in collaborations with artists such as Jorge Benjor, Seu Jorge, Alice Caymmi, Majur, Marisa Monte, Marcelo D2, Arnaldo Antunes, Carlinhos Brown, Alexandre Pires, Baby do Brasil, Gilberto Gil and Milton Nascimento, as well as several works with Caetano Veloso. For different projects, he also produced artistic portraits of actors and actresses such as Fernanda Montenegro, Wagner Moura, Renato Aragão, Maria Ribeiro, Chay Suede, Débora Bloch, Beth Faria, Mariana Lima, Fernanda Torres, Betty Lago, Maitê Proença, Fábio Assunção and Fernanda Lime. With the music video for "Anjos Tronchos" and the series "Sob Pressure", he was a finalist in 2022 for the ABC Award, from the Brazilian Cinematography Association.